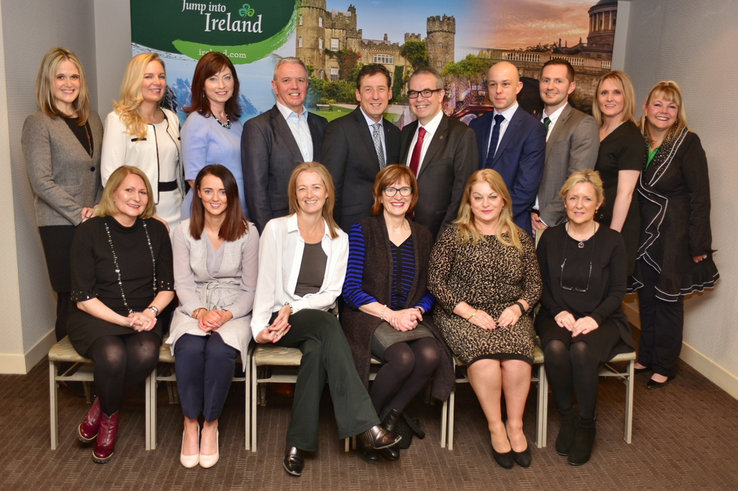 Limerick-based tourism operators Tourism Ireland joins sales blitz to boost Canadian visitors to Ireland
Dana Welch, Tourism Ireland, Elaine McInaw, Lough Eske Castle, Laureen Regan, Honorary Irish Vice Consul, Calgary, Tony Keane, The Irish Tourism Group, Shane Clarke, Tourism Ireland, HE Jim Kelly, Irish Ambassador to Canada, Colin Wynne, Abbey Tours, Jonathan Sargeant, Tourism Ireland, Alison Deegan, Manor House and Irish Country Hotels, Nadine Schorn, Collette Vacations, Dervla O'Neill, EPIC Ireland, Assumpta O'Neill, Titanic Belfast, Tanya Johnston, Royal Irish Tours, Deirdre Halferty, Honorary Irish Consul, Calgary, Siobhán Byrne Learat, Adams & Butler, Ann Kilcoyne, Glasnevin Cemetery Museum, at the Tourism Ireland networking event in Calgary.
Tourism Ireland, together with a delegation of 15 tourism companies from the island of Ireland and Canada, including The Irish Tourism Group (based in Newcastle West), is undertaking a four-city sales blitz in Canada this week, meeting with travel agents, luxury tour operators and group tour planners in the cities of Vancouver, Calgary, Edmonton and Toronto.
The sales blitz involves a workshop in each city, where the participating tourism companies will have the opportunity to network with, and sell to, hundreds of influential Canadian travel professionals – telling them all about the many opportunities that Ireland offers for group and luxury travel, by highlighting our heritage, culture and cuisine.
On Tuesday (21 February), The Irish Tourism Group and the delegation met with the Irish Ambassador to Canada, Jim Kelly, representatives of the Irish Diaspora and influential business representatives, at a lunchtime reception, hosted by Tourism Ireland and the Chamber of Commerce in Calgary.
Dana Welch, Tourism Ireland's Manager Canada, said: "We are delighted that so many key decision-makers from the group and luxury travel sectors in Canada are taking the time to meet with our tourism partners this week, to hear about our fantastic tourism offering and the many opportunities for group and luxury travel to Ireland. 2016 was the best year ever for Irish tourism from Canada – with visitor numbers increasing by +16% over 2015. We will be pulling out all the stops in 2017, to keep the momentum going and ensure that growth continues."
For more information on Tourism Ireland click here
To read more about tourism in Limerick click here