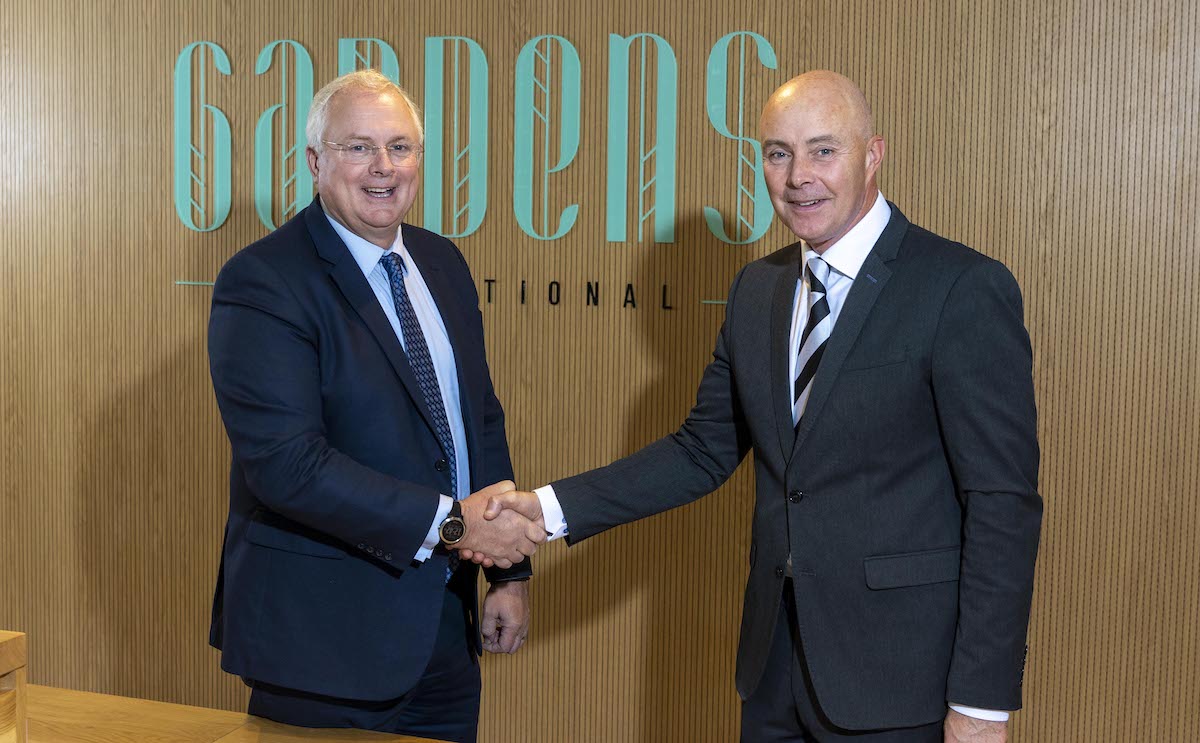 'Location, location, location' for Transact as US multinational thrive in Limerick's Gardens International
Transact – Pictured is John Gleeson (right), General Manager of Transact Limerick with David Conway, CEO of Limerick Twenty Thirty. Pic. Arthur Ellis
Transact Campus Inc's award-winning home strengthening the hand of integrated payments and credential software solution company in hybrid working world
The General Manager of one of the Mid-West's newest FDI companies, Transact, has said that next generation, inspirational workspaces with world-class sustainability standards are imperative for companies in the increasingly competitive employment market today.
Celebrating six months at the Gardens International site in the heart of Limerick City, John Gleeson, GM of Transact – the leading integrated payments and credential software solution company for campus environments – said that their new home is the perfect European landing strip for the Arizona headquartered company in Ireland.
The company delivers connected payments and credentials solutions for 1,750 higher education institutions, predominantly in the US but also in Phoenix, Arizona and Chennai, India and has facilitated $170bn worth of transactions since it was established in 2017. The IDA supported the company's R&D digital campus project on Henry Street is the company's international headquarters outside the US, with responsibility for shaping and developing the entire portfolio of Transact products and services.
General Manager of the Irish site, John Gleeson said that the company established its Irish operations in the most challenging period for any start-up here due to the very competitive recruitment market and the emergence of the hybrid working model. But locating in an inspired and sustainable workspace has he said, significantly strengthened their hand. 
"It's a very competitive recruitment market and the minute you recruit you need to think about retention and one of the key assets we have in both respects is Gardens International. It's that old saying 'location, location, location' and this is one of the most workspaces in the country, not just Limerick. It's a real draw.
"The building itself is spectacular, a superb fusion of old and new architecture, a building with a rich heritage in the heart of a historic Irish city that's carving out a real future for itself, a city with a focus on innovation, which is perfect for us. The building also has great views out over the Shannon and a fantastic urban community around it, with coffee shops, restaurants and retail options. It's everything that a young, mobile innovative workforce wants and expects," he said.
Sustainability is another key factor, the GM stated, "One of the things that associates rightly demand today is that their employer has a strong ESG focus. Transact is huge on areas such as diversity, equity and inclusion. You just have to look at the make-up of our people to see that. We have 10 nationalities among the first 60 people we hired so that shows the diversity we get here, which is fantastic. Research shows that diverse teams are more creative because they generate different points of view. So, for the right reasons and also because it supports innovation, diversity is a major focus for us. 
"But another major ESG focus is sustainability and Gardens gives us that. It's a LEED Gold building and that rating ensures its extremely efficient, cost-effective, and better for occupants and the environment. Buildings with LEED Gold status effectively reduce climate change impacts, enhance individual human health, conserve water resources, protect and enhance biodiversity and enhance community quality. Thankfully these things matter today, including for our associates, so it's great to be able to give them that."
David Conway, the Chief Executive of Limerick Twenty Thirty said that taking over the building as a half-built shell after works on it under a previous owner halted in the crash was a silver lining moment for Limerick. "Limerick Twenty Thirty was created as a development company by Limerick City and County Council in the absence of developer interest in the city following the crash. We were mandated to kick-start the market and we did it by setting a new standard for Limerick with Gardens International. We built it out to the highest architectural and sustainability standards, so much so that it won prestigious awards in both spaces.
"What we did with Gardens International was a bold statement by the city at a really challenging time, that it was creating world-class space to attract world-class companies and Transact Campus' arrival here is evidence of its success. We are delighted to have them with us at Gardens International. We see this as a perfect fit; a world-class sustainably designed and award-winning, innovative building paired with a world-class leader in its field. Furthermore, Limerick itself is very much a vibrant and innovative city with a strong tech ecosystem and Transact Campus is another positive addition to that community."
The fundamentals of Transact Campus– innovation and creativity – are very much served by its new home, Mr Gleeson said. "We are all about innovation. It's at the centre of everything we do. We are coming up with cutting edge solutions to make the lives of people on campuses easier. You need a creative, inspirational environment for that. The hybrid working model doubles down on this need. You must have a workspace that people are drawn to. It must excite them. And Gardens do that."
Mr. Gleeson said that the hybrid model is very much here to stay. "Hybrid working will be with us for a long time to come. There's a good reason for it to stay. It gives a better work-life balance, a better employee experience and when they come into the office here, you get a real sense that they enjoy it. They're happy here and then they're happy working from home. Happy employees stay in their jobs longer than unhappy ones so the hybrid model serves us well."
Generally, the Limerick fit has been a really good one, Mr Gleeson added. "We've landed perfectly in Limerick. It's a centre of innovation and it is also a diverse city. It's an exciting city, a city very much on the up. It's very much a future focused city. It's an R&D city. Limerick thinks differently and so do we. And our home here is an example of thinking differently as Limerick Twenty Thirty took a disused, abandoned site and transformed it into a multi award-winning campus."
The innovation ecosystem in Limerick is also exciting Transact, a perfect example being UL's Immersive Software Engineering programme (ISE) which, Mr Gleeson says, Transact is delighted to be part of.
"This programme is revolutionising how software engineering is taught. It's a residencies type programme that you would more commonly see with studying of medicine, where doctors do so much of their training in the work environment, the hospital. That's being replicated with software engineering, and we think it is a breakthrough moment for the industry, ensuring that the student, by the time they graduate, are already embedded in workplace experience and it fast-tracks their readiness and ability to immediately impact on joining a company. We're so impressed by it that we now sit on its advisory board. It's perhaps the most innovative development in software engineering education globally in quite some time. And that's Limerick," he added.
Find out more about Limerick Twenty Thirty
Read more about Limerick Twenty Thirty