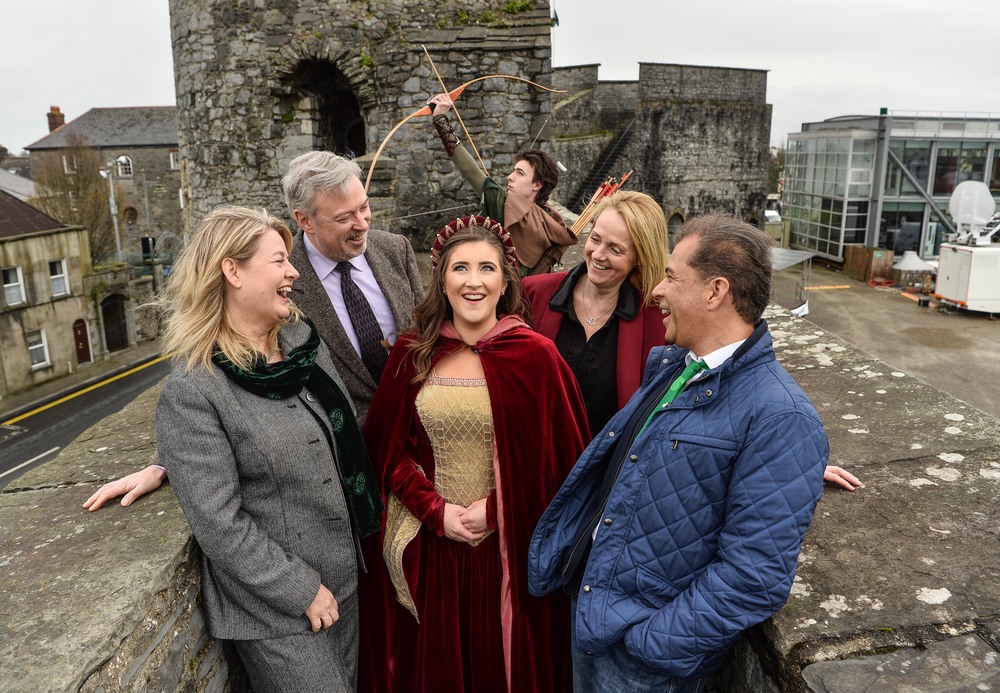 TRAVELZOO with 28 million members broadcasts from Limerick on the lead up to St. Patrick's Day
Pictured from left to right are: Ruth Moran, Publicity and Communications Manager, Tourism Ireland, Liam Campbell, International Publicity Manager, Failte Ireland, Nandi O'Sullivan, Head of Communications, Shannon Group, and Gabe Saglie of Travelzoo, being entertained by singer Thea Drew Hartigan with background support from archer Michael Casey.
Photo by Diarmuid Greene
TRAVELZOO with 28 million members broadcasts from Limerick on the lead up to St. Patrick's Day
In the run-up to St Patrick's Day, US Broadcaster Gabe Saglie, and a film crew from Travelzoo, were in King John's Castle, Limerick (Friday 15th March) interviewing a number of local tourism businesses for television segments set to air on US Networks ABC, FOX, NBC, CNN and CBS.
Gabe Saglie is Senior Editor for Travelzoo and a respected travel contributor for dozens of TV news programs and national shows in the US. His week-long visit to Ireland, is supported by Fáilte Ireland, in partnership with Tourism Ireland. Shannon Heritage has facilitated this visit and filming arrangements for the live broadcast in Limerick for Travelzoo.
As part of his broadcast, Mr Saglie will also film a live broadcast for Travelzoo, one of the world's largest online travel platforms, promoting the very best travel deals to 28 million members located in North America, Europe and Asia. The live broadcast will be shared via Travelzoo's Facebook page, which has a following of 3.4 million.
Fáilte Ireland is encouraging local people to come and take part in the broadcast in the courtyard at King John's Castle where presenter Gabe Saglie will interview locals for live TV from 12 noon to 4 pm.
During the broadcast there will be a number of local producers and tourism trade taking part in the live broadcast with Mr Saglie including the Grand Marshal for Limerick's St Patrick's Day parade, Dr Norah Patten, who is in the running to be Ireland's first astronaut together with:
• Una Heaton, curator at Frank McCourt Museum;
• Maurice Gilbert, owner of Ballyhoura Apple Farm;
• 14-year old entrepreneur, Evan Quaid, whose candles are sold in Shannon Airport Duty-Free;
• Brian Collopy, one of the top guides at Lough Gur;
• Helen Enright from Foynes Flying Boat Museum where Irish coffee was invented and;
• Peter Ward from Limerick Milk Market who will have some tastings of traditional Limerick Ham for Gabe to sample.
Antoinette Reilly, International Publicity Executive with Fáilte Ireland welcomed Travelzoo to Ireland and commented: "North Americans are among the biggest spenders during their stay here in Ireland, so we welcome the opportunity to showcase what Limerick has to offer via this live broadcast with top US producer Gabe Saglie. This broadcast will spread the word on our many attractions in Limerick and the Wild Atlantic Way. Ireland is certainly an ideal fit for the American market and our history, culture, landscapes and pace of life continue to be a big draw for US visitors.
Senior Editor with Travelzoo, Gabe Saglie, commented: "Ireland is consistently one of the most searched-for international destinations on the Travelzoo website, so it is exciting for us to share the magic of Limerick with the world through another one of our exclusive Facebook LIVE broadcasts.
This is my 8th consecutive year covering St. Patrick's week throughout Ireland, and promoting travel to and throughout this beautiful country! I am super excited to return to Limerick for our exclusive Facebook Live event from King John's Castle, a gorgeous emblem of Limerick's medieval heritage. Tapping some of Limerick's fascinating personalities, along with its history and sweeping visuals, we are thrilled to present this charming year-round destination to travelers around the globe!"
Niall Gibbons, CEO of Tourism Ireland, said "We were delighted to invite Travelzoo's senior editor Gabe Saglie to visit Ireland this week, to broadcast live to millions of prospective visitors across the United States. We're particularly pleased that he's visiting and showcasing King John's Castle, providing more compelling reasons why Americans should put Limerick and the Mid-West on their vacation 'wish-list' for 2019. The live footage and pre-recorded segments of the visit will be made available to numerous TV networks right across the US. In 2018, we welcomed 2 million North American visitors to Ireland and we continue to work hard with our tourism industry partners, to stimulate further growth from this important market in 2019. Broadcasts like this provide an invaluable showcase for Limerick and Ireland at an important time for travel decision-making."
Talking about the impact of the visit, Niall O'Callaghan, Managing Director, Shannon Heritage, who operate the King John's Castle visitor attraction said: "We are delighted that Travelzoo have chosen Limerick and King John's Castle for this major broadcast. I would like to congratulate Fáilte Ireland and Tourism Ireland for securing this prestigious TV and social media opportunity to allow us showcase a flavour of the best of what Limerick has to offer to millions of US TV and social media viewers."
Laura Ryan, Head of Marketing & Communications with Limerick City and County Council said: "Having the American TV crew here is a fantastic opportunity to get international exposure for Limerick across the United States. It's all very exciting particularly as we get to launch our new international Limerick brand later this year." "The 2019 Limerick St Patrick's Festival will be without doubt one of the largest ever held in Limerick with a carnival atmosphere promised for the weekend which begins with a not-to-be-missed fireworks display on Saturday evening."
"This year we have done a huge amount of promotion of our three-day St Patrick's Festival. The weather's looking up and with a huge number of family-friendly events on the programme, there's nowhere else to be this weekend, so why not wrap up warm and soak up the unique atmosphere of Limerick during the festival as there is so much to do and see."
For more information on Travelzoo, click HERE.
For more stories realting to tourism, click HERE