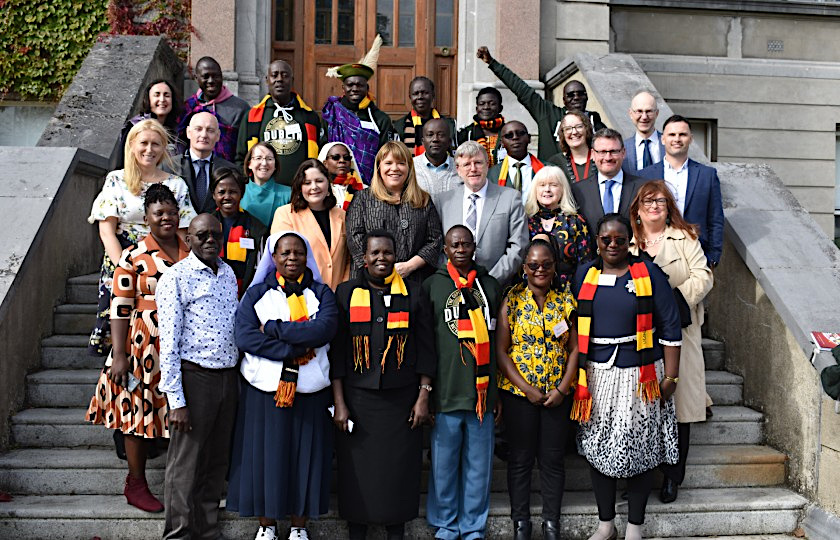 Ugandan Education Delegation receives 'professional training' at Limerick's Mary Immaculate College
Ugandan Education Delegation – Pictured above are Holly Cowman, Director of International Engagement, Trina Delaney, Prof Niamh Hourigan, Vice President of Academic Affairs at MIC, Prof Eugene Wall, President of MIC, Emer Ring, Dean of Education, and staff with the Ugandan Delegation.
 Ugandan teachers engaged with Irish teachers to share their experiences and insights on their education and teaching journey
Mary Immaculate College (MIC) recently hosted twelve Ugandan teachers as part of Teachers Making a Difference programme. The programme, sponsored by the Irish Embassy in Uganda, acknowledges and affirms excellence in teaching and recognises the exceptional creativity and innovation of teachers working in challenging environments. The teachers were invited to Ireland for a study visit to MIC by the College's Dean of Education, Professor Emer Ring while speaking at the Ugandan National Primary Teachers Conference in September 2019, with the visit delayed due to the COVID-19 restrictions.
Welcoming the delegation to Ireland and the College was Professor Eugene Wall, President of MIC, who said, "We are delighted and honoured to be invited to host the Teachers Making a Difference delegation. Together with the school communities in Limerick and Thurles we have crafted a study visit based on areas specifically identified by the teachers relevant to their school contexts. MIC since its foundation in 1898 has been committed to the fundamental belief that teachers make a difference in the lives of children and ultimately transform lives and society."
During the visit, the teachers engaged with Irish teachers to share their experiences and insights on the learning journey. The delegation visited Naomh Tola National School in Shannon, the Limerick School Project, Gaelcholáiste Luimnigh, Coáiste Mhuire Co-Ed in Thurles, Thurles CBS Secondary School, and the Limerick and Clare Education and Training Board, as well as sharing practices with teachers from Le Cheile National School, Limerick, Milford National School, Limerick and Coláiste Cois Life, Dublin. They also attended a screening of and discussion about the movie Young Plato held by MIC's Department of Psychology and learned all about Ireland's history, heritage, and culture with a visit to Bunratty Castle.
Reflecting on the shared benefits of the Ugandan Education Delegation visit was Professor Emer Ring, Dean of Education, who said, "I have fond memories of visiting Uganda in September 2019 and attending the Ugandan National Primary Teachers Conference. I very much enjoyed working with the delegation during the visit, learning from practice in Uganda and sharing the Irish experience I would like to thank all of our colleagues in the schools who either facilitated a site visit by the group or otherwise shared their experience and practices, which were very much appreciated."
Six Ugandan teachers are chosen each year to visit Ireland under the Teachers Making a Difference programme, with twelve visiting this year due to the COVID-19 delay. The teachers are nominated by their communities for displaying outstanding commitment in mobilising their communities to send and keep children in school and in contexts where resources are limited, remain dedicated to providing high-quality learning and teaching experiences where each child can achieve their potential.
Representing the Ministry of Education and Sports from Uganda, Dr Jane Egau, Director of Higher Education, Vocational and Teacher Training, expressed gratitude for Ireland's longstanding support to Uganda, particularly in the education sector. She confirmed that accessing Ireland's expertise in the area of teacher training was incredibly valuable and that she and her colleagues enjoyed learning and engaging with college staff throughout the week.
Alan Gibbons, Director of Africa Unit, Dept. of Foreign Affairs, expressed appreciation for the engagement by MIC in the initiative, which promotes synergy between the Dept. of Foreign Affairs and the Dept. of Education embodying a 'Whole of Government' approach. He confirmed that strengthening the institutional linkage between Ireland and Uganda in the area of teacher education is very much part of the vision that frames not only Ireland's Strategy for Africa but Ireland's international development policy 'A Better World'.
For more information on Mary Immaculate College, go HERE
For more stories on Mary Immaculate College, go HERE