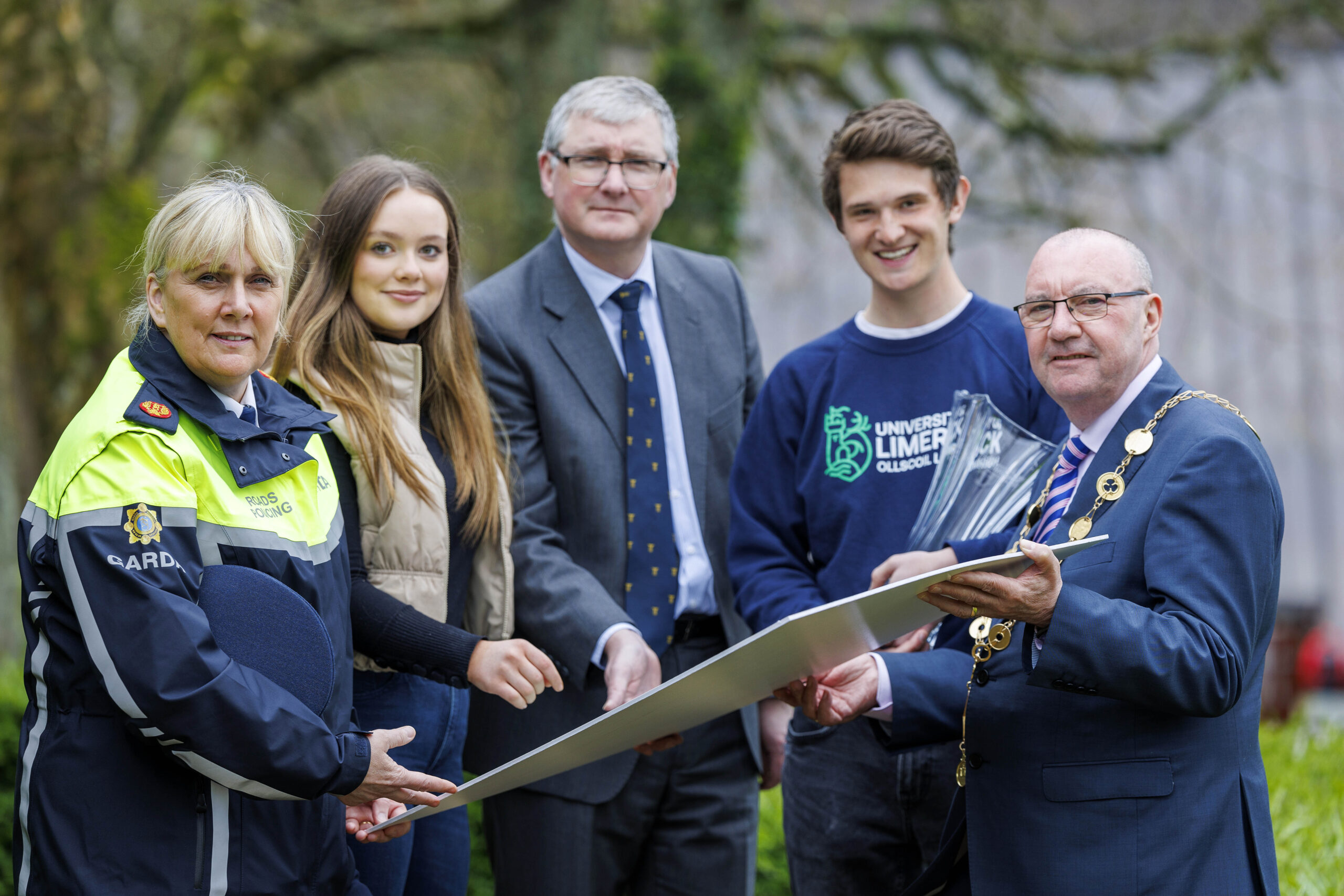 Road Safety Reimagined by University of Limerick students as part of new 'lifesaving' project
UL reimagines Road Safety through collaboration with An Garda Síochána and Limerick City and Council as part of a new 'lifesaving' project. Attending the event were Councillor Francis Foley, Mayor of the City and County of Limerick, Assistant Commissioner, Roads Policing and Community Engagement Paula Hilman, Assistant Commissioner, Southern Region Eileen Foster, and UL Provost and Deputy President Professor Shane Kilcommins. Photo: Arthur Ellis
UL reimagines Road Safety through collaboration with An Garda Síochána and Limerick City and Council as part of a new 'lifesaving' project
A collaborative project between University of Limerick, An Garda Síochána and Limerick City and Council has the capacity to be a 'lifesaver' by harnessing the collective power of students to reimagine road safety, an event has heard.
With drink driving, drug driving and mobile phone driving continuing to be the primary causes of accidents on Irish roads, over 600 Kemmy Business School students at UL were tasked with reimagining road safety through contemporary marketing thinking and developing solutions to positively affect driving behaviour.
A showcase of posters of the students' work was launched at UL this Tuesday with winning teams presented with Lifesaver Awards from An Garda Síochána, while prize money worth €1,000 funded by Limerick City and County Council was awarded to the winning teams.
Attending the event were Councillor Francis Foley, Mayor of the City and County of Limerick, Assistant Commissioner, Roads Policing and Community Engagement Paula Hilman, Assistant Commissioner, Southern Region Eileen Foster, and UL Provost and Deputy President Professor Shane Kilcommins.
The winning posters – which included titles such as 'One high can lead to a six-foot low' and 'Comparing the road to the pitch' – will be displayed in garda stations around the region and will "contribute to the safety of citizens in Limerick city and county and has the capacity to be a lifesaver", according to UL Provost Shane Kilcommins.
Assistant Commissioner Paula Hilman said the work created by the students was "very impactful" and that by "working together we can really start to make that difference" on road safety.
A special inspiration award was presented to the family of road safety campaigner Fergal Cagney, who suffered serious spinal injuries in a road traffic collision 18 years ago but has since dedicated himself to giving presentations on road safety, working in tandem with An Garda Síochána as part of the Lifesaver Project. The award for the Co Limerick man was collected on his behalf by his brother Brian, himself a UL graduate and a garda.
The Road Safety Reimagined project was run by Dr Christina O'Connor, lecturer in marketing at UL and Sergeant Tony Miniter, Limerick Roads Policing.
KBS Executive Dean Professor Finbarr Murphy praised the collaboration between UL, An Garda Síochána and Limerick City and County Council and said the "excellent standard at work demonstrated the passion for safety on our roads" that existed among the many participating students.