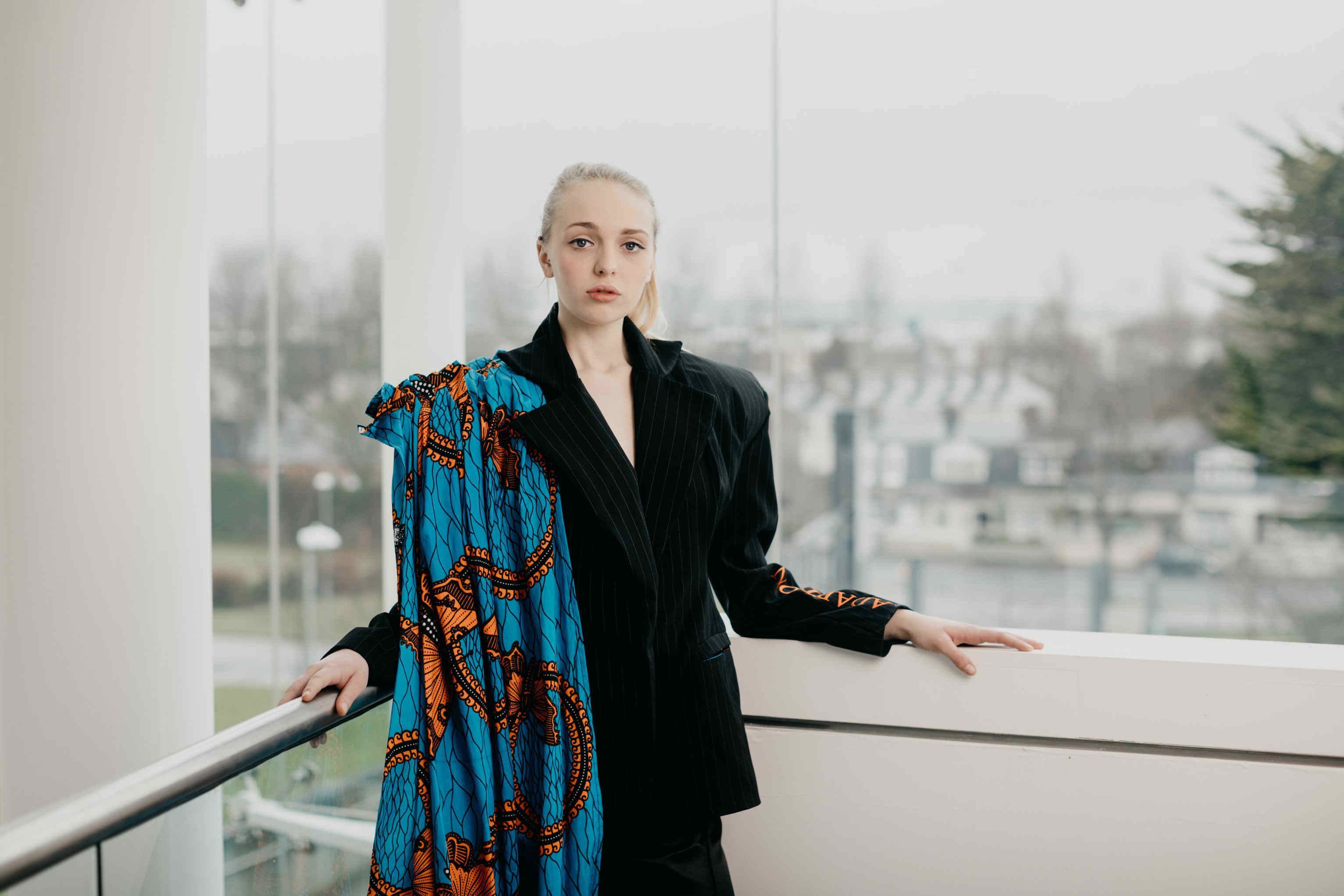 PHOTOS: Limerick School of Art and Design, LIT reveals details of exciting new Unwrap Fashion Festival 2018
Aoife Hill modeling a piece from Eva Kimpwene from the Fashion Design Course, Limerick School of Art and Design, LIT launching details of exciting new fashion festival for Limerick City. The Limerick School of Art and Design, LIT will unveil the award-winning work of its Fashion Design Graduates as part of the inaugural Unwrap Fashion Festival 2018 this May. Photo: Sean Curtin / True Media
Limerick School of Art and Design, LIT reveals details of exciting new Unwrap Fashion Festival 2018
The Limerick School of Art and Design, LIT will unveil the award-winning work of its Fashion Design Graduates as part of the inaugural Unwrap Fashion Festival this May.
Unfolding in a series of stages across multi-venues in Limerick city, Unwrap fashion festival will celebrate the ideas, creativity, and innovation of LSAD students while paying homage to the college and city's fashion history and exploring the future of fashion as a business.
The two-day festival, which will take place from
Wednesday, May 16 to Thursday, May 17, 2018
, is devised and produced by Limerick School of Art & Design, LIT and supported by Limerick City & County Council.
Unwrap Fashion Festival 2018 will present LSAD's Fashion Design BA Honours Degree Course 2018 Graduate collection in an exhibition at the Limerick City Gallery of Art, in partnership with EVA International.
The exhibition launch will also include the screening of the 2018 graduate fashion collection video, styled by one of Ireland's leading fashion stylists Kieran Kilgallon, and shot by filmmaker Albert Hooi.
A unique collaboration between students from the BA in Fashion and Textiles for Product & Costume, and Digital Arts students from Clonmel Campus, will feature in a second multimedia fashion showcase.
Unwrap Fashion Festival 2018 will also host the inaugural Business Fashion Forum which will bring together some of the most influential voices in fashion including Sinead Burke (Minnie Mélange) and Aileen Carville (SKMMP).
The Unwrap festival is also looking to the future of fashion and partnered with The Hunt Museum to develop the Future Fashion workshops for post-primary students. Home to the Sybil Connolly collection, the Hunt Museum will display the pieces created during the workshops and inspired by the Connolly collection, throughout the fashion festival.
In conjunction with the festival, Bank of Ireland will host a Fashion focused Creative City Event at Workbench.
Mike Fitzpatrick, Dean, Limerick School of Art & Design and Director Cultural Engagement said, "LSAD is synonymous with fashion and the Unwrap festival is about connecting a design ethos and a creative energy to the entrepreneurial ambition that exists in Limerick City."
"It is also about marking a milestone in the careers of these young fashion designers as they transition from students at LSAD to working in a competitive, creative and exciting industry," he said.
All Unwrap events are free to the public who will be catered for on a first come first served basis.
Unwrap is sponsored by Limerick City and County Council, Brown Thomas and the Absolute Hotel.
For more information about LSAD click
here
To read more stories about LSAD click
here
Pictures by Sophie Goodwin/ilovelimerick
Pictures by Zoe Conway/ilovelimerick
Pictures by Ciara Maria Hayes/ilovelimerick