Val O Connor launched her first bestselling and hugely praised cookbook 'Bread on the Table', published by O'Brien Press last year in O'Mahony's Bookstore on O'Connell Street and Limerick people came out in full force to show their support.  Now the book has been released in a handy new paperback edition entitled 'Irish Bread – Baking for Today' and the official launch took place at the Limerick Milk Market on Saturday May 16 and again the people of Limerick came out to show their support for Val.
Irish Bread is an appetising introduction to Irish bread baking – it shows how easy be to whip up a batch of griddle cakes, bake a gorgeous Irish soda loaf, or even make your own butter!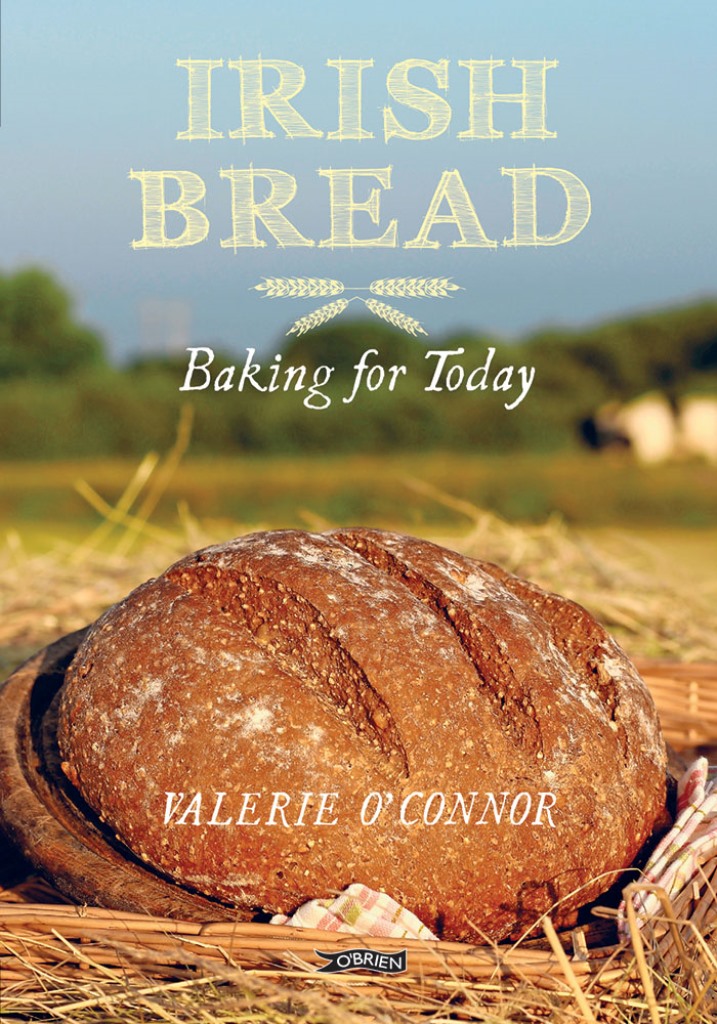 Bread and baking have long been an important part of Irish life, but today there's greater variety than ever before. Learn how to whip up a batch of oatcakes or bake gorgeous Irish soda bread, or try classics with a modern twist, like potato milk rolls, carrot & dilisk loaf, Irish breakfast pizza, scones with black pudding & apple, or Guinness, treacle & walnut bread. With recipes that draw on fresh, natural ingredients, there's bread here for every occasion.
Bread – one of the most universal foods in the world – has deep roots in Ireland. In the days before yeast and bread soda, the woman of the farmhouse would grind some wheat and leave it to soak overnight in buttermilk by the hearth before baking it in the bastible pot over the fire in the morning. The advent of bread soda made bread baking a faster process and Irish-style soda breads are some of the quickest and eas¬iest breads for any novice baker to master. Potatoes were always cheaper than flour, so delicious boxty plays an important part in our bread history. Today bread of all kinds, from yeast breads, rolls and potato breads to traditional brown bread and currant bread have a central place in the kitchens of Ireland.Try these recipes, and you'll soon be eating warming, nutritious Irish breads and enjoying every crumb!
This book is the perfect gift for visitors to Ireland and any Irish abroad looking for a delicious taste of home. The book, two years in the making, took readers on a journey through stories of Irish breads from the past into the now with funky recipes like Soda Bread Pizza and Guinness and Treacle Bread, sweet things make an appearance too with Brown Bread Ice Cream and Summer Pudding and of course an extensive chapter on gluten free breads too.  Valerie did all food photography, research, baking and writing.
Val is a cook, baker, food writer and photographer and food blogger. She has worked in professional kitchens from Brussels to Malaysia. She is a qualified organic horticulturalist and tutors in food growing, cooking and baking. She is widely published in the press and has appeared as a guest critic on Masterchef Ireland. Val has had her finger in many pies in the food world since she set up her blog Val's Kitchen back in the early days of 2006 with her new focus on healthy, delicious foods as a restaurant reviewer for the lauded Bridgestone Guides and guest critic on Masterchef Ireland.
The book is on sale at O'Mahonys bookshop now!
For more information, check out Valerie's website here.
Check out Valerie's  Twitter here.
Read about Valerie's other book 'Bread on the Table' here.
Read more about books here and food here.