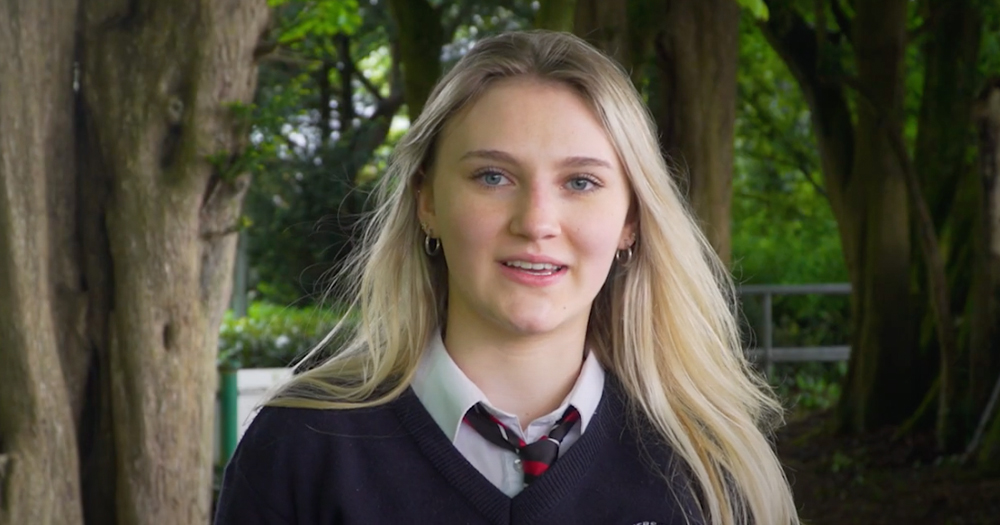 Villiers School Students release short video declaring there is no room for homophobia and transphobia 
Villiers Students were determined to bring the school closer together and spread positive messages about individuality
Villiers Students release short video declaring there is no room for homophobia and transphobia
By I Love Limerick Correspondent Tara Byrne
TY students from Villiers School in Limerick have launched a great short video declaring their inclusivity and support for all and showing there's no room for homophobia and transphobia in their community. The video is all their own work and was professionally filmed. The video is also distinctly Irish in tone representing "modern Ireland".
"We don't care about your religion, what language you speak, or your gender. But we do care if you judge someone for their sexual orientation, are not inclusive or don't stand up for what's right. Homophobia and Transphobia have no place at Villiers," said the students in the video.
The fantastic video is already a hit on social media, with Queen of Ireland, Panti Bliss, praising it on Twitter for its inclusivity. Villiers students were thrilled to learn that Panti retweeted the video. The students would love it if their work got some attention and spread the message to other schools and young people.
Really sweet student video from a school in Limerick supporting LGBTI+ students and standing against transphobia ?? https://t.co/iTp14b9t7y

— Dr Panti Bliss-Cabrera (@PantiBliss) May 24, 2021
School Chaplain Graham Sawyer helped the students with the script. In October, the school started an LGBT student group called 'The Alphabet People' in order to emphasise inclusivity. However, unleashing an explosion of consciousness and such in their self-confidence, the students have re-named themselves "Feminists and Gays" – FAGs for short! The group is also "hetero friendly" however and have many straight students.
Mancur Robinson is a 6th year student who helped set up the current LGBTQIA+ group within the school and was also involved with the video. He said, "When I joined the school in 2015, there was no support towards people of the LGBT+ community. I eventually came out as bisexual in 2018, during my Junior Cert, and there was still no real support. There were few staff members one could turn to, there was little to no support from fellow students; although there was a slight change in mindset due to the 2015 same-sex marriage referendum, support was minimal".
"Now as a 6th year, I have discussed with teachers, our headmistress and students in and below my year about coming out, being out and being proud of one's own sexual orientation and gender identification. The school has never been as progressive as it has been now and I am proud to call myself a student of this school that flies the pride flag with no shame," he added.
The mission of this video is to bring the school closer together and spread positive messages about individuality to help bring a new and more accepting Villiers into the lives of students.
The video shows great support for the community and especially LGBTQ+ students at Villiers. Congratulations to the creators for making their school a more welcoming and inclusive place, and here's hoping more schools follow their lead.
For more stories about LGBTQ go HERE
For more information about Villiers School go HERE