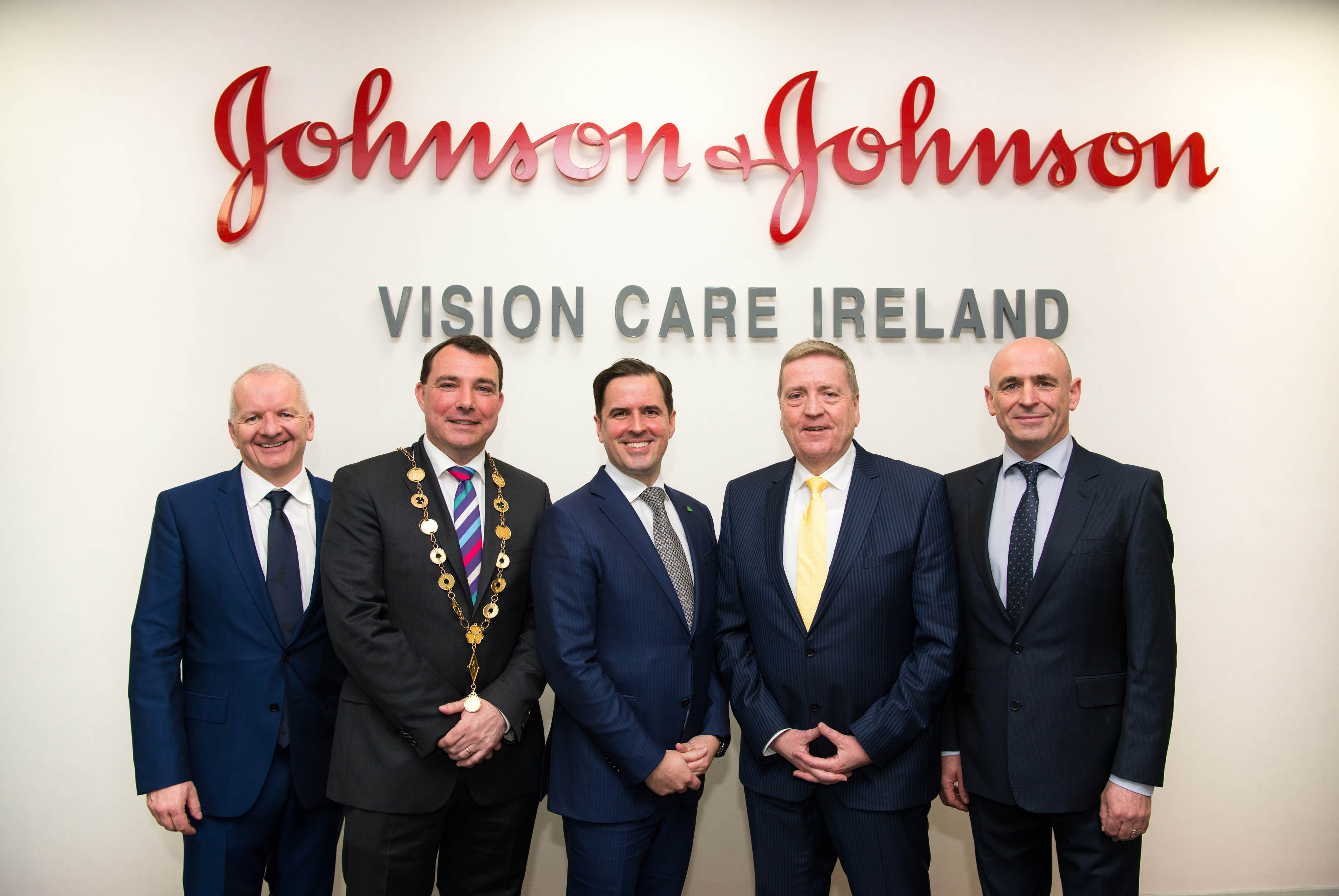 Johnson & Johnson Vision Care Limerick facility expansion creating approximately 100 jobs + investment of about €100M 
Johnson & Johnson Vision adding approximately 100 jobs + investment of about 100M in expansion of Limerick facility. In attendance at the announcement are, from left, Barry O'Sullivan, Global Manufacturing Lead, Johnson & Johnson Vision Care, Mayor of the City and County of Limerick, Cllr James Collins, Martin Shanahan, CEO, IDA Ireland, Pat Breen TD, Minister of State for Trade, Employment and Business, and John Lynch, Plant Leader, Johnson & Johnson Vision Care (Ireland). Picture by Diarmuid Greene
Johnson & Johnson Vision Care Limerick facility expansion creating approximately 100 jobs + investment of about €100M
Minister of State for Trade, Employment and Business Pat Breen TD today announced that Johnson & Johnson Vision Care (Ireland) will be adding approximately 100 new roles as part of about a €100M expansion of its manufacturing operations at its site in the National Technology Park, Plassey, Limerick. The project is supported by the Irish Government through IDA Ireland.
Approximately 200 additional workers are expected to be employed in the construction phase of the expansion to the company's Vision Care facility.
Speaking at today's announcement, Minister of State for Trade, Employment & Business Pat Breen TD said: "I very much welcome Johnson and Johnson Vision Care's expansion of its operations in Limerick and of course the approximately 100 jobs that will be created. It is a huge vote of confidence in the Mid-West region. The expansion, supported by the Government through the IDA, reflects the commitment of the Government and its agencies to pursue balanced and sustainable regional development."
John Lynch, Plant Leader, Johnson & Johnson Vision Care (Ireland) said: "Our aspiration at Johnson & Johnson Vision is to bring improved eyesight to people around the world and the most important way we accomplish that is through the research, development and manufacturing of new medical device technologies. We believe that the new manufacturing roles being introduced in Limerick in 2019 will be foundational in helping us bring new, innovative contact lens products to our patients and customers around the world at an industry-leading pace."
IDA Ireland CEO Martin Shanahan said: "This is a significant announcement. Already the world's largest contact lenses manufacturing plant, this expansion by Johnson & Johnson Vision Care of the Limerick facility represents not just a substantial financial investment but a considerable commitment to its Limerick operations. The approximately 100 jobs being added, along with those being created in the construction phase, will greatly benefit the economy of the Mid West region. Having a company of this stature continue to expand its operations enhances Ireland's global reputation as a Medical Technologies centre of excellence and demonstrates how global companies can successfully operate in regional locations. I wish John and his team continued success."
The accumulative announcement of 700 plus jobs in Limerick over recent days has reaffirmed the city and region's rising status as a major destination for inward investment.
Mayor of the City and County of Limerick James Collins said "Today's announcement of 100 new posts by Johnson & Johnson as part of a €100m expansion, on top of the commitments by Edward Lifesciences and FundRock on Friday of a further 645 jobs, shows that Limerick has taken its place as a competitive and attractive city for international investment.
"Johnson & Johnson already employs more than 1,000 people in Limerick and today's announcement, in addition to the additional jobs it brings, deepens their commitment to the city and region."
Pat Daly, Director of Service, Economic Development & Planning for Limerick City & County Council, also welcomed the news. "The decision by Johnson & Johnson to further invest in Limerick is proof that the Mid-West is an increasingly attractive place to do business. The growth our city and county is achieving, growth that is essential in the context of balanced regional development, didn't just happen overnight. It is as a result of strategic planning that goes back to the launch of our Limerick 2030 Economic and Spatial Plan.
"As a region, we have much to offer in terms of Foreign Direct Investment, not least an exceptionally skilled, educated, high-calibre workforce, competitive cost of living and doing business, access through an international airport at Shannon and the supply of high-quality office space coming on-stream.
For more information on IDA Ireland, click here
For more stories featuring Johnson and Johnson, click here