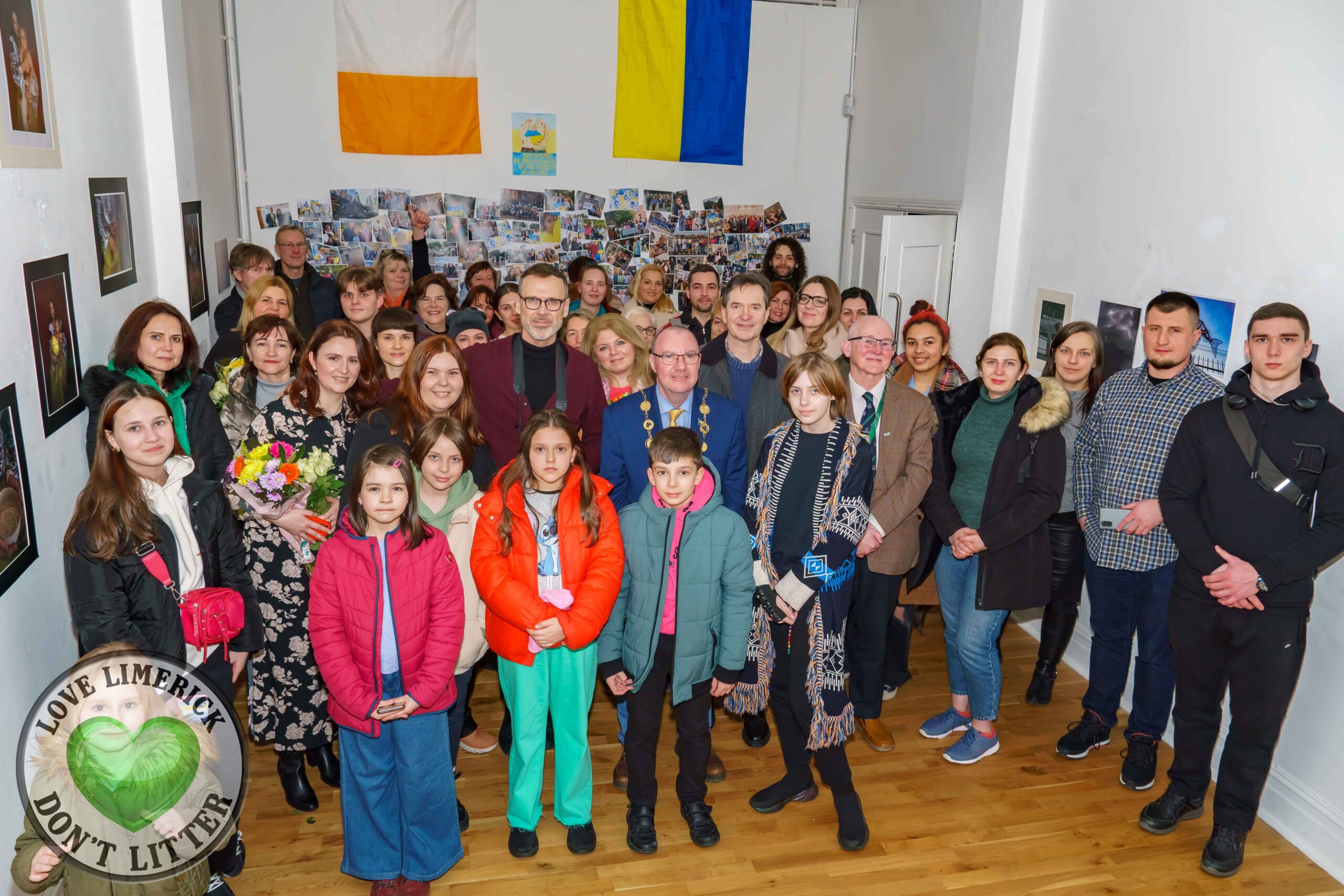 With Faith exhibition captures refugees' lives living in Limerick and runs at Limerick Museum until February 28
With Faith exhibition launch – Pictured above are photographers Olena Oleksiienko and Kateryna Vyshemirska (with flowers) with family, friends and Mayor Francis Foley at the launch of their exhibit at the Limerick Museum. Picture: Kris Luszczki/ilovelimerick
With Faith exhibition will raise funds for Community of Volunteer Medics who provide medical support in combat zones in Ukraine
By I Love Limerick Correspondent Cian Reinhardt
The With Faith exhibition, running at the Limerick Museum until February 28, 2023, features the photography works of Olena Oleksiienko and Kateryna Vyshemirska and focuses on the Ukrainian war and how their lives and many others' lives have changed since fleeing the war-torn country.
Ukrainian native, Olena, and Siberian-born Kateryna met just one day before full-scale war broke out in Ukraine, and launched their With Faith exhibition to raise funds for the Community of Volunteer Medics (PFVMH) who provide medical support in combat zones in Ukraine.
PFVMH provide care in combat zones since the beginning of the Full Scale War in Ukraine and needs support and money to buy a portable wireless X-ray.
One month after the start of the war, the pair decided they needed to flee the country. A decision they describe as the most difficult decision to make for their families but to save their children's lives they had to leave their country behind.
Not knowing what awaited them, the photographers decided to move to the farthest country from them, and after a long drive, they settled in Limerick, beginning their new life.
The duo say they "met a lot of great people and new friends" in Limerick, but never forgot that their "motherland is on fire".
The With Faith exhibition came about after Kateryna offered her works to Moya Ni Cheallaigh for the SVITLO auction, with Olena coming along to document the auction through her photography.
SVITLO raised funds in aid of Ukrainian refugees in April 2022, when Moya approached them to have a similar exhibition Kateryna says, "we thought it was one or two works from us, and after a few months we got to realise it would be just our exhibition. We were shocked, it was funny, but very stressful, but we started to work and bring all our ideas together and what we have now is this body of work that we want to show and what we want to do."
"It's one year of war, and there has been so many different situations for Ukrainian people in that time," Olena said, adding, "When we moved to Ireland, and settled in Limerick, we needed to do something. So we started to shoot everything"
"Me as a reportage photographer, I was everywhere, I took pictures of everything. Kate, she has a different state of mind, different art and vision. She walked a lot, had some time to herself which gave her deeper emotions, a deeper vision. So Kate took still-life pictures and the different things she saw, and by this work you are just alive," said Olena.
Saying they felt like they "needed to do something", the photographers said the exhibition is to "highlight and show what they have inside, how we struggle, how we live, how we are getting used to everything that happened".
Having met just one day before the war, Olena and Kateryna say they have become very close friends, "we met one day before the war, and from then we spent all this time together; we left Ukraine together, we came through all this together. It just so happens we are both photographers, and before this time we didn't know each other."
For both women War in Ukraine is the hardest thing to discuss, and this became clear when asked what exhibition title 'With Faith' means to them. After a moment of silence, Olena and Kateryna began to cry, saying, "For us, it means that we need faith, we cannot live without it, that only with faith can we overcome everything."

Olena continued, "At the beginning, nobody had faith that Ukraine would overcome everything, and struggle this far and so much. So now the whole world sees how strong we are, and if we had no faith in ourselves, in our world we wouldn't get this far."
The ladies would like to thank artist Limerick-based international artist and curator, Maurice Quillinan for his kind support with the exhibition.
Mayor Francis Foley said, "For both women, war in Ukraine is the hardest theme to talk about, but they are doing their best to help Ukraine, to help those who moved and those who stayed and keep on fighting for the life of Ukraine as a country and for the future of the nation."
Dr Matthew Potter Museum Curator added, "Following on the Shelter exhibition which has just closed in Limerick Museum, we are honoured to host With Faith, which will continue until Saturday 25 February. We are open Monday to Friday 10.00am to 5.00pm and Saturday 10.00am to 1.00 pm and 2.00pm to 5.00pm. Admission is free."
Details on the cost of the works can be obtained from the museum curators at the entrance with all money raised through the exhibition going toward the PFVMH.
The exhibition was officially opened on February 7 by by Mayor of Limerick Francis Foley and will run until February 28, 2023.

Read similar stories here.
Find out more about Limerick Museum here.
Pictures: Richard Lynch/ilovelimerick
Pictures: Kris Luszczki/ilovelimerick