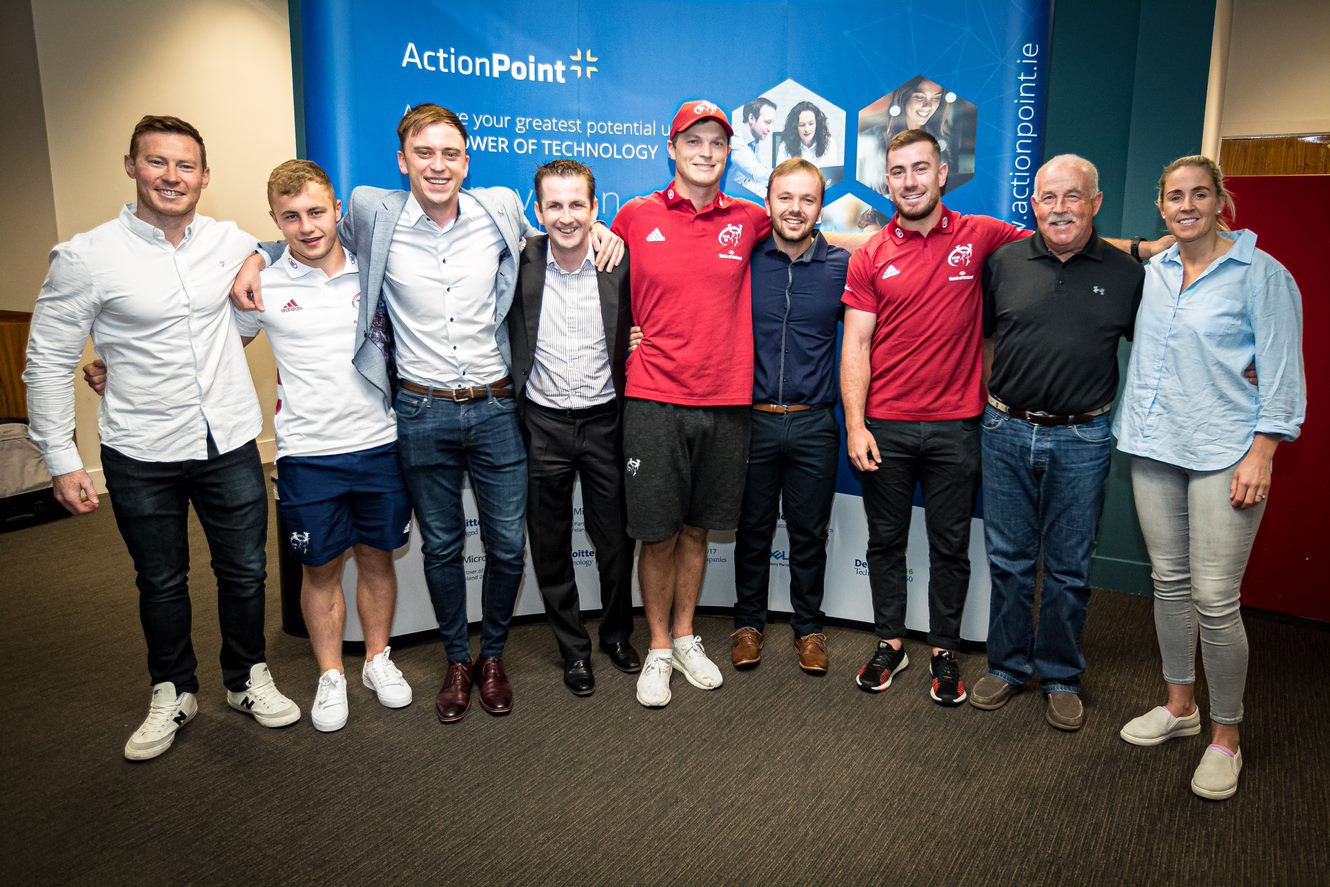 World Cup Warm-up brings stars of the game together to raise funds for local children's charities
World Cup Warmup: Cathal Sheridan (Munster Rugby), Craig Casey (Munster Rugby) Peter Hunt (ActionPoint), John Savage (ActionPoint), Tyler Bleyendaal (Munster Rugby), Pierre Visser (StatsPerform), JJ Hanrahan (Munster Rugby), Gerry Murray and Joy Neville. Picture: Keith Wiseman
World Cup Warmup Brings Stars of the Game together to raise funds for Local Children's Charities
Over 200 people assembled in Thomond Park for breakfast and 2 expert Rugby panels raising 8,846 euro for Limerick-based charities Cliona's, CARI and Children's Grief Centre. The World Cup Warm-up event organised by ActionPoint, Dell Technologies and LIVE 95 brought the Limerick business community together to hear stories and insights from former greats Jerry Flannery, Joy Neville and David Wallace.
After opening remarks from ActionPoint's John Savage and Cliona's Brendan Ring, the serious business started with the 'Rugby: Mind, Body and Data' panel hosted by ActionPoint's Peter Hunt. The panel included Sports Tech expertise from game tracking experts StatsPerform and GPS tracking specialists Statsports along with insight from Munster's Mental Skills coach, Cathal Sheridan and the importance of mental wellbeing and psychological preparation for the modern player. Finally, Munster out-half, Tyler Bleyendaal gave his insights on how data impacts the modern player.
The main panel, which was hosted by LIVE 95's Luke Liddy featured rugby royalty as Joy Neville was joined by Jerry Flannery, David Wallace and Conor Murray's father Gerry to talk world cup camps, refereeing challenges and the family impact supporting a World Cup star. The former players shared some very entertaining stories and there were plenty laughs among the full house at Thomond Park.
Speaking after the event, ActionPoint's John Savage said, "we are blown away and truly grateful for the huge support from the local business community helping to raise funds for these 3 amazing charities. We were thrilled to get involved with the LIVE 95 Helping Limerick Children initiative which, through events like this one is aiming to raise 95,000 euro for Cliona's, CARI and Children's Grief Centre. To be able to combine our passion for rugby and tech to raise funds for these three fantastic charities is immensely satisfying for me and the greater ActionPoint team. "
Brendan Ring, from Cliona's Foundation, said, "it's fantastic to see so many gathered here today to support Cliona's, CARI and Children's Grief Centre. Having the support of 2 wide-reaching technology companies like ActionPoint and Dell Technologies has enabled us to raise much-needed funds to greatly support our mission and hard work. Time and time again, the local community has shown just how generous they are and today is no different. We are humbled and grateful for their ongoing support. Finally, I'd like to thank our partners LIVE 95 and Caragh O'Shea of COS Events for driving the 'Helping Limerick Children' initiative.
For more information click here.
For more stories on World Cup Warmup click here.