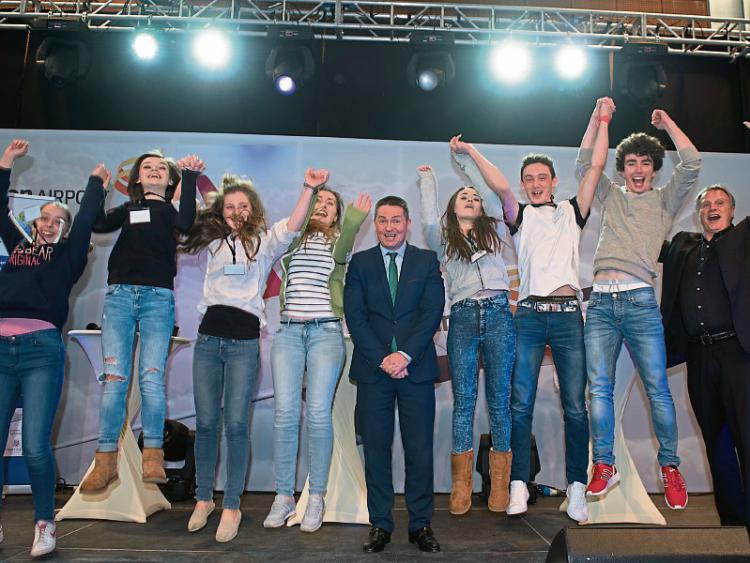 A group of Innovative Irish students gathered at Shannon Airport for the Young Innovators competition 2016
Innovative Irish students, including two limerick groups, gathered at Shannon Airport this week as part of the second Young Innovators competition 2016.
Amongst the creations and inventions presented were microchips inserted at birth to predict medical illnesses and self-drive cars with workstations, to name but a few. These ideas were placed as possible future aspects of life in this country in the next 50 years.
The brainchild of Corbally man John Hartnett of the Irish Technology Leadership Group (ITLG), the event was designed to help in the development of key skills needed to meet the requirements of a competitive economy.
Amongst the 700 students at the Young Innovators competition 2016 this week was a large group of Limerick contestants.
They task set for the innovative students was to envision the world as it may be in 50 years. They were also challenged to initiate new business ideas for then, over six categories: how we live, work, play, shop, learn and travel.
St Patrick's Comprehensive School, Shannon, who were awarded top honours, have been given the opportunity to fly to the Silicon Valley, where they will learn from some of the best technology minds on the planet.
LIT backed The Young Innovators event, which welcomed mentors from some of the world's best-established companies such as, Dell, Intel, Analog, Johnson and Johnson, Cook Medical, Zagg and Logitech. 
Kilkenny hurling legend Henry Shefflin, Kerry football star Killian Young and Munster stars Ronan O'Mahony and Cathal Sheridan also made an appearance at the event.
Salesian College and Castletroy College were two of six schools asked to pitch ideas to the judges at Young Innovators competition 2016.
St Patrick's Comprehensive School were the ones who caught the judges' attention, however. Their idea to implant a microchip at birth which would deliver predictive diagnostics for health issues was a clear favourite.
Sophie Petticrew, winning team member, recalled the feeling as, "incredible", describing the idea of travelling to the Silicon Valley as, "a dream".
John Hartnett founder of ITLG commented on the future of our country and indeed world, "If what we have seen here today in terms of the ideas put forward is anything to go by, we have an extremely exciting future. The whole idea of the event was that we would encourage innovation and entrepreneurship and the creative senses were certainly in full flow here today."
Liam Brown vice-president, research, enterprise and development at LIT furthered Mr Hartnett's comment, "We work with a lot of very smart companies at our extensive network of incubation and enterprise centres in LIT that would be quite proud of some of the ideas that were generated here today. I won't be surprised if we see some of these teenagers on campus with their own start-up firms."
Read more on the Young Innovators competition 2016 here
Click here for more information on ITLG
Keep up to date with Limerick's latest news here