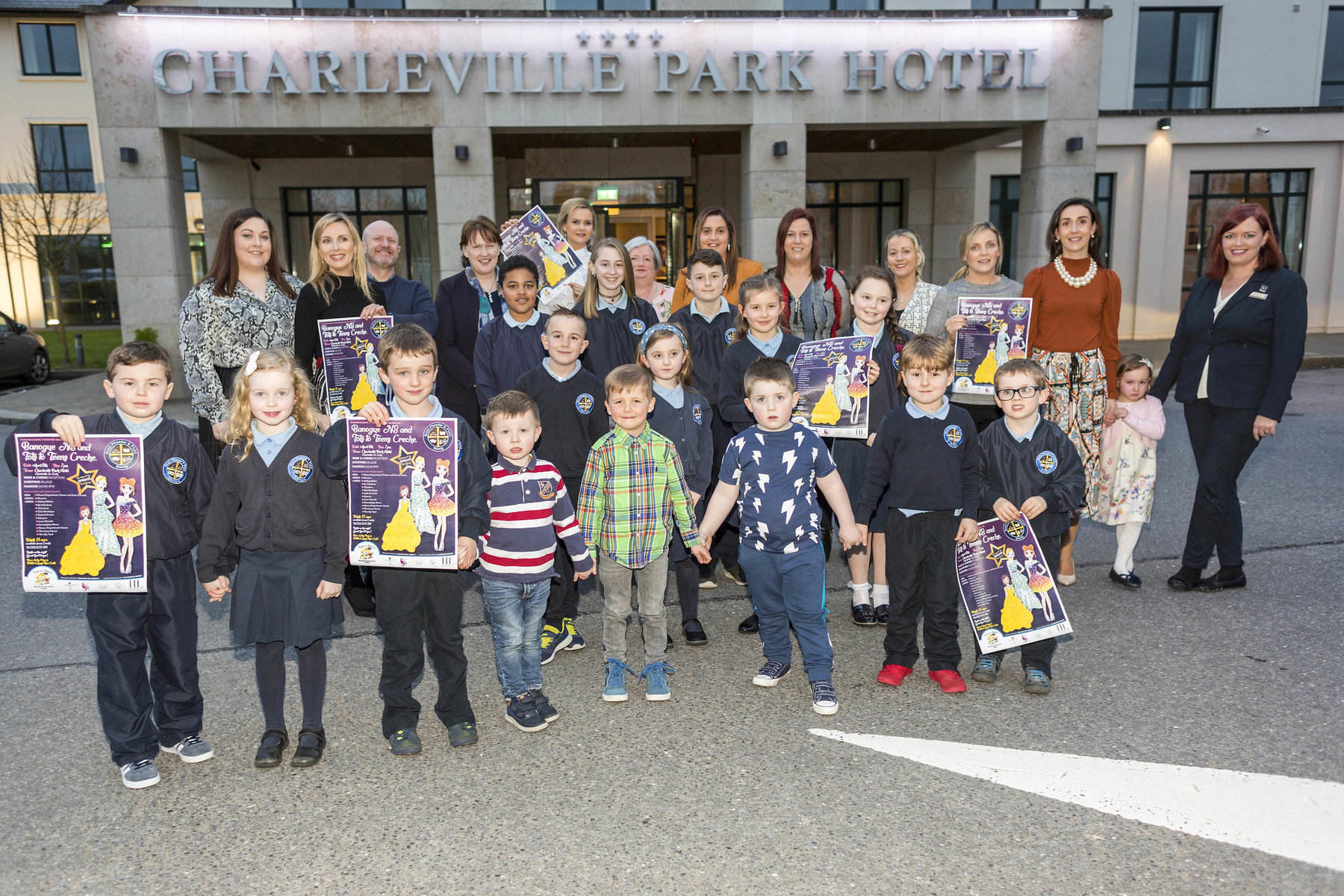 Banogue National School Fashion Show Fundraiser 2019 in aid of Banogue NS and Tots to Teens Creche
Banogue National School fashion Show Fundraiser 2019 – Pupils from both Banogue NS and Tots to Teens Creche with staff and fashion show committee members.
Banogue National School Fashion Show Fundraiser 2019 in aid of Banogue NS and Tots to Teens Creche
It is with great pleasure that Banogue Community Crèche and Banogue National School Parents' Council announce that they are holding a fashion show to raise funds for much needed maintenance and upgrading of facilities for the children using both services. Both facilities rely heavily on fundraising to keep their premises up to a high standard and making sure that they will meet the ever changing needs of childcare and education.
The Banogue fundraiser fashion show will be produced by the amazing Holman Lee Agency. There will be lots of fantastic fashion from boutiques and stores in Charleville, Adare & Limerick, showcased by professional models, staff, volunteers and junior models from the school and crèche.
This fundraising event will take place on Thursday, April 11th in the beautiful ball-room of the Charleville Park Hotel, Charleville, with wine and cheese reception at 7pm, where the event goers will have an opportunity to browse through the amazing stands and catch up with friends before the fashion show starts at 8pm. Three pupils from Banogue NS, won an art competition organised and ran by school staff in order to provide artwork for our fashion show poster, which, in turn, created a great excitement in the school.
Amanda Jordan, manager of Tots to Teens Community Crèche said: "The support of local businesses, businesses outside of the locality, the community and parents has been phenomenal and we are very grateful for it. Everyone is really looking forward to see colleagues, parents and children walking the runway alongside the professional team from the Holman Lee Agency. It will be a wonderful opportunity for parents, child models, crèche staff, school team and local community to get together and celebrate high fashion in luxurious surroundings."
Sheila Cagney, the principal of Banogue NS added: "We are really looking forward to an exciting showcase of fashion on the night of the 11th of April in the Charleville Park Hotel. We are so grateful to have such a dynamic fashion show committee steering this wonderful event along! It's sure to be a really enjoyable night!"
Aileen Donegan Boome, chairperson, Banogue NS Parents' Council expressed: "We are very fortunate to have such a hardworking team of committee members, working tirelessly to ensure this event will be a success. Our main focus is to bring our school and crèche communities together to enjoy an evening filled with fashion and entertainment with the added bonus of raising funds for both facilities. On behalf of the committee, I would like to express our gratitude to all of the businesses for their generosity and support, which as always has been overwhelming. So don't delay and get your tickets for this amazing event today, they are going to go fast!"
Tickets are €15.00 each and are now on sale through the Banogue National School parents' council and Banogue community Crèche. Also included in the price is entry for a door prize (DBB in Lough Rinn Castle) once you attend the show, a fantastic fashion show produced by The Holman Lee Agency, music and dance performances by the school children!
To read about last years fundraiser, click here.
For more information about Banogue National school, click here.