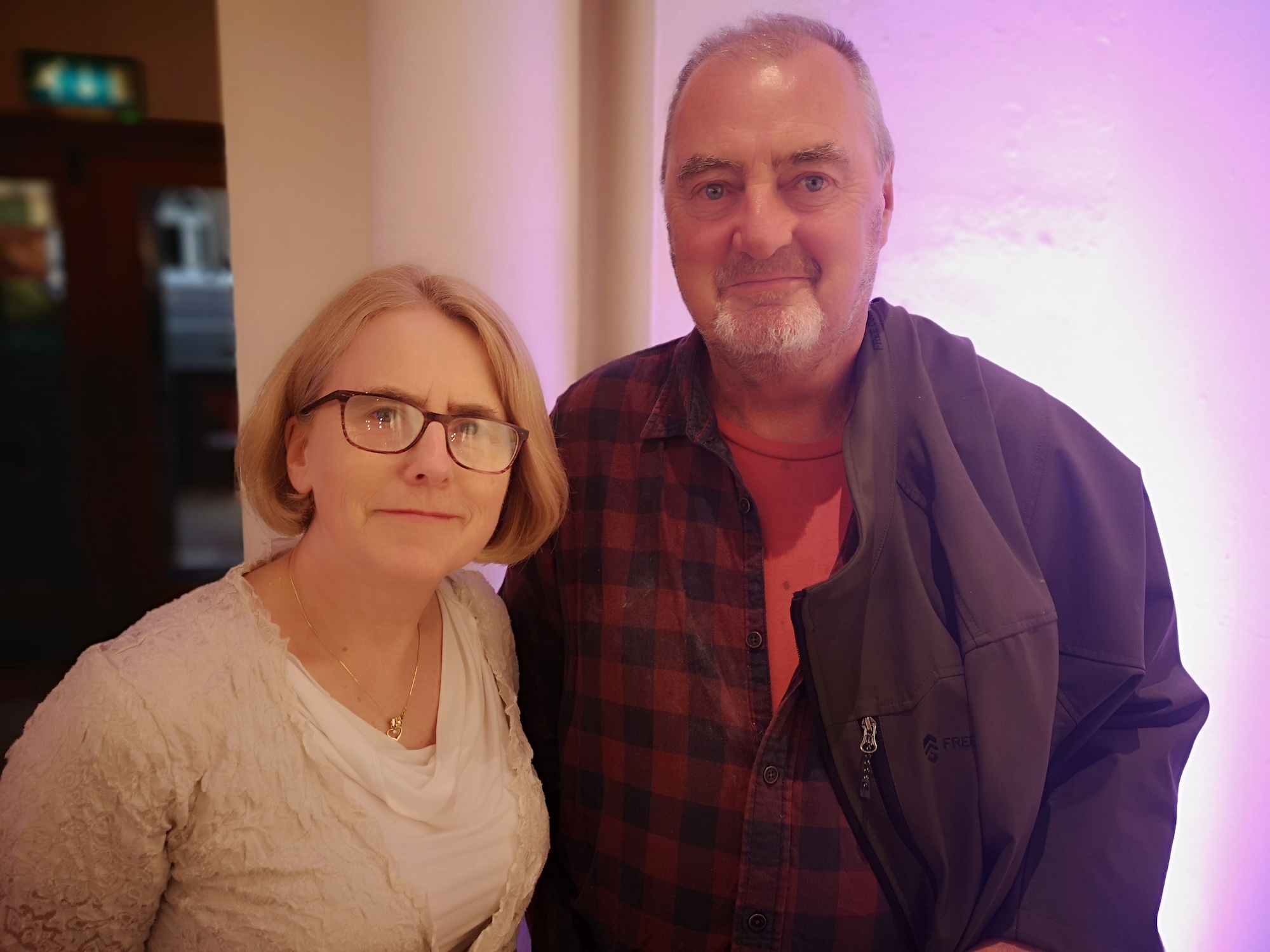 WATCH: Lime Tree Theatre & Belltable launch their packed new programme for this Autumn/Winter
Belltable Launch : Launch of the Autumn season. Pictured: Louise Donlon, Lime Tree Theatre and Belltable Director with Jon Kenny from the show 'Crowman' which arrives this November
Lime Tree Theatre & Belltable launch their packed new programme
Lime Tree Theatre and Belltable launched their Autumn/Winter 2019 seasons at the Belltable with invited guests on Monday, August 26. As we head into the crisp autumn evenings both venues are offering the very best of cinema, theatre, opera, comedy, children's work and both classical and traditional music.
Louise Donlon, director of Lime Tree and Belltable theatres, and Programme Manager of Belltable, Marketa Dowling spoke to three companies this evening; Members of The Cecilian Musical Society spoke to Louise about their excitement in returning to the Lime Tree Theatre in November to mark their 100th anniversary with a blockbuster production of Chitty Chitty Bang Bang. The musical Chitty Chitty Bang Bang is 50 years old itself this year, making the show even more significant.
The Cecilian Musical Society said, "Production is well underway and we have a lot done. we have costumes ordered and we have the car ordered as well. For our 100th year, I want to go all out and make it special".
Myles Breen from Bottom Dog Theatre Company chatted to Marketa about the premiere of his brand new play 'A Wilde Fan' this November in Belltable and Fidget Feet presents two shows this season in Lime Tree Theatre. First up is the premiere of Bingo Wings in early September. This will then be followed by a second premiere of a new piece for children called Hatch. Hatch will be performed as part of our Bualadh Bos Children's Festival programme which runs in October.
Marketa Dowling went onto announce that the Belltable film programme has expanded and now every Monday we will screen the same title twice – the first screening at 5.15pm and the second at 8pm. That's twice the opportunity to catch the best in international cinema. The season opens with the wonderful 'Marianne & Leonard: Words of Love' on September 9. Not surprisingly, the 8pm screening is already sold out.
The Lime Tree Theatre programme kicks off on Wednesday, September 4 with Gilbert O'Sullivan in Concert – Just Gilbert and Belltable's first theatre show is 'Oneday' by Richard Walsh & James Moran on Thursday, September 12.
Other highlights to watch out for this season are; Joanne Ryan's Eggsistentialism (Belltable) College Players present Translations (Lime Tree Theatre) directed by Margaret Hough, Jon Kenny's new play Crowman (Lime Tree Theatre), Polish Arts Festival & the Richard Harris International Film Festival (Belltable), Kilfenora Ceilí Band (Lime Tree Theatre), Fishamble's The Alternative (Belltable), Much Ado About Nothing by Rough Magic and Kilkenny's Art Festival (Lime Tree Theatre).
Audiences are even more spoiled for choice this year with 110 events spread over the two venues. Plan your autumn with them and as the sea gets chilly dive into culture instead. Please support these two venues by indulging in an evening of one of their magnificent shows.
As always the season draws to a close mid-December when preparations for the panto season begin. This year Limerick Panto Society presents Beauty and the Beast. The shows start on Friday, December 27 and if you can't get there before Santa arrives, you can catch a performance right up until Sunday, January 5.
For more information on upcoming events and ticket purchase, click
here.
For more stories on theatrical productions in Limerick, click
here.