Welcome to the I Love Limerick Business Directory
Use the search bar below to find local listings in our Business Directory
---

O'Donovan Productions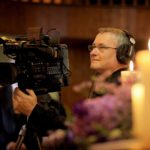 Business Name:
O'Donovan Productions
Short Business Description:
Rory and Mary O'Donovan of O'Donovan Productions, are a husband and wife team. Their studio is in their home in Clareview, Limerick. Rory is the main videographer and both of them are editors. Rory started out as a graphic designer and photographer while Mary was an assistant manager in Golden Discs and manager of Stardiscs, Limerick and Ennis. Both of them have always been interested in video and filming. They have hours and hours of footage of family occasions, and what started out as a hobby quickly became our profession. They filmed their first wedding in 1997 and haven't looked back since. They also film sporting events, confirmations, communions, plays, and shows.
They are both extremely passionate about their work and are both perfectionists at O'Donovan Productions. They are very particular about attention to detail. They are precise and professional. They love meeting new people and being helpful and constructive where possible.
Being a married couple themselves at O'Donovan Productions, they obviously had their own wedding to plan and organise. While they understand what an exciting time it is, they also appreciate how daunting it can be to choose the right venues and professionals to make your day exactly what you want it to be. Thankfully, their wedding day was perfect. Everything went smoothly and everyone enjoyed themselves. Of course the day flew by all too quickly and they couldn't wait to come home from honeymoon to get their video. They actually called to the videographer's house on the way home from the airport, They were that impatient!
It was wonderful for them to relive the day and see so many things they'd missed. It was great to hear the speeches as they could hardly remember what everyone had said. And it was so wonderful for them to see their guests smiling, laughing, dancing and enjoying themselves thoroughly. After many years of marriage, they still love to watch their day.
O'Donovan Productions takes great pride in their success so far and enjoy their work immensely. They have formed many friendships with couples over the years and love to meet and hear from them long after the big day. They are very proud of the many, many thank-you cards they've received over the years. It is vitally important to them that their couples love their Wedding Movie and treasure it always. Thankfully, they've been very successful in this area and look forward to doing this wonderful job for many, many years to come at O'Donovan Productions.