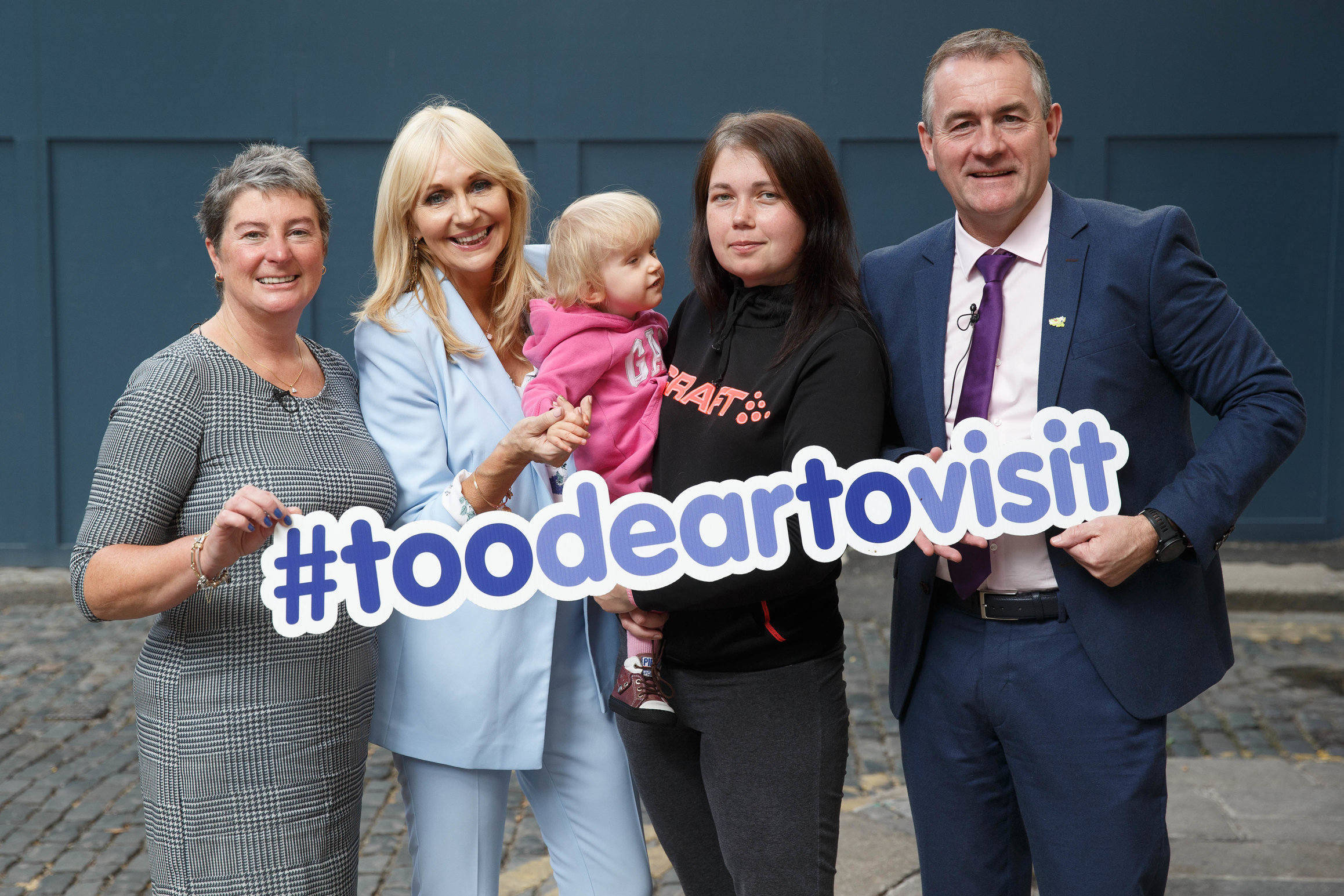 Clionas foundation Academic report 'Too Dear to Visit' reveals hidden cost of caring for a child with a life-limiting illness 
Terry Ring (founder of Cliona's Foundation), Miriam O'Callaghan, Ksenija Demcukabasinska with her daughter Mia who has Mosaic Trisomy 9, and Brendan Ring (founder of Cliona's Foundation) at the launch of the landmark Clionas Foundation academic report: 'Too Dear to Visit'. Picture: Fran Veale
Clionas foundation Academic report 'Too Dear to Visit' reveals hidden cost of caring for a child with a life-limiting illness
'Too Dear to Visit' – Clionas foundation academic report reveals for the first time, the extent of the often-invisible costs of caring for a child with a life-limiting condition.
Cliona's Foundation, a registered Irish charity works to provide financial assistance directly to parents of children with life-limiting or chronic complex care needs across Ireland to help with the non-medical expenses related to caring for their child.
The Foundation was set up by Brendan and Terry Ring, following the death of their daughter Cliona, from an inoperable brain tumour in 2006. Since its inception, Cliona's Foundation has raised over €1 million, helped more than 550 families across 29 counties.
There are approximately 4,000 children living with life-limiting conditions across Ireland today. This report shows how non-medical expenses including overnight accommodation, travel costs, additional childcare and extra household bills can amount to become an enormous financial burden on families already under immense emotional stress.
The report highlights that many families are spending upwards of €10,000 to €11,000 per annum which can represent as much as one-third of their post-tax income. The total burden faced by families at a national level is estimated to be several millions of euro each year. The report highlights that travel and related costs which can range from €1,400 to €8,000 in one year are a major part of the cost of caring for a child with a life-limiting condition.
Congrats to you all in @ClionasFDN Brendan – wonderful report today highlights the incredible work you and Terry do. https://t.co/gxEgOKRbNt

— Miriam O'Callaghan (@MiriamOCal) September 26, 2018
Lead author Professor Charles Normand, Professor of Health Policy and Management at Trinity College Dublin, emphasises the need for a proper state-funded system to help the families in need.
When a child is born or diagnosed with a life-limiting illness or sustains a serious injury, parents are thrust into an enormously stressful and threatening world and yet widespread evidence shows how important their role is in their child's recovery as well as limiting the impact for siblings or other family members.
"This report exposes the punitive financial burden on families caring for a seriously ill child. Very often parents will have to take on a caring role for their child, resulting in a loss of employment and income, significantly impacting their finances, while simultaneously trying to meet unforeseen outgoings such as travel to hospital appointments, hospital parking, overnight accommodation, and other non-care related expenses. It makes no sense to provide good medical treatment and no support for non-medical expenses. These expenses are just as much a part of the cost of their child's care pathway as the treatment itself. Despite the outstanding efforts of Cliona's Foundation to support families in dire need, its' funds and work fall far short of being able to tackle the scale of demand, which is evident from our work. No charity should be expected to fill this funding gap. There needs to be a proper state-funded system and process which families can readily access for exceptional non-medical expenses when they need it," Professor Normand said.
The report sets out three key recommendations:
A 'looking after a child with life-limiting illness' grant set up by the government.
A national database on families caring for children with a life-limiting condition.
And for, Cliona's Foundation to tailor its support services to meet the unique needs of the families including partnerships with services companies to provide a range of assistance to the families.
Terry Ring co-founder of Cliona's Foundation said, "Our report highlights the scale of the problem and the need for State support for these vulnerable families through the creation of a special grant system to help families with exceptional non-medical expenses. The report underlines how state support is often inadequate, slow to respond, poorly targeted on the needs of these families and can be difficult to access. Non-medical expenses can be astronomical, as we know from first-hand experience, which is why we set up Cliona's Foundation, to help provide grants to alleviate some of this considerable financial stress. Because when you're already in a deep and dark place with a sick child, the last thing you want to worry about is money."
The full version of the report can be viewed HERE
For more information on Cliona's Foundation go here
For more stories of Cliona's Foundation go here