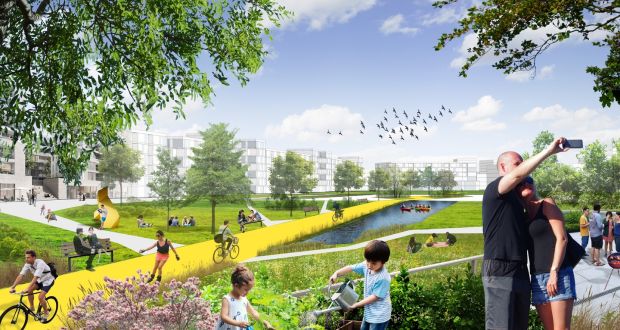 New Limerick 'gateway' project Colbert Station Quarter could potentially home up to 10,000 people
Colbert Station Quarter Development – An illustration from the plans to redevelop Colbert Station Quarter in Limerick pictured above.
New Limerick 'gateway' project Colbert Station Quarter could potentially home up to 10,000 people
Limerick will get a look at five visions for the future of Colbert Station Quarter, with a series of new plans set to be unveiled. This is a major plan that is set to construct thousands of homes on over 100 acres of state-owned land in Limerick city with Colbert rail station as a central transport hub.
This development could potentially home up to 10,000 people, with the proposal suggesting between 2,000 and 3,000 housing units.
The Land Development Agency (LDA), together with Limerick City and County Council, commissioned the Royal Institute of the Architects of Ireland with a design review. Five different architects will present five different visions for the development of the area around Colbert Station. Those five architects are Grafton Architects, Sean O'Laoire and Mola Architects, Anne Kiernan, Merritt Bucholz, and Piotr Mach.
The plan, spearheaded by the Land Development Agency (Or the LDA), would see thousands of jobs created in the construction of homes and amenities on lands owned by CIÉ, Limerick City and County Council, the Health Service Executive, the Department of Education and the Department of Justice.
This plan is set to be a three-phase plan, and the first phase of the three-phase plan is to have 400 homes constructed by 2023. The development of this new gateway project is estimated to cost between €1 billion and €2 billion.
The plan aims to open underutilised lands and create a new gateway to Limerick, focuses on developing cycling and pedestrianisation and to reduce the dominance of the car. Affordable housing will be at the heart of this development.
The plan for this project is to have 80% of the development residential while the remaining 20% will be made available for commercial, employment, and other uses that have yet to be decided.
The LDA says, "The site has the potential capacity for a walkable neighbourhood of new homes, as well as space for employment, transport and leisure."
A series of public consultations and a draft framework will be published between now and 2021.
Members of the public can access the design-review documents HERE or a copy of the document will also be available from the Limerick City and County Council offices at Merchants Quay.
For more stories on Limerick development, click HERE