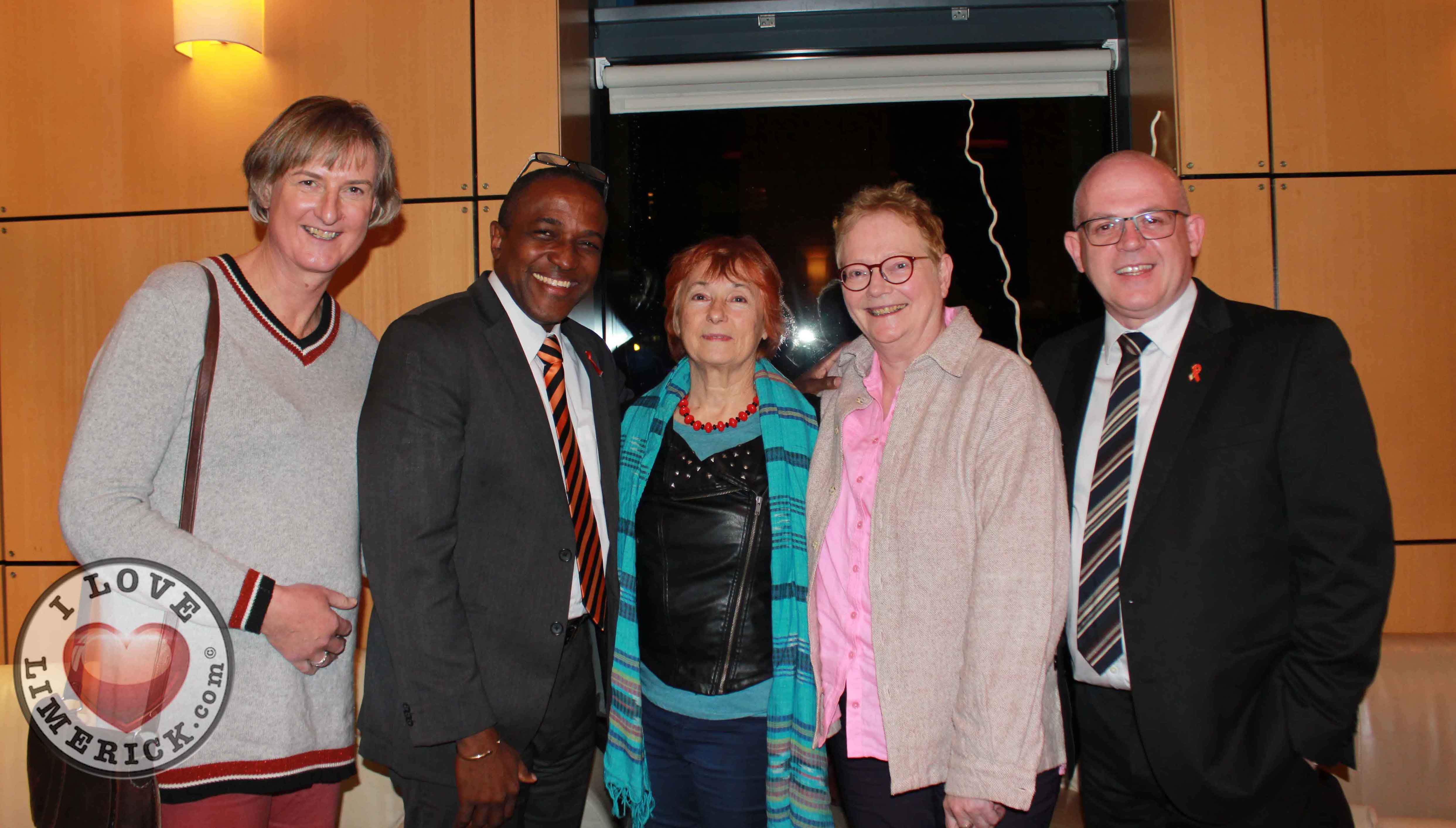 WATCH: 'Decriminalisation Then and Now' an evening marking the 25th anniversary of decriminalisation of homosexuality in Ireland.
'Decriminalisation Then And Now' a panel discussion about LGBTQ groups, organized by The Hate and Hostility Research Group took place on Thursday, November 29 at the University of Limerick. Pictured are panelists Vanessa Lacey, Maurice Tomlinson, Mary Dorcey, with Dr.Geraldine Moane and Karl Hayden. Picture: Baoyan Zhang/ilovelimerick
WATCH: 'Decriminalisation Then and Now' an evening marking the 25th anniversary of decriminalisation of homosexuality in Ireland.
'Decriminalisation Then and Now' an evening dedicated to 25 years of decriminalisation of homosexuality. On Thursday, November 29 the Hate and Hostility Group conducted a panel discussion at The University of Limerick. The evening marked the 25th anniversary of decriminalisation of homosexuality in Ireland.
The Hate and Hostility Research Group is the only research group in Ireland dedicated to the study of hate crime. Conducting translational research on hostility towards difference, it is an interdisciplinary group led by Dr. Amanda Haynes of the Department of Sociology and Jennifer Schweppe from the School of Law at the University of Limerick. They work closely with a number of NGO partners to progress policy and legislative change in hate crime in Ireland as well as being affiliated with the International Network for Hate Studies.
The panel discussion marks one of their many of events under the 'Academic Meets Activist' series of events. The discussion not only spoke of the Irish struggle for decriminalisation but also explored the struggle for decriminalisation in Jamaica.
Jennifer Schweppe said: "25 years ago, on June 24, 1993, the Criminal Law (Sexual Offences) Act was passed decriminalising homosexuality in this jurisdiction. Following many years of struggle and a decade of legal challenges brought by Senator David Norris and former President Mary Robinson, the 1993 Act finally removed legislation, which had been in place since the Victorian period, and which criminalised sexual acts between men specifically. We don't know with certainty how many gay and bisexual men were criminalised under this law, but between 1940 and 1978 an average of 13 men a year were jailed for homosexual offences, and in the ten-year period from 1962 to 1972, there were 455 convictions."
The evening consisted of a panel discussion with Maurice Tomlinson, Vanessa Lacey, Mary Dorcey, Professor Geraldine Moane, and Karl Hayden, who also discussed the impact and legacy of criminalisation on the LGBT community.
Maurice Tomlinson is a Jamaican lawyer, LGBT rights activist, and educator. He is a senior policy analyst with the Canadian HIV/AIDS Legal Network. Maurice's work has been featured in a documentary, The Abominable Crime, which describes the struggle with homophobia in Jamaica and efforts being made to challenge this. He received the inaugural David Kato Vision and Voice Award in 2012, which recognizes individuals who defend human rights and the dignity of LGBTI people around the world. Maurice is co-chair of the International Network for Hate Studies (INHS).
Vanessa Lacey is Health and Education Manager with TENI -Transgender Equality Network Ireland. She founded the family support group TransParenCI in 2011, which now supports over 100 families. Vanessa also works with primary and secondary schools and the Gardaí. Vanessa is a committee member of the HSE-led Transgender Health Working Group. One of her main objectives is to develop a holistic service for trans people and their families.
Mary Dorcey is an award-winning poet, short story writer and novelist. Much of her work explores issues of sexuality, identity and the multifaceted lives of women through their role as mothers, daughters, and lovers. Her poetry and fiction are taught at universities throughout Europe, the United States and Canada. It is reproduced in more than one hundred anthologies representing Irish, Gay and Women's literature. Mary was a founding member of Irish Women United, Women for Radical Change and The Movement for Sexual Liberation.
Dr. Geraldine Moane is Senior Lecturer in the School of Psychology at University College Dublin (UCD). Dr. Moane contributed to the development of liberation psychology with particular application to women and to lesbian, gay, bisexual and transgender persons. She was the chairwoman of the sexual diversity and gender special interest group of the Psychological Society of Ireland (PSI).
Karl Hayden, is a filmmaker, photographer, and longtime human, civil and LGBT rights campaigner. He is co-chair of the labour party's LGBT group as well as being the party's Online Campaigns and Web Manager. Karl combines his artistic work with his activism, and is responsible for some of the beautiful portraits included in Charlie Bird's book on the 2015 marriage equality referendum, 'A Day in May'.
Dr. Amanda Hayes commented, "The HHRG were pleased to host this panel discussion to mark this anniversary year of decriminalisation, a year in which the Irish state has formally apologised to those affected by this legislation and acknowledged the harm done to those convicted and to the wider LGBT community. As academics, we valued this opportunity to learn from this panel of distinguished activists."
For more information about the HHRG go here
To read more about the 'academic meets activist' events go here