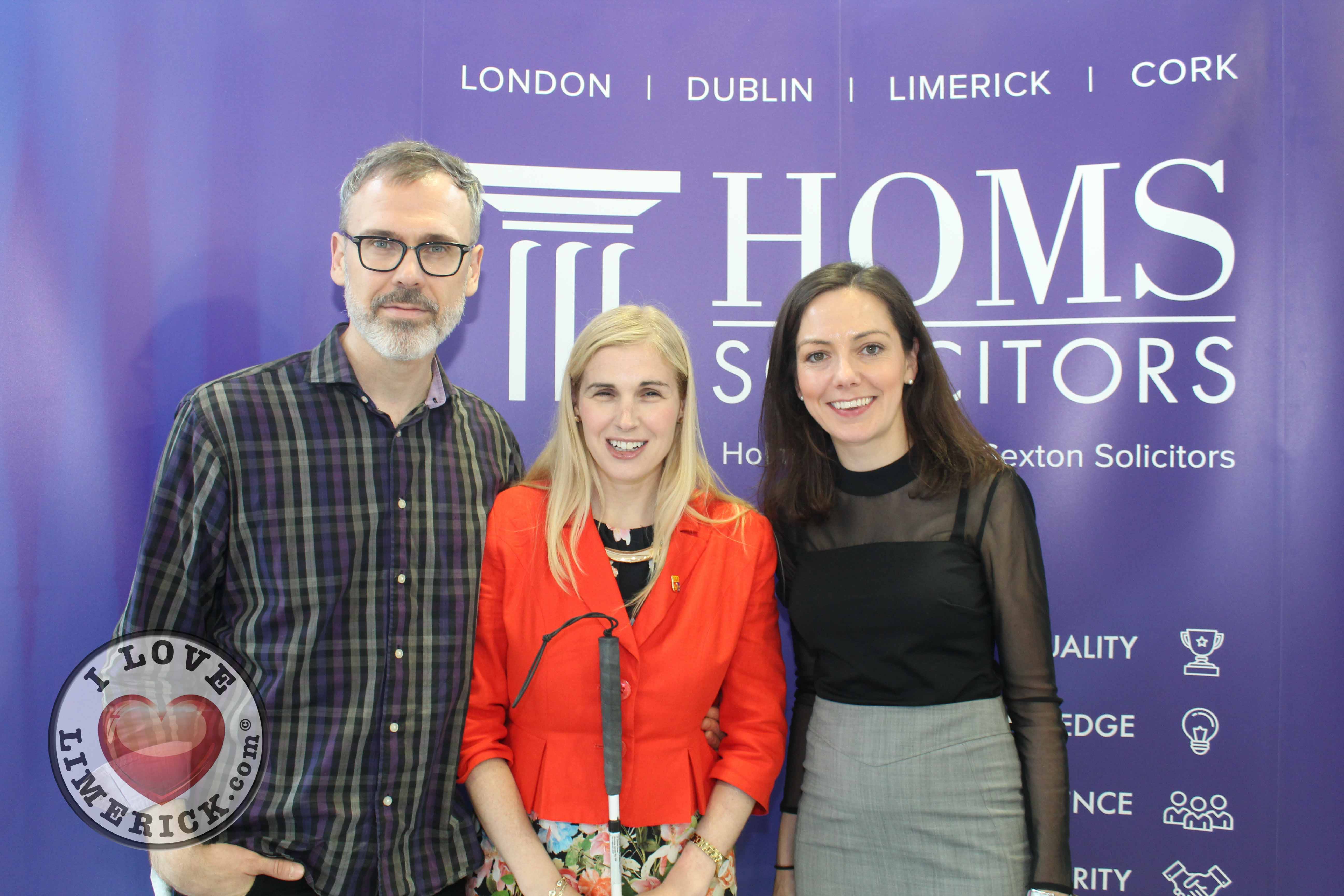 PHOTOS: Blind Marathon Runner Dr Sinead Kane speaks at the HOMS Fittest Company Challenge Awards
Inspirational Motivational Speaker Dr Sinead Kane spoke at an awards ceremony at Holmes O'Malley Sexton in honour of the recipients of the Bon Secours Hospital Great Limerick Run 2018 Fittest Company Challenge. Sinead pictured here with Richard Lynch and Maria Gleeson of Holmes O'Malley Sexton. Picture: Zoe Conway/ilovelimerick
Blind Marathon Runner Dr Sinead Kane speaks at the HOMS Fittest Company Challenge Awards
The 2018 winners of the Holmes O'Malley Sexton (HOMS Solicitors) 'Fittest Company Challenge' were presented with their trophies at a prize-giving event at HOMS' offices at Bishopsgate, Henry Street, Limerick, on Thursday 24th May 2018. HOMS Solicitors sponsor the 'Fittest Company Challenge' (HOMSFCC) as part of the 2018 Bon Secours Hospital Great Limerick Run event, which took place on Sunday 6th May 2018.
Prizes were presented to the participating companies by Dr Sinead Kane, a woman for whom, the words 'can't', 'impossible' and even 'pain' seem to have no meaning. Sinead is a double Guinness World Record Holder. In 2018 she broke the Guinness World Record for the furthest distance traveled by a female on a treadmill in 12 hours and she is also the first Irish female to win the world marathon challenge. In 2017, within the space of three months, Sinead was awarded two Ph.D. doctorates. She is a qualified solicitor and mediator. These achievements are even more incredible when one realises that Sinead is also legally blind. Sinead spoke to the award-winning companies about resilience and the need for physical, mental and emotional energy in order to achieve one's goals.
Fantastic speech from the amazing motivational speaker and legally blind marathon runner, @KaneSinead @blindrunner777 at the @HOMSsolicitors Fittest Company Challenge Awards last night! #ilovelimerick #lovelimerick #lovinlimerick #limerickcity #irish #ireland pic.twitter.com/45zr3oaD4i

— #LimerickTilliDie (@ilovelimerick) May 25, 2018
During Sinead's speech she spoke about role models and the type of people who inspire her, saying,
"For me, it's the people who are the unsung heroes. The people who do voluntary work on voluntary basis, who are out there in the world, changing peoples lives. Even by sponsoring this event today, HOMS are changing peoples lives."
This year, over 2000 employees from more than 115 companies of various sizes registered and took part in the HOMSFCC. Companies are categorised according to employee numbers with points allocated per employee that cross the finishing line.
Regeneron walked away with two prizes in the evening; for the overall winner of the fittest large company in Ireland and as winners of the inaugural "9 Week Challenge". Materion won the fittest small company in Ireland with Height for Hire Limerick winning the fittest company with a small of 10 or less.
Speaking of the sponsorship of the HOMSFCC, Harry Fehily, HOMS Managing Partner said,
"We are very proud to be sponsoring this event for the second year in a row. The Bon Secours Hospital Great Limerick Run is a fantastic event for Limerick and we are happy to be associated with this competition that promotes healthy employee lifestyles and also is a great team building exercise. HOMS Solicitors also had a team of runners entered in the challenge which engendered a great sense of friendly rivalry within the firm over the last few weeks and months."
John Cleary, Director, Bon Secours Hospital Great Limerick Run, commented,
"There is a reason the event is not called the Bon Secours Great Limerick "Marathon". The event is all about encouraging individuals to compete and achieve their personal goals. This HOMSFCC brings another dimension to our event which is one of the largest participatory events in the country and the Bon Secours Hospital Great Limerick Run team wish to congratulate all those companies who embraced the competition."
Well done to all who took part and congratulations to the winners.
Large Company
Regeneron
Bon Secours Hospital
Garda
Medium Company
HOMS Solicitors
BDO Limerick
Action Point
Small Company
Materion
Limerick Live 95 FM
Optel Vision
Micro Company
Height For Hire Limerick
Metis Ireland
LV Hogan & CO
For more on Dr Sinead Kane, go here.
For more stories on Dr Sinead Kane, go here.
For more information on HOMS Solicitors, go here.
Photos by Zoe Conway/ilovelimerick