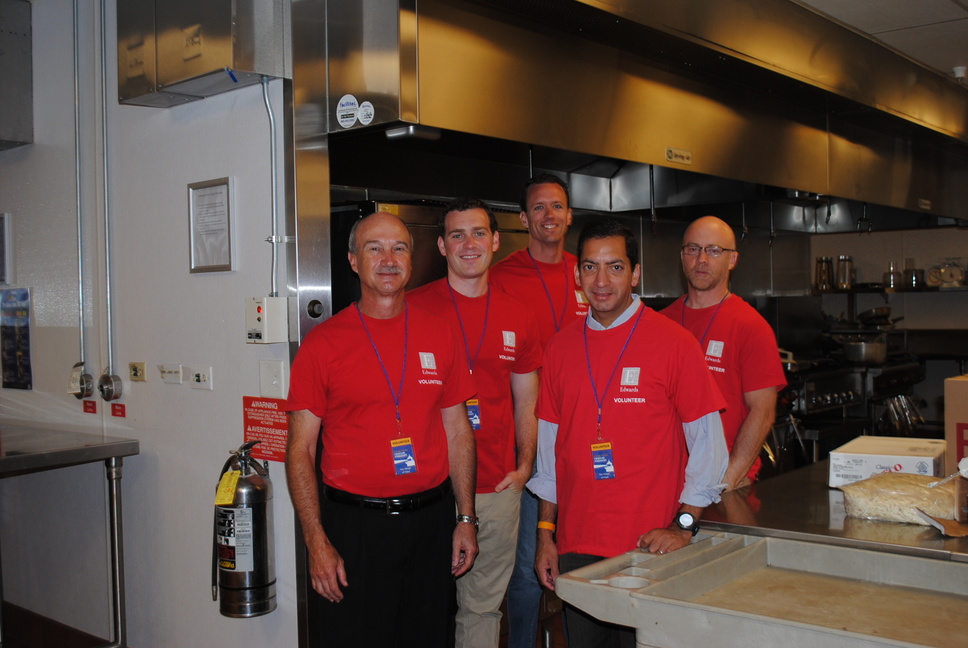 600 new jobs by Edwards Lifesciences is huge endorsement of Limerick as major FDI destination
Edwards Lifescience invests millions in a 600-job facility in Limerick is a huge endorsement. Edwards Lifesciences Corp Development Team at OC Rescue Mission.
600 new jobs by Edwards Lifesciences is a huge endorsement of Limerick as major FDI destination
The decision by US med-tech company Edwards Lifesciences that it is to invest €80 million in a 600-job facility at the National Technological Park is further validation of Limerick's attractiveness to leading global companies, the Mayor of the City and County of Limerick James Collins has stated.
The announcement by the company today is the latest in a long list of FDI and indigenous job commitments for Limerick, with over 12,000 posts created over the past five years.
Welcoming the decision, Mayor of the City and County of Limerick Cllr James Collins said: "Today's announcement by Edwards Lifesciences is a huge endorsement of the Limerick city region and its ability to attract global leaders in the Life Sciences sector to set up in Limerick.
"The Med-tech sector is growing in Limerick and today's decision further cements Limerick's reputation as a go-to location for companies wishing to innovate and expand. The work to be carried out in the firm's permanent facility in the National Technology Park in Castletroy will help change the lives of millions of people worldwide.
"The eco-system in Limerick centred around co-operation between the local authority, state agencies and education providers have once again proven to be a winner for companies looking at investing in Ireland.
"Like Edwards Lifesciences, we all need to continue to innovate, in order to remain an attractive location for foreign investment. We are operating in a global marketplace and need to remain competitive. I can assure the company of the continuing support of Limerick City and County Council."
Limerick Chamber welcome for Edwards Lifesciences announcement. The CEO of Limerick Chamber, Dee Ryan, has described the announcement by US med-tech company Edwards Lifesciences of its 600-job, €80m facility investment in Castletroy as another great moment in the ongoing success story that is Limerick.
Responding to the news by the California headquartered company that it has chosen the National Technology Park as the location for its permanent facility in Ireland, the Chamber CEO said that Edwards Lifesciences Corporation is a huge name in the med-tech sector; a global leader in its area and this announcement is a massive statement about Limerick's attractiveness for inward investment today.
When an FDI company selects Limerick, it only does so after looking carefully at other options in a very competitive market.
"From a sectoral perspective, we've also now developed strong med-tech cluster, with Edwards Lifesciences joining other global brands like Cook Medical, Vistakon, Becton Dickinson, Stryker and others. The spin-off from this to indigenous supply-chain and services company can be huge also, let alone the bounce for the construction sector in developing the site," said Ms Ryan.
Ms Ryan continued: "Ultimately, this confirms our ability to successfully compete at the international table for inward investment and it hasn't happened by chance. It's down to the collective approach of the region, from the likes of Limerick City and County Council, Shannon Airport, our third level entities, the IDA, Enterprise Ireland, ourselves at Limerick Chamber and others.
"We've clearly built a compelling proposition but we've still much to do. We must remain competitive and strengthen that offering. Critical to this will be delivery on the M20 as well as making sure that Dublin Airport is not allowed to entirely monopolise the aviation market and put Shannon, which is a key driver of jobs to this region, and other Irish Airports at risk.
The Limerick Chamber now looks forward to doing whatever they can to make sure Edwards Lifesciences gets all the support it needs from the business community.
For more information on Edwards Lifesciences, go here
For more stories on Limerick Chamber, go here