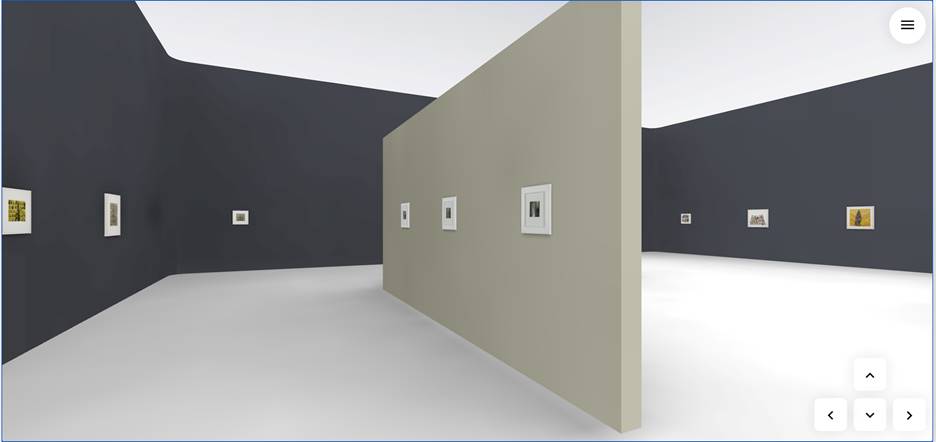 A real exhibition of Harper Hogg Shinnors in a virtual space – Launch Thursday 3 December, 7pm Online
Harper Hogg Shinnors are being displayed at the virtual Hunt Museum, Limerick
A real exhibition of Harper Hogg Shinnors in a virtual space – Launch Thursday 3 December, 7pm Online
The works of three Limerick artists: Charles Harper, Gavin Hogg and John Shinnors have been placed in a Hunt Museum virtual gallery enticing you through the space, letting you pause in front of work, see it in the context of the other works and take your time, as you would in the physical space. This is deliberately not a replication of a physical exhibition space. The space is an open and limitless one, in which New Small Work gives us all room to re-evaluate daily life.
Not quite as we conceived it at the beginning of this year, New Small Work is still a real exhibition but shown in a virtual space.
In Harper's watercolours, he explores themes around stress, Skellig monks, native Americans and human celebratory interaction. The nine paintings by Hogg address the contemporary obsession with information and the level of attention we are expected to give it. The recurring themes of lighthouses, scarecrows and kites feature in Shinnors beautiful semi abstract paintings, oil pastels, oil on panel and a small number of watercolours. Moving from figuration through to abstraction, the work of each artist draws the viewer into obscure narratives formed around these visual signatures.
Naomi O'Nolan, Head of Exhibitions & Collections says: "I am dreaming of the day I can walk around in a gallery, losing myself in Art, be taken into other worlds, but think our achievement here placing these thoughtful, narrative works in a virtual gallery, is the next best thing".
To launch the exhibition the three artists will be in conversation with each other and John Logan of UL, on 3 December 2020, 7pm. To join in and ask questions about them and their work sign up here
The Hunt Museum holds one of Ireland's greatest private collections of Art and Antiquities from the Neolithic period to the 20th century. Donated by John and Gertrude Hunt to the people of Ireland, this diverse collection is housed in The Custom House, a 18th Century Palladian style building in Limerick.
The Hunt Museum is a centre of learning and civic life that preserves and uses its world class collections to support a greater understanding of our past and to deliver new collaborations and innovation. Public engagement is key to our approach with a full education programme and wide community participation in all our work.
Virtual Exhibition can be found HERE
Link to join the Launch can be found HERE
For more stories on The Hunt Museum go HERE