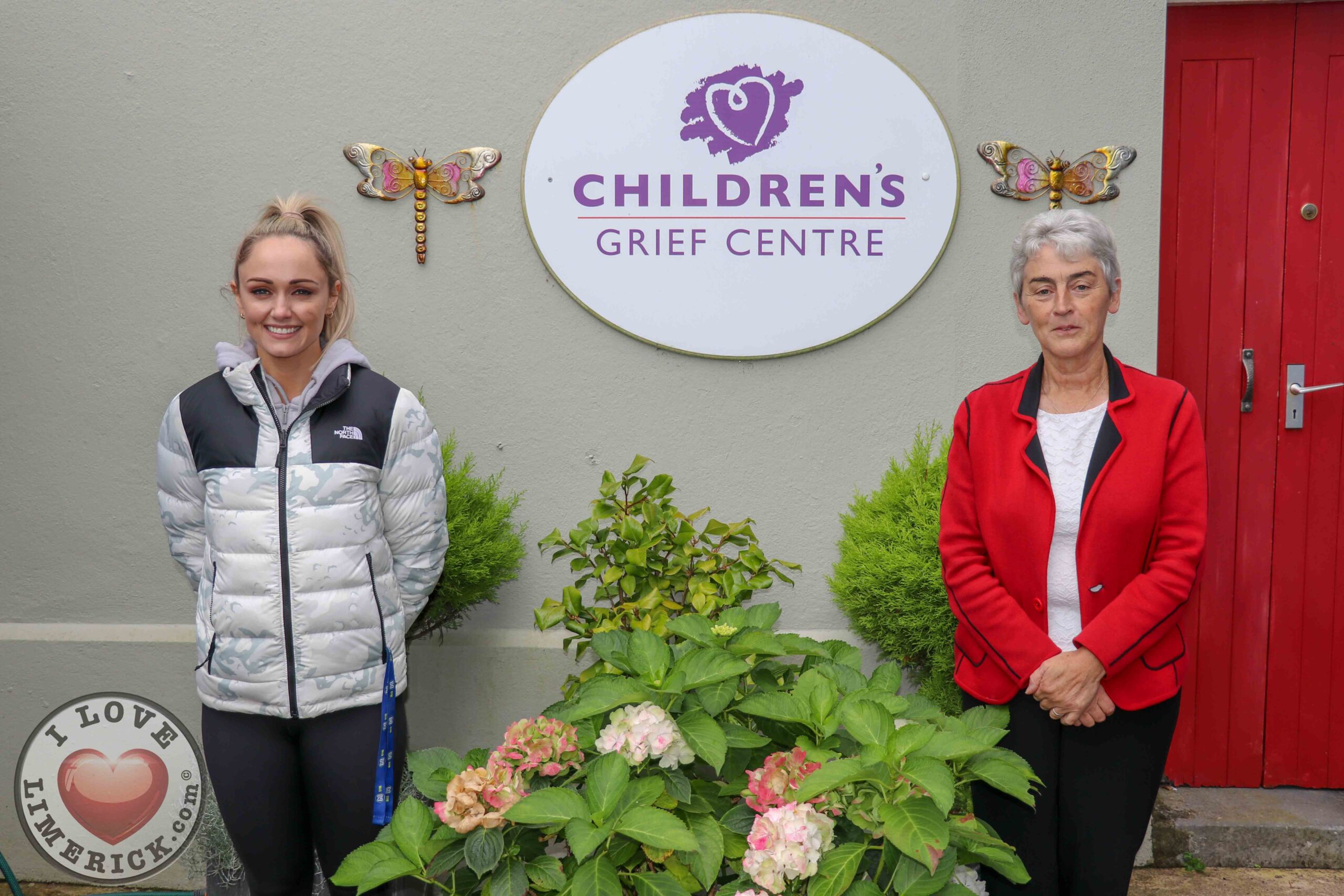 WATCH! Leanne Moore runs VHI Virtual Women's Mini Marathon in aid of Children's Grief Centre
Leanne Moore runs VHI – Leanne Moore runs the VHI Virtual Women's Mini Marathon in aid of Children's Grief Centre this October. Leanne pictured above with Sister Helen Culhane, founder of the Children's Grief Centre. Picture: Elise Ahern/ilovelimerick
WATCH! Leanne Moore runs VHI Virtual Women's Mini Marathon in aid of Children's Grief Centre
By I Love Limerick correspondent Mary Caroline McCarthy
Leanne Moore of Leanne Moore Fitness is running the VHI Virtual Women's Mini Marathon in aid of the Children's Grief Centre in Limerick. The VHI Women's Mini Marathon starts on October 1 and goes until October 10.
Leanne Moore previously worked with the VHI Women's Mini Marathon in 2019 when she helped to launch the event. The VHI Women's Mini Marathon goes virtual this year like many other marathons that have been launched during Covid-19. Participants are asked to complete the 10km event their way over the course of ten days, with the overall goal of raising €10 million for chosen charities.
You might recognise Leanne Moore as a finalist and overall winner from the Irish singing contest 'You're a Star' but currently Leanne is known for being a fitness enthusiast across all forms of social media due to her successful blog, located HERE. Leanne also appears on Irish television shows and is a successful businesswoman after she opened Go Gym Limerick in August 2017.
The Children's Grief Centre, located in Limerick city, is a free support service for children and young people who have experienced a loss through bereavement, separation, or divorce. The centre was founded in 2009 by Sr Helen Culhane and has since grown significantly, having helped over 1400 children to deal with the emotional and mental effects of dealing with a loss. When we spoke to Sr Helen, she said, "it is important that people know that the Children's Grief centre is not a counselling service but a listening service."
Sr Helen was very thankful for Leanne's help in raising awareness for this non-profit centre saying, "We are very grateful to Leanne Moore for supporting us at this time, also thanks to Richard and his team for giving us this opportunity to promote our work."
"It is a very difficult time for charities as we can no longer hold our regular fundraisers. We are delighted Leanne thought of us and will be running for us in the Women's Mini Marathon as we appreciate the help so much."
Leanne chose to raise the funds for the Children's Grief Centre because of its importance to the community of Limerick and due to her own personal experience, saying, "I chose to fundraise for the Children's Grief Centre, it is based here in Limerick and I am from Limerick originally. I also have, I suppose, experience in the area in terms of losing our mum while my sister and I were quite young, and I think that a centre like this and the services they provide are so needed. They need our support, especially in a time like this while so many charities are suffering due to Covid-19. This cause is very close to my heart."
"I would have loved for this to be around when I was a child, and I think that the children that have attended here are getting a lot of help and I think it would have been a great addition to my own life had it been around. I want to make sure that the 247 children they have on their waiting list get the chance to attend here and spend time here and they won't unless we can raise some funds for them."
The Children's Grief Centre is a very important service for the development of children, and they need support from people like Leanne. We at I Love Limerick wish Leanne well on her run and commend her for her great kindness!
To donate, click HERE
For more stories on Leanne Moore, click HERE
For more stories on the Children's Grief Centre, click HERE
For more on the Children's Grief Centre, click HERE