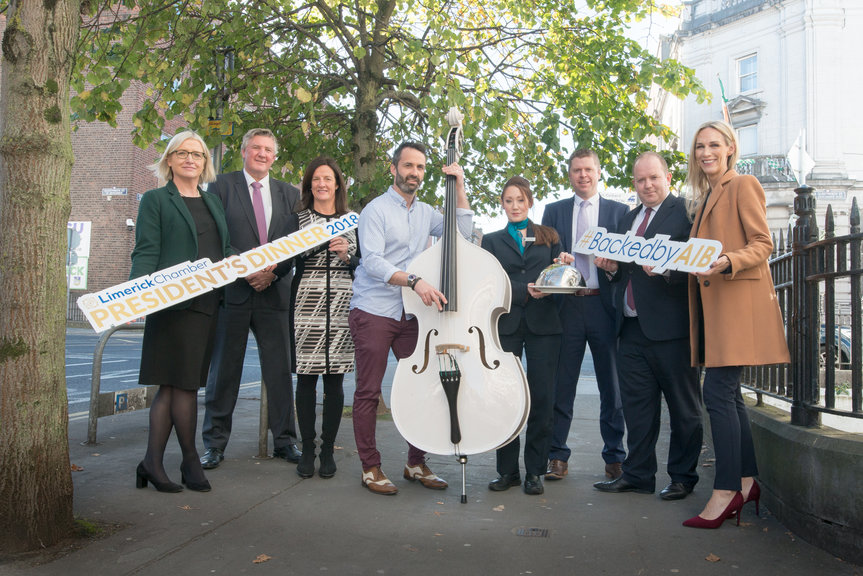 AIB sign the 3-year deal to become Limerick Chamber Presidents Dinner Sponsor and official SME partner 
Limerick Chamber Presidents Dinner Sponsor: From left to right: Judy Tighe – AIB /President Dinner Sponsors, Dermot Graham – AIB/ President Dinner Sponsors, Dr Mary Shine – President Limerick Chamber, Conor O'Brien – Treble and Bass, Vicky Collins – Limerick Strand Hotel, Eoin Ryan – Vice President Limerick Chamber, Conor O'Sullivan – AIB /President Dinner Sponsors, Deirdre Ryan – CEO Limerick Chamber.
AIB signs the 3-year deal to become Limerick Chamber Presidents Dinner Sponsor and official SME partner
Limerick Chamber is pleased to announce AIB as the Main Sponsor he 2018, 2019 and 2020 Limerick Chamber Presidents Dinner and Official SME partner.
The Limerick Chamber Presidents Dinner taking place on Friday 16 November in the Limerick Strand Hotel, is the region's foremost black-tie business event with an attendance of 400 leading business people from throughout the region.
Commenting on the announcement Conor O' Sullivan, Head of AIB in Clare Limerick said that he was "delighted that AIB Bank and Limerick Chamber had agreed on a partnership agreement which would see AIB Bank become the "Official SME Partner" to Limerick Chamber of Commerce, the largest Business Association in the Midwest. The strategic objectives of AIB and Limerick Chamber around the SME sector are closely aligned, as both seek to help and support the various strands from Start Up to SME to Corporate. AIB is proud to partner with Limerick Chamber and this Partnership will significantly help the Chamber in delivering its services and support to Business in the Midwest. "
Commenting on their sponsorship agreement Dermot Graham, Head of AIB Business Banking in Clare Limerick and also a Chamber Board member, welcomed the fact that Limerick Chamber and AIB would be working closer together to help support SME's in the Midwest. Business in Limerick and the Midwest is on a very positive upward trend with significant job creation and investment evident in the last few years. Limerick Chamber, which is over 200 years old, plays a key role in representing and supporting business in the Midwest and he saw this partnership as not only bring of benefit to both Limerick Chamber and AIB but more importantly would benefit the wider business community.
Dee Ryan, Limerick Chamber Chief Executive said, "We are delighted to have the support of AIB as our official SME partner and for the President's Dinner, which is our flagship event where multinationals, large indigenous companies and SME's in attendance. This year the sponsorship from AIB allows us to ensure this continues to be the leading business event in the region."
Over 400 guests will attend the event for an evening to celebrate and get dressed up, come out and reflect on the year that was. You'd be surprised how much business gets done at the Limerick Chamber Presidents dinner.
For more information on Limerick Chamber Presidents dinner, go here
For more stories on Limerick Chamber Presidents dinner, go here