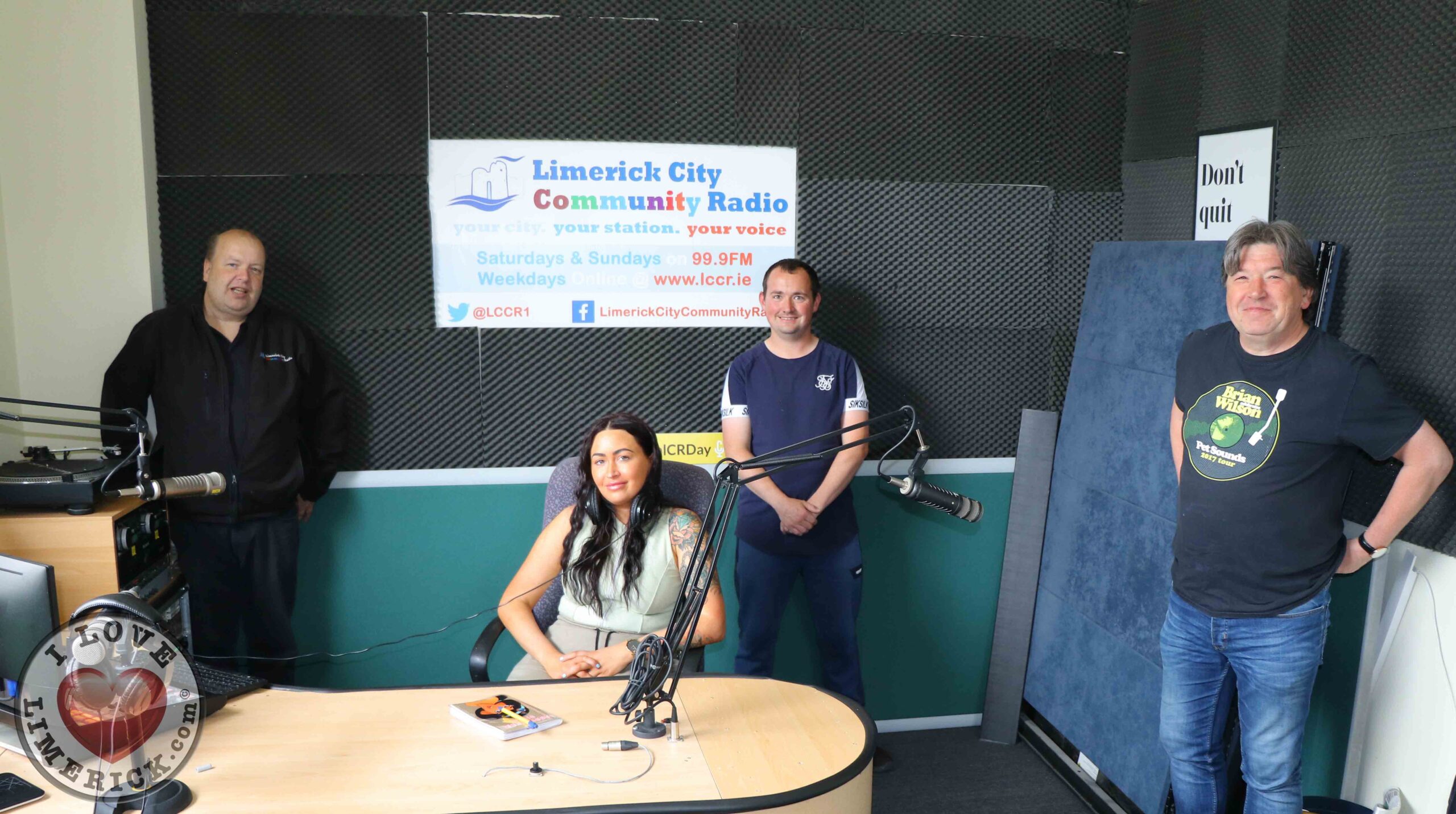 Limerick City Community Radio's new location on Edward Street promises exciting developments for the station
Pictured at Limerick City Community Radio – Richard Smith, Chairman of LCCR and presenters Breda Ryan, Anthony Pickford and Nicky Woulfe. Picture: Richard Lynch/ilovelimerick.
Limerick City Community Radio's new location on Edward Street promises exciting developments for the station
By I Love Limerick Correspondent Mary Doyle
Limerick City Community Radio is a non-profit radio station that has been broadcasting the stories and voices of Limerick people since 2014. This year marked a new chapter for the LCCR team as they secured their own permanent premises on Edward Street in Limerick City, a development that was a long time coming. We spoke to the LCCR Chairperson Richard Smith all about the history of Limerick City Community Radio, their new location, and their plans for the future.
Why was the Limerick City Community Radio initially set up and what are its aims?
LCCR was set up to provide an alternative radio station for Limerick; one which offered a range of talk shows and less-mainstream and specialist music. The aim was to get ordinary people on to talk about their interests and hobbies, and to connect people with similar interests, even when those interests would have a following smaller than what would be viable for a commercial station. Since setting up, LCCR has also offered training and work experience in certain areas, allowing people to try their hand at radio and determine if they would be interested in pursuing this in college.
Who is involved in the running of this station?
The board and committee are generally ordinary people with a range of backgrounds, including members of local community organisations, colleges, local business people, and local Council members, combined with volunteers from the station.
What does the history of LCCR look like in relation to its previous locations?
LCCR started off in a room above Windmill Motors as an online station. But part of the requirements to be on FM included better access to studios for those with limited mobility, so as part of the BAI / FM Application we negotiated a move to Tait House in Southill. After a successful two years there we secured a bigger and more central premises in Sexton Street with the assistance of the VEC. A further two years in Sexton Street saw the station grow and become more accessible to contributors and volunteers. However, the building in Sexton Street was sold and we had to move the station to temporary facilities in St Munchin's Community Centre. We have to thank them for their support, were it not for the fact that the station involves having more than one studio, it may have become a more permanent arrangement. The support of local council members proved invaluable in securing our current location in Tait Community Centre on Edward Street, which sees us back to having two studios and a central location.
How has the station grown and developed over the last six years?
The initial goal of being a community station for the city was a big undertaking and was recognised as such by the BAI, as it has the largest population area of any community station in Ireland outside of Dublin. Each individual move has seen us get more connected with that specific area, with extra people from that area dropping in for interviews and getting involved, and has almost had us acting as "southside" and "northside" stations over the years. This has led us to focus on connecting the areas even more, and this second home in a central location has given us a new lease of life in this regard, keeping most of the volunteers.
Special interest talk shows – such as The Movie Show, Spotlight, Community Focus, The History Show, The Arts Show and our Irish-language show "Gael Force Luimní" – have brought together teams of people with interests in those areas, and some shows often alternate members of their team across different weeks along with bringing in guests. The "What's the Score" sports show has highlighted a lot of niche sports and small city clubs – such as wheelchair hurling or local kickboxing and hockey clubs. Special interest music shows, such as Eclectic Celt, Kickin' Country, The Other Side of The Tracks and The Last Bus Home, all have their own dedicated listeners and bring in local artists and guests whenever possible.
How would you say LCCR has benefited Limerick's community since 2014?
In addition to having the special-interest shows above, LCCR has also given training and experience to volunteers, building their confidence and talent. We have also supported quite a number of local community organisations and charities, providing both publicity and PA / OB equipment and expertise. We have also liaised with the Limerick Volunteer Centre to encourage volunteers and with LCFE and UL to facilitate work experience for media students, with some subsequently going on to work for Live95, Sporting Limerick, and Spin South West.
What was the deciding factor that secured the new location and allowed you to take that leap?
A number of venues were looked into, but a combination of the existing "Community Centre" and location, as well as the scope to design the space within larger rooms rather than being restricted by existing rooms and walls, were major factors. With volunteers coming from all suburbs of the city, the proximity to the Sexton Street studio – where we had seen our volunteer base expand – was also a big factor, as was the support of the council.
How has this new and independent location on Edward Street benefitted LCCR so far?
The location allows people to drop in easily (pre-COVID!) and it is also our first time having external windows with signage visible from outside, which creates interest; we have had people drop in to know if we could cover their upcoming event or competition, and some have actually stayed on as volunteers. It has also enabled us to expand our online schedule which runs Monday to Friday via our website, and is available on most radio apps for smart devices. No one factor has individually stood out but the combined effects have made a huge difference to the station.
Could you tell us a bit about the different shows that are aired on LCCR?
– Eclectic Celt is a show that features traditional and folk music, with interviews with local, national, and international artists as guests.
– My Kind of Limerick People also features the music of local artists as well as guests from local communities.
– Community Focus has provided a platform for community groups such as Changing Ireland, Mid West Humanists, Óglaigh Náisúnta na hÉireann, Limerick City Macra, Limerick Gospel Choir, Southill Area Centre and others.
– Our Irish language shows – Cúpla Focail and Gael Force Luimní – have connected those with a love of our native language, while also being accessible to those who – literally – only have a "cúpla focail".
– Specialist music shows such as The Last Bus Home, The Other Side of The Tracks, Loosely Classical, Kickin' Country, Rock, Roll & Remember, and The Halfway House have offered alternative listening to those who wish to hear something different on their radio.
– Spotlight has focussed on both the obstacles, experiences and achievements of those in our communities living with disabilities.
– Our Arts Show and The Room Where It Happens have highlighted the local arts communities, theatre groups, and stage schools, as well as the multitude of talent that Limerick has to offer.
– The History Show has provided an insight into the past and the rich tapestry that makes up our city.
– Our Limerick has interviewed many guests who have settled here from abroad, making Limerick their home.
– The Movie Show has spanned a multitude of aspects of the film industry, and in particular, has given a platform to local people who make and contribute to short films and documentaries, which has tied in well with the development of Troy Studios.
A number of these shows have been running since the very start, including Eclectic Celt, My Kind Of Limerick People, Kickin Country, The Other Side of the Tracks, The Rock Show Good Morning Limerick and The Love Show.
What would be the favourite or most popular show or segment?
This is difficult to quantify as community radio stations are not included in the JNLR research which is carried out for the commercial stations. Across all platforms and podcasts, certain shows and topics show occasional spikes, but the ethos of the station is that if something connects people with a common interest, then it's worthwhile.
How do you think the new location will help LCCR to grow even more over the coming years?
The major factor is that we have finally found our long term home and with the new facilities it has enabled the online service to grow and we are seeing more and more interest in the station.
What is next for LCCR?
Our next step will be to submit an expression of interest to the BAI for a full time 24/7 license for the Limerick Metropolitan Area. Mindful of the fact that this process could take 3-5 years we plan to continue to grow the station in the interim, bringing in more interests, guests, and local contributors, as well as facilitating radio documentaries about local issues and interests. We have done this a number of times over the life of LCCR and the level of interest in the stories and memories of ordinary people has been phenomenal.
LCCR broadcasts on 99.9fm with thanks to WiredFM every Saturday and Sunday from 8 am, and online every day.
To donate to Limerick Community Radio, click here.
If you would like to get involved with Limerick Community Radio please email [email protected].
To find out more about LCCR, click here.
For more stories on LCCR, click here.