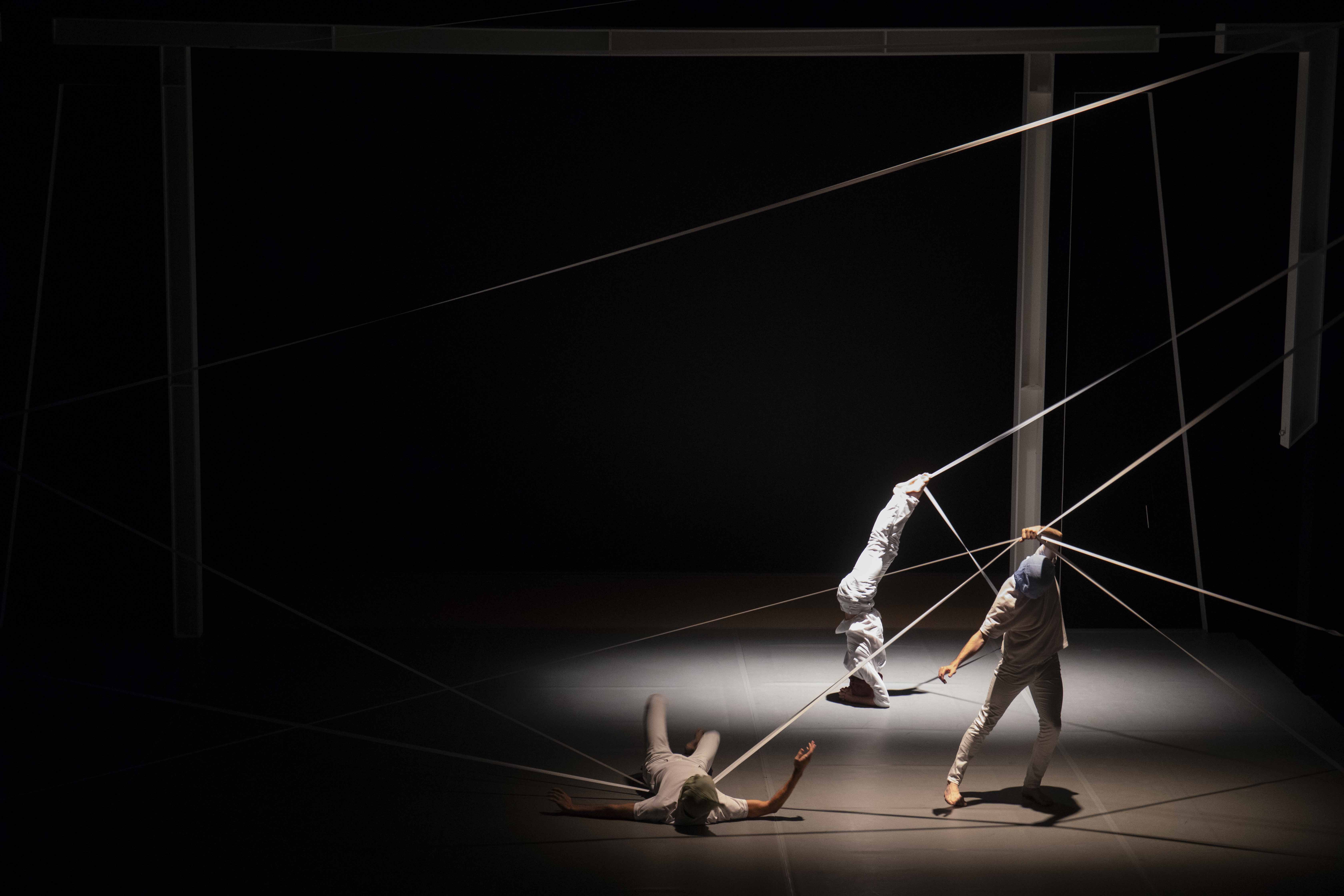 Liz Roche Company announces a new creative partnership with the Irish World Academy of Music and Dance
I/THOU will be performed in the Lime Tree Theatre on June 21 by the Liz Roche Company.
Liz Roche Company announces a new creative partnership with the Irish World Academy of Music and Dance
Liz Roche Company comes to Limerick this June with an arsenal of new works and partnerships. June 21 kicks off with the staging of Roche's latest work, I/THOU, a recent hit at the Dublin Dance Festival 2019 and the exciting start of a brand new creative partnership with the Irish World Academy of Music and Dance, that begins with a three day symposium of presentations, performances and workshops from leading Irish and International dance artists and academics, engaging with the layers of thought and memory that interweave throughout the process of dance-making.
Liz Roche's choreographies for Liz Roche Company have been performed at prestigious festivals and venues throughout Ireland and internationally since 1999, including Baryshnikov Arts Centre New York, Brisbane Powerhouse and Festival de La Nouvelle Danse Uzes. She has been commissioned to make new work for the National Ballet of China, Scottish Dance Theatre, Maiden Voyage, CoisCéim Dance Theatre, Dance Theatre of Ireland, Croi Glan. Liz was Choreographer-in-Residence at Irish World Academy at University of Limerick 2009 – 2012, recipient of Peter Darrell Choreographic Award and selected for Modul Dance. She has choreographed extensively in opera and theatre, most notably for The Abbey Theatre, the Gate Theatre, Landmark Productions, Wexford Festival Opera, Rossini Opera Festival Pesaro and Opera Ireland and Irish National Opera, Open House Zurich and the National Opera of Korea. She has danced with choreographers Rosemary Butcher (UK), John Jasperse (New York), Jodi Melnick (New York), Christine Gaigg (Vienna), Helene Cathala and Fabrice Ramalingom (Montpellier), Les Carnets Bagouet, CoisCeim, imdt.
Coming to Lime Tree Theatre on June 21 is Roche's I/THOU; a major stage production that responds to the work of the iconic visual artist Brian O'Doherty. This production emerged out of a dialogue between Brian O'Doherty (recently presented with an honorary doctorate from University of Limerick) and Liz Roche, and this superb dance show draws upon the complex notations and symbolism in O'Doherty's landmark work One Here Now; The Ogham Cycle – a nine-part series of spectacular, floor-to-ceiling wall paintings at Sirius Arts Centre in Cobh, Cork that encapsulates his career-long concerns with perception, language and identity.
Based in New York for the last fifty years, Brian O'Doherty was one of the leading conceptual artists of the 1960's. Always a pioneering figure, and remaining so to this day, he has had a complex relationship with his native land. He initially trained as a medical doctor in Dublin but soon turned to a remarkable artistic career that has embraced art criticism, novels as well as his ground-breaking art works and many (and occasionally cross-dressing) alter-egos. He has works in the permanent collections of all the leading international art galleries including MoMA and the Met in NYC, Pompidou in Paris, IMMA and the Hugh Lane Gallery in Dublin. He wasa lso shortlisted for the Booker Prize.
Liz Roche said, "The creation of I/THOU has proven to be artistically enriching from day one. Emerging from the rich and layered textures and emotions of One Here Now is a surprisingly physical and rigorous movement quality that touches into heightened and dynamic energies that I had not originally expected to find. The heart of the work feels intensely human and complex, and yet, there is a serene logic emerging at every turn".
Liz Roche was commissioned to respond to this work as part of the performance project that ran throughout 2018 to celebrate their restoration. Inspired by O'Doherty's mix of perfection and playfulness, Roche's production re-works these paintings into dynamic choreographic patterns exploring the intimacies that form our connection to our surroundings and each other. The dancing body is set in distilled landscapes of sound, colour and light, creating a world of possibilities in which, even if for a moment, we can transcend individuality. For this work Liz Roche Company has co-commissioned, with Sirius Arts Centre, a new score from celebrated Cork composer Linda Buckley that features singers Suzanne Savage and Robbie Blake with live performance by cellist Kate Ellis. Set and costume designer Joe Vanek and lighting designer Stephen Dodd complete the exceptional creative team with a company of world class dancers Sarah Cerneaux, Kévin Coquelard, Miguel do Vale, Glòria Ros Abellana, Ailish Maher & Jack Webb.
Moving from the stage into the forum of academia, Liz Roche Company co-presents a symposium with The Irish World Academy of Music and Dance at University of Limerick from June 21 – 23, and in conjunction with I/THOU's staging in Limerick City. This international symposium on dance is entitled "The Modes of Capture: The capturing of process in contemporary dance-making". The theme of the symposium is an exploration of the various means of capturing creative process to engage with the layers, threads, fragments and memories that interweave throughout the process of dance-making. It also marks the beginning of a dynamic new creative partnership between Liz Roche Company and the Irish World Academy entitled "IntraSpaces", which aims to be an experimental space for both organisations to collaborate on arts practice research, performance and pedagogy/training.
Exchange will take place across the fields of high-level professional practice, arts research and performance training with a focus on fostering relationships between the Academy, Liz Roche Company and a wider range of Irish and international artists, organisations and communities. This partnership model between the university and this professional dance organisation supports the development and dissemination of dance knowledge across the Irish and international arts and research landscape. Liz Roche said, "I'm excited to have the opportunity to connect in the creative way that IntraSpaces proposes with the Irish World Academy faculty, students and courses. Liz Roche Company will offer open access to students around its working practices supported by the expertise of the company dancers, associated dance artists and creative collaborators. The Modes of Capture Symposium is the beginning of what we plan to be a fruitful creative relationship that envisions a series of shared projects over the next number of years."
Dr Sandra Joyce, Director, Irish World Academy of Music and Dance, University of Limerick said, "We are delighted to announce this new development for contemporary dance at the Irish World Academy, University of Limerick, which reflects the longstanding commitment of the Academy towards Artist-in-Residence initiatives. The Liz Roche Company has a prestigious reputation for the development of contemporary dance practices and it is important for the Academy to engage with such leaders in their field". The symposium will feature presentations and performances from leading dance artists and academics from Ireland, the UK, Australia, Iran, Austria, Sweden and New Zealand. The opening event will take place at the Lime Tree Theatre and will include a keynote speech from Professor Suzan Kozel (University of Malmö, Sweden) followed by the full performance of I/Thou by Liz Roche Company, as part of the production's national tour.
I/Thou was the recipient of a significant Making Great Art Work/Open Call award 2018 from the Arts Council of Ireland. Liz Roche Company is company-in-residence with Dublin Dance Festival 2017–19 and Civic Theatre Tallaght, 2017–19.
DANCERS – Sarah Cerneaux, Miguel do Vale, Gloria Ros Abellana, Ailish Maher, Jack Webb & Kevin Coquelard.
RECORDED VOCALS –Robbie Blake & Suzanne Savage
LIVE MUSIC– Kate Ellis (cello)
CREATIVE TEAM:
Choreography by Liz Roche
Music Composition by Linda Buckley
Set and Costume by Joe Vanek
Lighting Design by Stephen Dodd
LISTINGS INFORMATION
LIME TREE, Limerick
Friday 21 June | 8pm | €18/€15 (I/Thou & Modes of Capture Symposium deal €30)
Box Office –Tel: 061 953 400 / limetreetheatre.ie
*Approximate duration of show – 60 Minutes
SCHEDULE of EVENTS at Lime Tree on June 21
5pm: Keynote speech (Tara Building, Room T116 on the Slí)
6.15pm: I/Thou pre-show Q&A Session on Lime Tree Theatre stage
7pm: Light refreshments and networking session, on the Slí
8pm: I/Thou Lime Tree Theatre
For more information click here.
For more stories about events in the Lime Tree, click here.