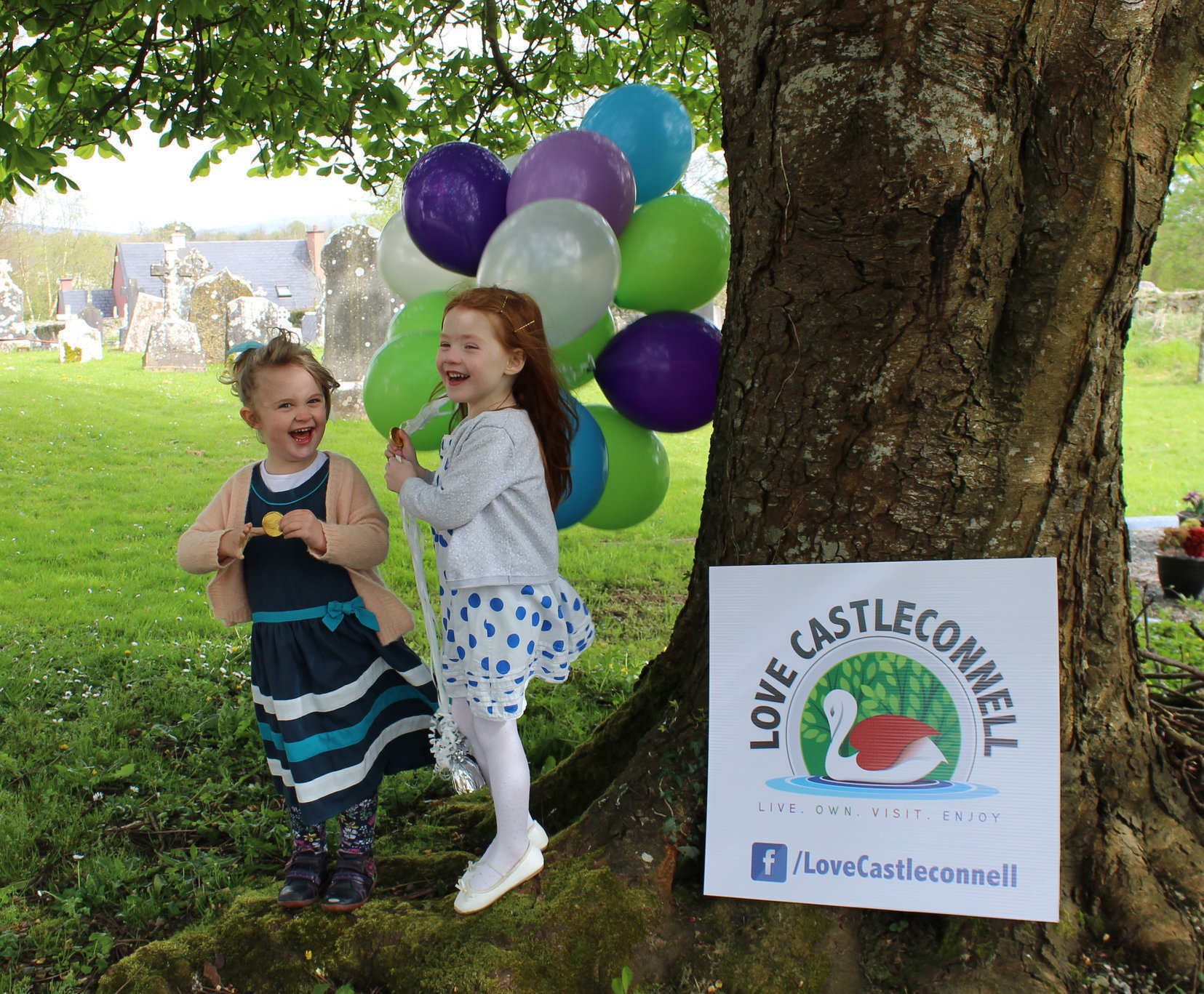 LOVE Castleconnell pull out all the stops for All Saints and Singers Heritage Celebration on May Bank Holiday Weekend
Sadbh Hogan and Tess Ryan enjoy the launch of All Saints and Singers Festival which is being held in Castleconnell on Monday May 7 by LOVE Castleconnell.
LOVE Castleconnell pull out all the stops for All Saints and Singers Heritage Celebration on May Bank Holiday Weekend
by ilovelimerick correspondent Chloe O'Keeffe
LOVE Castleconnell, is a new voluntary, community organization, founded by residents Tara Hartigan, Nicky McNamara, Jennifer Caffrey, Deirdre Ryan and Eamonn McQuade. The aim of the group is to encourage tourists and residents alike to Live, Own, Visit and Enjoy the scenic village of Castleconnell, including its riverside walks, rich heritage, history, artistic and musical offerings.
"LOVE Castleconnell is a new initiative set up by the local community for the local community. Castleconnell has a rich architectural, cultural, fishing and sporting heritage, and we want to encourage locals and visitors to share our village story. All Saints and Singers is our first event and is a wonderful opportunity for families and friends to have a day out in our beautiful village." Founder Tara Hartigan.
The locals of Castleconnell are celebrating their heritage with an action-packed family day of fun in the village.
In association with the Ballyhoura Walking Festival, All Saints and Singers is the first event from a new group in the village, LOVE Castleconnell, which stands for Live, Own, Visit, Enjoy.
All Saints and Singers is a day-long celebration of the rich history of the village. Kicking off at 2.30pm in Bradshaw's Bar, tourists and residents alike are encouraged to come along and learn more about the history of Castleconnell from local historian Paddy Tuohy.
At 4 pm, walkers are invited to stroll around the area to admire its Georgian architecture, visit the Heritage Centre, view the Castle and discover the beauty of the nature trail along the River Shannon.
From 7.30pm that evening, celebrations culminate with an "Other Voices" style concert at the historic All Saints Church in Stradbally. The show features music, comedy, and poetry. Amongst the local well-known artists booked to perform are the talented Shane Bond, the Castleconnell Folk Club and special Ghost Appearances by "General Sir Richard Bourke", former Governor of NSW, Australia and "Black Jack Fitzgibbon" first Earl of Clare.
"We are so lucky to have rich culture and history on our doorstep in Castleconnell that we felt it needed to be celebrated and shared!" said Tara Hartigan, resident, and founder of LOVE Castleconnell.
"I'm fortunate enough to have grown up in the village so I'm aware of much of its history but newer residents and visitors might not know even where to begin to find out about Castleconnell. So what started as a chat over a cup of coffee with some neighbors Jenny Caffrey and Dee Ryan, grew to include the talents of many locals including a founder of the local Heritage Centre, and has ended up being a one-day-festival supported by Ballyhoura Development".
All events on the day are free but you are advised to turn up early for the evening event!
For more information on Castleconnell go here.
For more stories on Castleconnell go here.