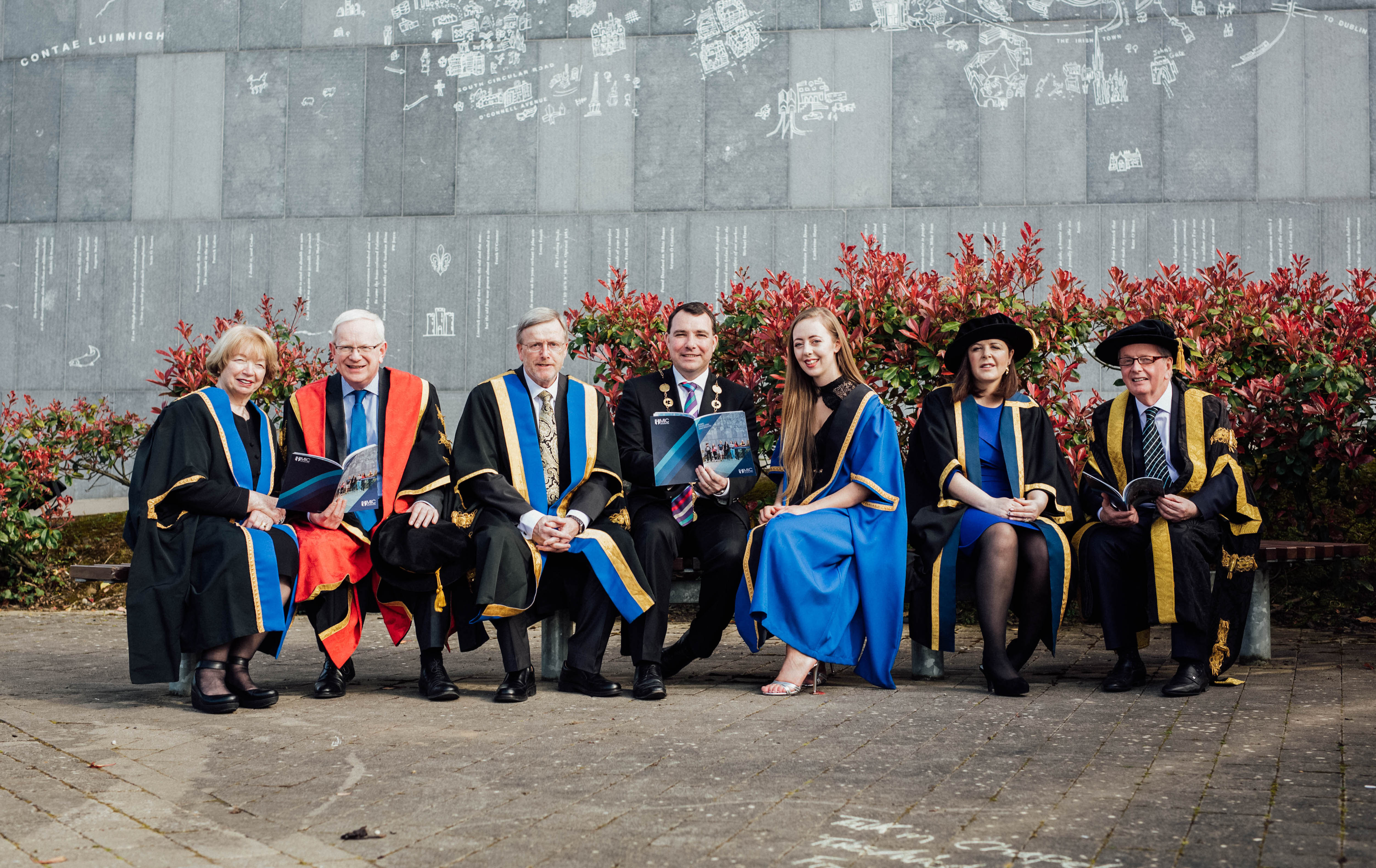 MIC Strategic Plan 2023 sets the College's agenda and strategic priorities for the next five years
Pictured at the launch of Mary Immaculate College's Strategtic Plan 2023 were Dr Áine Lawlor, Deputy Chair of MIC Governing Body, Prof Vincent Cunnane – President of LIT, Professor Eugene Wall, President of MIC, Cllr James Collins, Mayor of City and County Limerick, Rachel Dunne, Students' Union President, Professor Niamh Hourigan – Vice President of Academic Affairs, Dr Des Fitzgerald, President of UL. Picture: Brian Arthur
MIC Strategic Plan 2023 sets the College's agenda and strategic priorities for the next five years
Friday 29 March saw the official launch of the MIC Strategic Plan 2023: A Flourishing Learning Community, an ambitious plan setting out the College's agenda and strategic priorities for the next five years, as MIC continues to make a significant educational, social and cultural impact regionally, nationally and internationally.
The Plan was launched as part of the Inaugural Address delivered by Professor Eugene Wall, who was appointed the 10th President of MIC. Introducing the Plan, Professor Wall said: "We launch this plan from the position of an innovative contributing partner in the economic, social and cultural development of our surrounding environs and of the broader Irish educational landscape."
MIC launched its first formal strategic plan in 2012, coinciding with the beginning of a transformative era both for the College and higher education in Ireland more broadly. The following period witnessed unprecedented growth and diversification for the College with a doubling in student numbers and programme offerings and, following the incorporation of St Patrick's College in Thurles, MIC is now a multi-campus institution offering a full continuum of Initial Teacher Education programmes.
According to Minister Mary Mitchell O'Connor TD, Minister of State for Higher Education, who was speaking at the event and congratulated MIC on its many achievements and ambitious plans for the future: "MIC is heavily involved in the practical implementation of a number of key national policy areas including addressing current teacher supply, offering direct access to teacher education for mature second-chance learners, advancing the national STEM/STEAM agenda, developing international opportunities for students and staff, and Irish Language immersion."
Included amongst the high priorities contained within the Strategic Plan is the development of a new Library/Learning Resource Centre at the Limerick campus, designed to accommodate the College's increasing student numbers, currently close to 5,000. Costed at €25million, the 5,000m 2 facility will deliver a long overdue replacement for the current Library, with the student population having increased five-fold since the existing library opened its doors in 1976 to 750 students. Internally the building will feature a range of learning settings from silent study areas to lively group work rooms. It will have over 550 study places and will accommodate over 170,000 volumes. It will also contain a 288-seat lecture theatre, media editing suites, a media studio, seminar rooms, staff offices and all the ancillary spaces necessary for a higher education library. Computerised images of the new building available to view here.
Other ambitious goals include a renewal of the suite of programme offerings, including the development of new innovative programmes, responding to skills needs and policy developments; enhancement of the research culture at MIC, which has seen 150 graduates conferred with PhD's to date; collaboration with regional partners UL and LIT allowing for the development of joint structured PhDs; the development of new bespoke science education strategies, providing opportunities for engagement with next-generation technologies; the establishment of an interactive public space for the fusion of creative arts and STEM education; and, in line with national policy—the development of an internationalisation strategy that will see a doubling of international students attending MIC.
Looking to the future, MIC, as an influential Higher Education Institution, will deepen linkages and further develop collaboration between public and private sector bodies and between enterprise and the education sector, at a regional, national and international level, in order to deliver the skills agenda in Ireland.
Speaking at the event Bishop Brendan Leahy, Bishop of Limerick and Chairperson of MIC Trustees and Governing Authority said: "As a Catholic College we always need to glimpse anew our vision, constantly rediscovering the centrality in education of the flourishing of the human person, the promotion of a flourishing community of learning and our contribution to the upbuilding of our world, God's creation, as a place of unity, peace and justice as well as solidarity, sustainable development and care of the planet, our common home."
According to Professor Wall, "this plan aims to serve our learning community, ensuring that each individual has the potential and means for professional excellence and, in the case of students, the wherewithal for career entry and success in the 21st Century workplace. Beyond this, our ultimate aspiration is to enable our graduates to enjoy a life of continuous thriving and, indeed, to uphold the dignity of others".
Delivering his Inaugural Address, which took place in the Lime Tree Theatre, Professor Wall said: "As a psychologist, with a special interest in human motivation, I am acutely aware of the immense power of cultural agencies, such as schools, to shape the forms and the levels of achievement motivation within any society. Schools, and by obvious implication, teacher education, are cradles of national wellbeing, national cultural identity and national prosperity. This is both our undying legacy, and our contribution to shaping the future." Continuing, he spoke about the historical neglect and 'Cinderella treatment' given to teacher education in the past, of the changes that have occurred and challenges that lay before as "the rapid pace of societal and technological change demands a level of future-readiness, so it is essential that our students acquire skills and dispositions that support ongoing professional development and lifelong self-renewal".
Professor Wall paid tribute to his fellow members in the Shannon Consortium, Limerick Institute of Technology and the University of Limerick saying: "We share the view that the Shannon Consortium is the fulcrum for developing the region as a locus for higher education excellence and research activity – important drivers in the rising prominence of Limerick City as an economic social and cultural force and a significant factor in the attraction of Foreign Direct Investment (FDI)." Acknowledging Limerick's regeneration and redefinition of its public image, Professor Wall commended City and County Manager, Conn Murray, "whose exceptional ability to galvanise all efforts for change has resulted in the achievement, already, of major milestones in the delivery of a cohesive vision for the renaissance of Limerick as a great European city".
Sending his good wishes to Professor Wall, Minister Joe Mc Hugh TD, Minister for Education, said: "I am confident that under Professor Eugene Wall's leadership and with his many competencies and personal qualities, MIC will continue to play a leading role in the development of a high-quality education profession in Ireland."
Prof. Wall graduated from UCD in 1975 with a degree in psychology, qualified as a primary teacher from Froebel College and received a PhD in Education from UCD. He is the co-author of the MICRA-T and the SIGMA-T, the two most widely used standardised tests in Irish primary schools and has served for 21 years on the Council of the National Council for Curriculum and Assessment (NCCA). He has lectured in developmental psychology and education psychology at MIC since 1980 and served as Registrar/Vice-President of Academic Affairs from 1998 to 2018 when he was then appointed to the post of President of MIC.
In attendance at the prestigious event were Minister Mary Mitchell O'Connor TD, Minister of State for Higher Education; Cllr James Collins, Mayor of City and County Limerick; Bishop Brendan Leahy, Bishop of Limerick and Chairperson of MIC Trustees and Governing Authority; Professor Vincent Cunnane, President of LIT; Dr Des Fitzgerald, President of UL; Dr Harold Hislop, Chief Inspector of the Department of Education and Skills; and Sister Angela Bugler, President Emeritus, MIC (1988-1999).
Strategic Plan 2023: A Flourishing Learning Community may be downloaded here.
For more information visit
For more stories on Mary Immaculate College go here