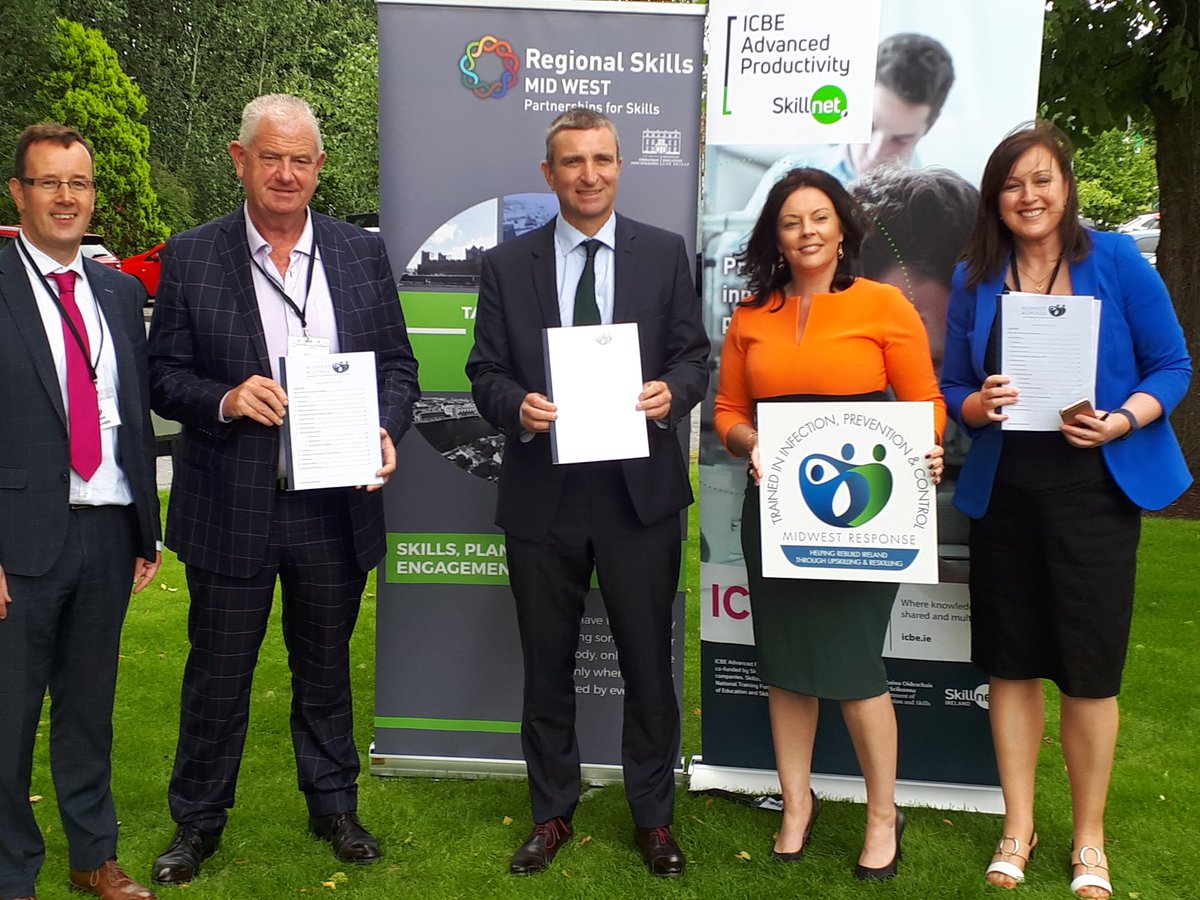 Midwest Response Group Report recognises the importance of upskilling & reskilling for employees affected by COVID-19
Midwest Response Group – Joe Leddin (Mid-West Regional Skills), Denis Kelly (DK Strategy Solutions), Minister Niall Collins TD, Mary Ryan, LEO Tipperary, and Vivienne Kiernan (Project Manager – Mid West Response Group & Customer Relations Manager – ICBE).
Midwest Response Group Report recognises the importance of upskilling & reskilling for employees affected by COVID-19
Woodlands House Hotel (Adare) Co. Limerick played host to a unique gathering of leading professionals from both public and private sectors on Friday, July 17 – the Midwest Response Group is an independent, voluntary not-for-profit initiative the purpose of which is to deliver employment solutions to the Clare, Limerick & Tipperary areas of Ireland, post Covid-19. Both regional and national stakeholders are driven by the passion to realign, train and upskill the Midwest workforce affected by the economic impact – enabling a transition back to gainful employment, or reskilling to a new career.
"COVID-19 is having a severe impact on the Irish economy. There will be significant long term social and economic challenges for the families, communities, and local economies of the 50,000+ people in the Midwest region whose livelihoods will be affected because of this pandemic. Our mission was to deliver a Pilot Programme of employment initiatives to this cohort. To deliver a program of Training, Upskill, and Reskill to the working community of Ireland's Midwest region who have been affected by Covid-19." Says Eamonn Murphy (Chair of Midwest Response and Managing Director at Irish Centre for Business Excellence)
During the Midwest Response Group, Interim Report launches a small number of keynote speakers shared their recognition of the importance of the Midwest Response initiative including Denis Kelly, Barry O'Sullivan, Dermot Kelly, Joe Leddin, Eamonn Murphy, and Minister Niall Collins TD.
Mid West Interim Report – Tackling the unemployment challenges of the Regionhttps://t.co/x7RiXLz3a8 pic.twitter.com/xLunVFzaY8

— Midwest Response (@MidwestResponse) July 22, 2020
Minister Collins TD said, "What Midwest Response has done is hugely innovative and dynamic in terms of taking this initiative, which has happened nowhere else around the country, and a big congratulations to all the stakeholders involved".
Education and upskilling are key components of any economic recovery. The Mid-West Response Interim Report demonstrates the capability, capacity, and commitment of Industry, Academia, State Agencies, and Local Authorities to collaborate, coordinate and deliver a significant economic response in the middle of a national lockdown.
1,115 people were upskilled and retrained through on-line certified courses during the period April 2020 – July 2020 by adapting existing courses provided by the initiatives training providers Limerick & Clare ETB, Tipperary ETB, and University of Limerick.
The Midwest Response Group has an ambitious target, which is to continue the initiative beyond the Pilot Programme of the last 3 months and to transition 2,000+ people from unemployment into Software Development, Data Analytics, and Customer Experience (CX) professionals. The Group intends to establish a traineeship type model in ICT and CX that will act as an employment-based transition programme for those affected by COVID-19 who wish to restart their careers. Initially with 200, then scaling to 2000, RECRUT, together with the DEASP, will facilitate this transition from unemployment to jobs of the future.
For more stories on the group go HERE.
See HERE for more information on the group.