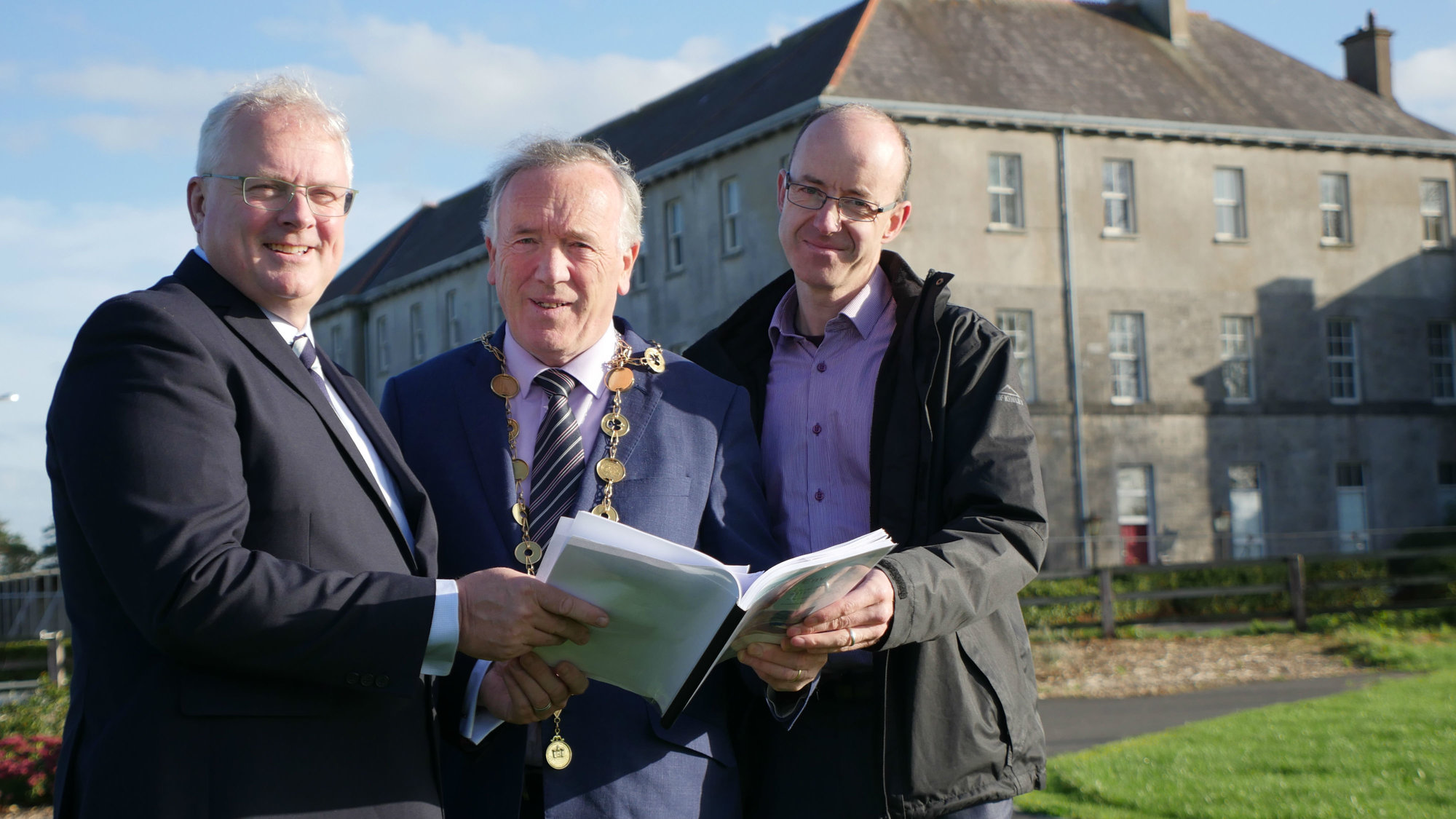 VIDEO: Limerick Twenty Thirty (LTT) is to develop 850 units as Mungret residential development underway
CEO of Limerick Twenty Thirty (LTT) David Conway with Mayor of the City and County of Limerick Stephen Keary and Aidan Malone, Project Manager, LTT, at the announcement that LTT is to commence the process of master-planning and seeking planning permission for one of the largest planned residential developments outside the capital, at the Mungret residential development.
VIDEO: Limerick Twenty Thirty (LTT) is to develop 850 units as Mungret residential development underway
The first step towards one of the largest planned residential projects outside the capital has been taken with the announcement that Limerick Twenty Thirty (LTT) is to develop 850 units with a Mungret Residential development.
The Mungret Residential development, as part of a wider programme of investment in public and private housing, will add further momentum to Limerick's emergence over recent years as a destination of choice for inward investment. A wholly owned subsidiary of Limerick City and County Council, LTT will now embark on master-planning the site and seeking planning permission for the development, which will also strengthen the city and region's contribution to effective economic development across the island.
The 60-acre site is located on the grounds of the former Mungret College and associated buildings. In all, the site has the potential to accommodate in the region of 850 residential units, which would make it one of Ireland's largest planned developments. The 200 unit first phase of the development is expected to be completed by end of 2021.
The project will be developed in parallel with the commercial sites already being advanced by LTT, which is tasked with planning and developing key strategic sites in Limerick City and County that will act as anchors for enterprise and investment locally.
Mungret is a priority area within the Limerick Metropolitan district and is a zoned urban extension of Limerick city under the Southern Environs Local Area Plan.
The site has recently received approval for funding through the Local Infrastructure Housing Activation Fund (LIHAF) for a distributor road through Mungret, which will unlock substantial lands within public and private ownership and trigger the development of additional residential sites, supporting community and employment uses.
The approval of funding also demonstrates a joint commitment by Limerick City and County Council and the Department of Housing, Planning and Local Government to the continued investment in housing delivery for Limerick.
LTT will now, in conjunction with Limerick City and County Council, embark on the creation of a detailed master plan that maximises land-use at the site and provides a new level of high-quality urban residential development to cater for the needs of a fast-growing dynamic city and county.
This will be followed by a planning process for the medium and long-term development of the site, which will comprise private as well as social housing, in accordance with Section 5 of the Planning & Development Acts. LTT is currently carrying out a public procurement process for the appointment of Project Managers and a Design Team to complete the master plan and to secure planning for this state-of-the-art residential development.
Welcoming the announcement, Mayor of the City and County of Limerick Stephen Keary said, "This is very positive news for Limerick on a number of fronts. The ongoing economic resurgence here over recent years has turned a lot of heads nationally and, indeed, internationally. We are now emerging with one of the most ambitious housing projects in the State. This will have a very significant role in ensuring we have a residential stock capable of meeting the needs of a city and county that is winning unprecedented inward investment and jobs. Furthermore, it is a significant and timely statement ahead of the finalisation of the National Planning Framework that Limerick is emerging as a city of real scale and one that will play a key role in the much needed rebalancing the national economy."
Said CEO of LTT David Conway said: "This is another very positive step in the rapid advancement of Limerick City and County as a leading location to live, work and invest in. From LTT's perspective, we are now not alone developing international standard commercial/office accommodation that will attract significant investment to this region but is providing quality residential accommodation for those who come to live and work in Limerick.
"This will be a particularly attractive residential development. The development will fit into an outstanding location that comes with already developed schools, a public park, playground area and existing residential. Very few sites in the country would have this level of infrastructure already at hand."
Continuing, he said: "We are already powering ahead with our office developments and will complete the first of those next year with our 100,000 sq. ft. development on Henry Street, which will accommodate 800 posts. A Part 8 planning process by Limerick City and County Council is being advanced for the 550,000 sq. ft. Opera Site, which will be developed over a six-year period. Both developments will be providing a LEED Gold standard office accommodation that is currently not available in Limerick.
"Thousands of jobs will be located across these two facilities alone and the exciting Mungret development, together with other city centre and countywide private and public residential investments, will ensure the required housing/residential stock is available to accommodate Limerick's housing needs. It will help ensure the ongoing Limerick renaissance, which we can all be proud of and excited about, is maintained."
For more stories on Limerick City and County Council click here
For more on Limerick Twenty Thirty click here