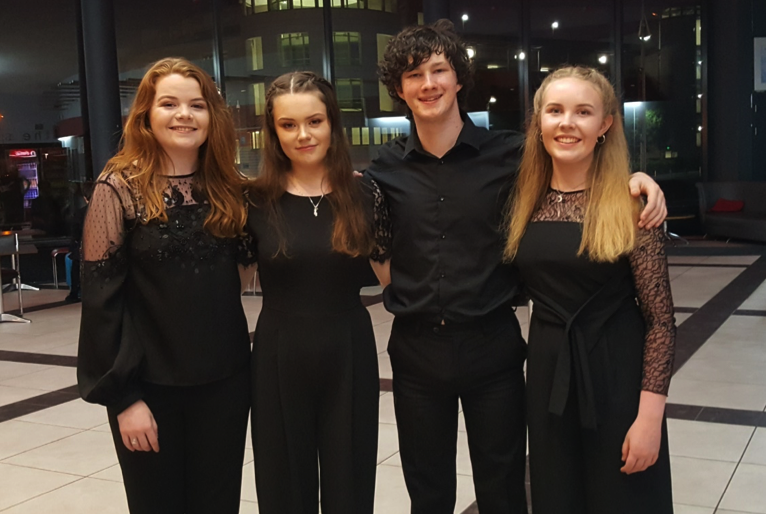 Young Musicians do Limerick proud with National Youth Orchestra of Ireland and Irish Youth Wind Ensemble
Róisín Ní Dhonabháin (Clarinet), Heather Nash (Trumpet) and Eileen Cleary (Violin), all pupils at Laurel Hill Choláiste FCJ, played alongside Jacob Butler a pupil of Choláiste Chiarán, in the 96 strong Symphony Orchestra directed by guest conductor Tung Chieh Chuang. Also playing with them was their former LHC schoolmate, Ailbhe Collins ('Cello) from Tipperary.
Young Musicians do Limerick proud with National Youth Orchestra of Ireland and Irish Youth Wind Ensemble
Words and Photos by Moya Ni Cheallaigh
It has been a busy and exciting summer for several young Limerick musicians who were chosen through a nationwide audition process, to play in our top performing youth ensembles.
The National Youth Orchestra of Ireland
These talented and hard-working musicians all started their music lessons here in Limerick and are a testimony to the wonderful teachers we have here in the city. Róisín attended Dr Shannon Burns and Barbara Dowling for lessons in Clarinet and Saxophone at the Redemptorist Centre of Music (RCM). Winner of the Senior Clarinet competition at Féile Luimní this year, she will be attending Dr Paul Roe at DIT Conservatory of Music, in Dublin, from September.
Heather is a pupil of Michael Dooley at Limerick School of Music and attends Vivienne Johnston monthly in Cork School of Music with a view to continuing her studies there at 3rd Level. She also attends Emma English for singing lessons and was chosen to play the lead Sophie, in Glenstal Abbey's production of Mama Mia in 2016.
Eileen, who is just 15, has won many prizes including Feis Ceoil, Ireland's premier music competition. She hopes to continue her music studies at 3rd level. Originally a pupil of Anna Jane Ryan at LSOM, where she still studies flute with Susan O'Leary, she now has violin lessons via Skype with Professor Richard Crabtree in London. She recently gave a flute recital in St Mary's Cathedral lunchtime concert series.
The three girls, play with their school orchestra conducted by Orla Colgan-Ahearne, which won the top prize for schools at Feis Ceoil in 2016.
16-year-old Jacob, started double bass lessons with his sister Sophie at Musica Fusion Charleville, and now attends Dave Whitla in Cork School of Music, where he plays with the CSM Symphony Orchestra. He also sings with the Limerick County Youth Choir. A double bass player much in demand, Jacob was invited to play with the National Youth Orchestra of Wales and the Ulster Youth Orchestra also this summer and is just back from concerts in Bratislava and Vienna.
The Irish Youth Wind Ensemble
Cathal Ó Donabháin (Trumpet) a 3rd Year Music and French Student in MIC joined his sister Róisín, along with 16 year old Hugh Clery-Ward (Percussion) from Ard-Scoil Rís, to play with the Irish Youth Wind Ensemble (IYWE) conducted by Ronan O'Reilly, with concerts in Galway and CSM Cork later in July. This ensemble caters to musicians aged between 16 and 26.
Immediately after IYWE finished, Cathal, Róisín and Hugh were joined by Heather to attend Berklee College of Music's Summer Groove School, in Dublin City University. They were nominated to attend by their jazz tutors John Daly and Peter Hanagan from Limerick Jazz Workshop. While there Heather was offered a tuition scholarship to attend a Brass Programme in Berklee College, Boston next summer. But for now there is Sixth Year and the small matter of the Leaving Certificate for Roisin and Heather to consider, while Cathal is off to France to study at the University of Toulouse for a year.
For more information on the National Youth Orchestra go here.
For more stories on the National Youth Orchestra go here.