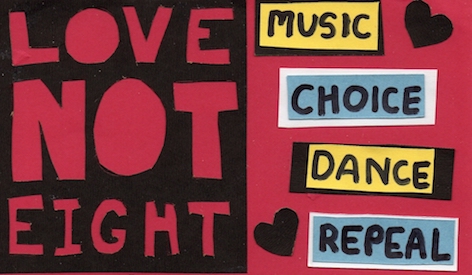 Repeal LK events scheduled to engage, educate and entertain the public ahead of abortion referendum
Repeal LK events Love not Eight event poster designed by local artist Olivia Furey.
Repeal LK events scheduled to engage, educate and entertain the public ahead of abortion referendum
Repeal LK (formally Limerick Pro-Choice) are holding various events in Limerick city from February 1st – 4th in the hopes of engaging, educating and entertaining the public ahead of the abortion referendum, which is expected to be called for later this year.
Repeal LK is the Limerick branch of the national campaign to repeal the Eighth Amendment from the Irish Constitution. They are campaigning for free, safe and legal abortion for all those who need it. Repeal LK are passionate about amplifying marginalised voices and those who are often left out of the dominant narrative.
The Repeal LK events include a panel discussion, poetry night and pop up café, with the headlining event a gig in Dolans Warehouse on February 3rd. The gig, Love not Eight – music, choice, dance, REPEAL, includes a fantastic musical line up, pro-choice activists, raffle and merch stand, with Kate McGrew as event MC. The artists taking part on the night are Mizdrea, Cruiser, Pillow Queens and Síomha.
Síomha, who has recently finished supporting Paul Brady on tour said, "This is an important year for Ireland. We have failed to care for the women of our country and this year we have the chance as a nation to move forward and to safeguard a woman's right to choose. I am supporting this campaign because I believe we should trust women."
Repeal LK outreach & partnership representative, Yvonne Murphy said, "We know the topic of the Eighth Amendment can be overwhelming for some people, so we are encouraging the public to attend these events to learn more about the negative effects of the Eighth Amendment and what it means to be Pro-Choice." Co-Convenor of Repeal LK Ellen Reid-Buckley commented, "The Repeal LK events seeks to educate and energise people in Limerick in the wake of the summer referendum on the Eighth Amendment. We at Repeal LK want a full repeal of the Eighth Amendment, and we advocate for free, safe, legal abortion available to all those who need it in Ireland. We take an intersectional approach to our activism and wish to synthesise both social and cultural elements in this. We have decided to hold numerous events, in which there will be a discussion, debate, music, and arts all combined across four days, highlighting the importance of repealing the Eighth amendment."
Repeal LK Events Line up and Information:
Thursday, February 1st at 6 pm in the Jonathan Swift Theatre, University of Limerick, UL Feminist Society will host Conversations about Choice. This is a roundtable discussion with speakers from Med Students for choice and Parents for Choice. This is a chance for students to have their questions about the Pro-Choice campaign answered by experts.
Friday, February 2nd at 7 pm in Ormston House, Repeal LK presents: Out of Silence – an evening of resistance poetry. Featuring Clara Rose Thornton, Sarah Clancy, Matt Kennedy and Aisling Ní Chionnaoith. This event will look at different perspectives of reproductive rights through poetry and will challenge us to look at the Repeal movement with an intersectional lens. Entry costs €5 proceeds in aid of Need Abortion Ireland.
Saturday, February 3rd at 8 pm in Dolans Warehouse, Repeal LK proudly presents: Love not Eight – music, choice, dance, REPEAL. With the abortion referendum happening later this year it is more important than ever that we start having open and honest conversations about the Eighth Amendment and why it needs to be repealed. Love not Eight will not only entertain people but will help start these conversations and educate people about the harmful effects of the Eighth Amendment and why everybody deserves the right to full bodily autonomy. With performances from Mizdrea, Cruiser, Pillow Queens and Síomha. The night will end with tunes from DJ Olivia Chau and it also includes the wonderful Kate McGrew as MC, raffle, merch stand and speeches from Pro-Choice activists. Tickets are €7 via Dolans.ie or €9 on the door.
Sunday, February 4th at 2 pm in Ormston house, Salon du Chat and Repeal LK presents: Repealing the 8th Conversation. Salon du Chat is a pop-up conversation café where audiences choose topics of conversation from a menu presented by the Salon team. The Salon du Chat team have put together a special menu around the topic of repealing the Eighth Amendment, including quotes from the Citizens Assembly, personal stories from people who have experienced the Eighth Amendment and a series of topics around women's rights and bodily autonomy.
All of the venues are wheelchair accessible.
For more information on these events, click here.
To find out about more things happening in Dolans, click here.