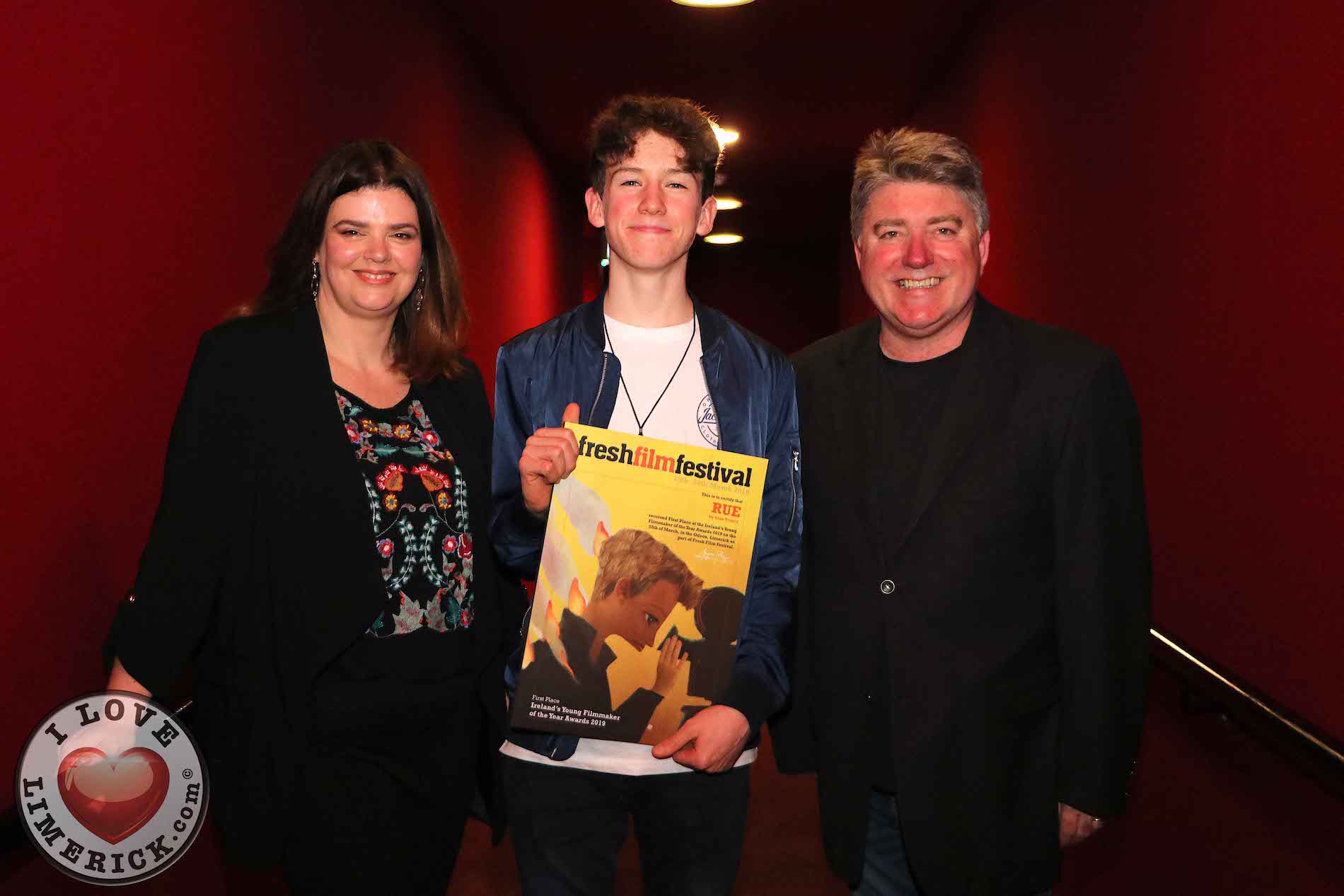 Since winning Irelands Young Filmmaker 2019, Sean Treacy has made a mark on the International filmmaking scene
Sean Treacy, 15 from Wicklow, pictured after winning Ireland's Young Filmmaker of the Year Awards in 2019 with Jayne Foley, founder of Fresh International Film Festival and comedian Pat Shortt. Picture: Zoe Conway/ilovelimerick.
Since winning Irelands Young Filmmaker 2019, Sean Treacy has made a mark on the International Filmmaking scene
It has almost been a year since Sean Treacy, a Wicklow-native, took home the title of Ireland's Young Filmmaker of the Year 2019 at the Fresh International Film Festival.
The 15-year-old took home the title for his film 'RUE', a story about a boy who regrets his last words to his best friend. Since then, the talented youngster has reached international recognition, as his short films have been screened all over the world.
Speaking about his love for film, Sean said, "I simply have a love for art, because I love expressing emotions in different forms, and film is my favourite way of doing so."
thank you!! https://t.co/G7Mq6EwrSN

— Sean Treacy (@_stellarsean) March 30, 2019
'RUE' has gone on to be selected for three international film festivals in Brazil, Serbia and just recently Norway. In Norway, it will be screened at the opening ceremony.
His other short film, 'SPARK' has also been recently selected to take part in the 'Up and Coming' Hanover International Film Festival, after being selected in the top 150 out of over 4,000 submissions. This festival is one of the oldest and highest regarded in the sector, focussing on young filmmakers as artists and emerging professionals, with the age range expanding up to 27. 'SPARK' has also been selected for four other international film festivals in Georgia, Brazil, Serbia, and Poland. The results from these festivals will be announced in the following months.
Speaking about winning Young Filmmaker of the Year, he said, "I was really honoured and chuffed that it was my film that won. It's one the actors and I worked really hard on, I couldn't have done it without them, and they were amazing. I can't thank the Fresh Film enough for organising the whole event, it was just fantastic!"
Sean has a huge presence on social media, in particular, YouTube, with his personal channel 'Stellar' having over 24 thousand subscribers. On this channel, he documents journeys in his personal life, with video titles such as 'Going Vegan For 100 Days', 'Solving Anxiety' and 'Finding My Tribe'. Sean also has a filmmaking account containing his award-winning short films with over 24,000 thousand subscribers.
Over the summer, Sean embarked on a new challenge by co-presenting a TV show produced by Tailor Films in association with RTE.
It is a children's bedroom makeover show called 'Ace My Space' in which Sean and his other co-presenter travel across Ireland as they redesign children's bedrooms based on their passions. The ten-episode series is set to start playing on RTE 2 every weekend from November to December.
As if that wasn't enough, he was also scouted for a week-long intensive summer camp, 'Prodigy Camp', which is designed for the most promising young filmmakers and songwriters in the world.
Located in Washington, Sean had attended the camp before, thanks to Fresh International Film Festival. Filmmaker Rick Stevenson and the Prodigy Camp staff hand-selected 20 of the most talented teens between the ages of 13 and 18 to come to camp from all across the world. At camp, Sean made a documentary about up and coming to musician Nathan Nzanga, which he plans on releasing later this year.
Sean said, "At this camp, I learned an immense amount about my craft, but also about myself. This is a camp where I am surrounded by people who have a similar if not the same passion as me, and so the creative energy which I was immersed in was genuinely life-changing. Both times, it really was an incredible experience."
hope you all enjoyed last night's video! if you still haven't seen it, here's the link: https://t.co/HSS0lV3Uge. it features a very big announcement for any musician/filmmaker out there, so make sure to watch to the end! any likes or shares are appreciated as always. ❤️❤️

— Sean Treacy (@_stellarsean) September 15, 2019
Currently, he is in the production stage of his next short film. He is directing the film and will also be starring as the lead for the first time ever. The film will move into the post-production stage in two weeks, with the final product planning to be ready in November.
Sean said, "This has made the short film a completely new experience for me, and it is one I have thoroughly enjoyed so far. The cast and crew have been so hard-working and helpful that it really has been a blast so far."
While Sean is only a fourth-year student in secondary school, he has already made an impressive name for himself in the film industry, with many more interesting projects on the way. He credits his success to his start with the Fresh International Film Festival.
The call for entries for Ireland's Young Filmmaker of the Year 2020 is now open. The closing date for entries is Friday, January 24, 2020.
About the Fresh International Film Festival
Fresh Film is an advocate for young filmmakers year-round and encourages young people to make films by hosting the annual Fresh International Film Festival which incorporates Ireland's Young Filmmaker of the Year Awards. Fresh International Film Festival 2020 takes place in Limerick from March 23 – 28, 2020 and is open to young people from 7-18 years of age. The festival provides an opportunity for these young filmmakers to see their work on the big screen and to compete for the title of Ireland's Young Filmmaker of the Year and to win €1000 towards their next film.
For more information about Fresh Film, click here.
For more stories about fresh Film, click here.