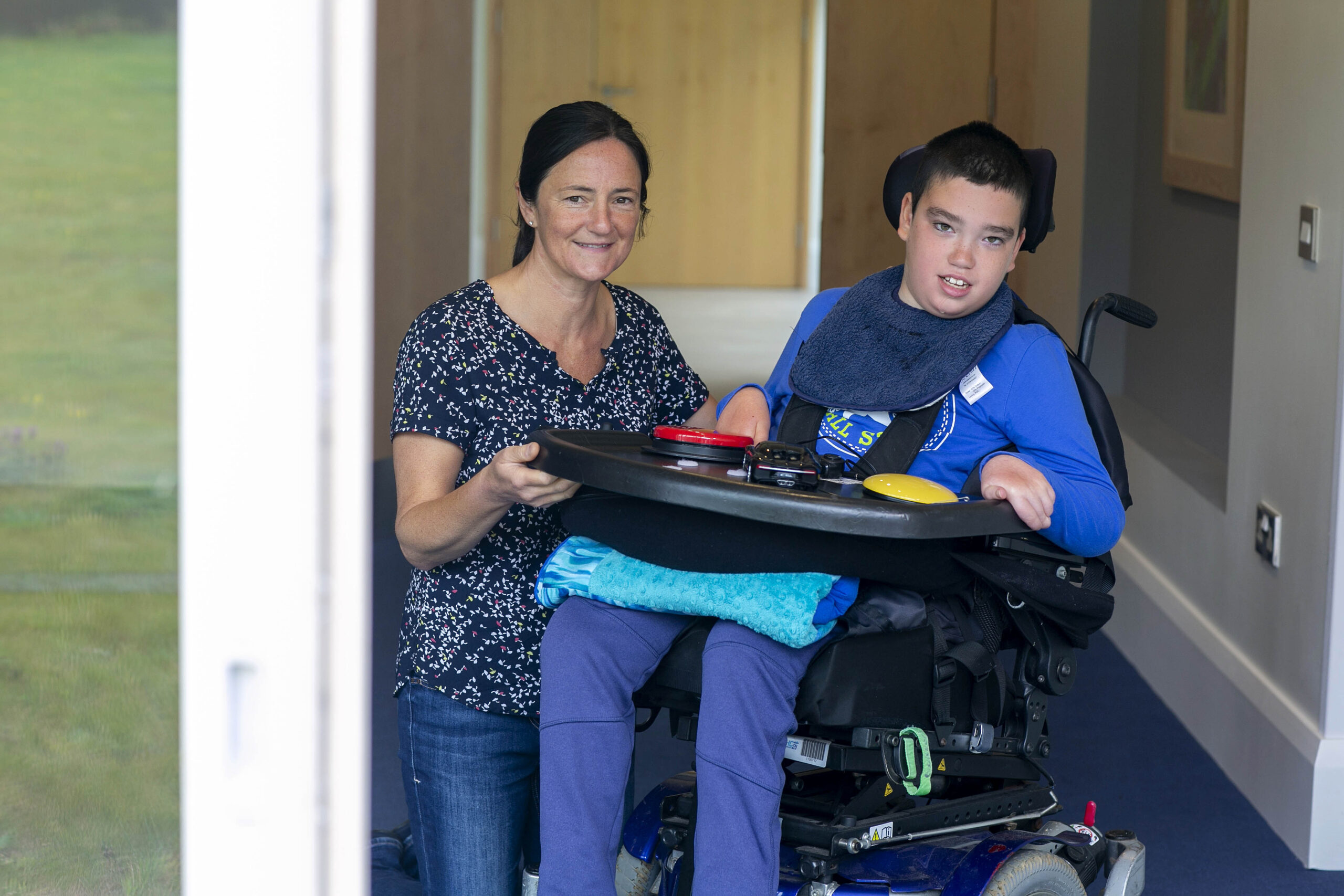 WATCH Plea to continue St Gabriels June respite programme for children with severe disabilities
St Gabriels June respite: The creation of a June Programme has brought much-needed respite for both the children and parents. But funding is now required to keep the high dependency unit open into the future or this much-needed support will be withdrawn at the end of the month. Pictured at the centre is Dylan Tierney with his mum Lorraine. Picture: Arthur Ellis.
WATCH Plea to continue St Gabriels June respite programme for children with severe disabilities
Exhausted parents of children with the most severe, life-limiting disabilities across the Mid-West have implored the HSE and government to resume, at the earliest opportunity, a respite programme that is set to cease on Tuesday – just thirty days after it started.
Parents who have benefited from 'June Programme' at St. Gabriel's Respite House, Limerick that provided a much-needed break to them and their children following three months of lock-down say that they badly need its continuation and for the purpose-built house to be fully opened.
The €2.9m St. Gabriel's Respite House in Co. Limerick, which is the first purpose-built facility of its kind in the country, was completed 18 months ago but has not opened due to operational funding deficits. However, staff from the nearby St. Gabriel's School were made available to run the special programme at the Respite House over the past month due to the ongoing closure of the school arising from COVID-19.
The state-of-the-art Respite House located in Mungret, on the outskirts of Limerick city, is a dedicated facility designed to provide respite breaks for children from across the Mid-West who have physical disabilities and complex medical needs.
Said Lorraine Tierney, mother of 13-year-old Dylan, one 28 children facilitated across the June programme: "Dylan can have anything from 10 seizures a day to 100 seizures a day, even through the night. The seizures control us every day, you know. We have to manage them, we have to always be on our guard.
"We care for him round-the-clock 24 hours a day, 7-days a week, 365 days of the year. There's only me and my husband Martin. We are both working full-time. We're both members of Garda Síochána in Henry Street. We do 4-days on 4 days off. We also have a little girl, she is 9 years of age, we need to look after her as well. It's been tough it's been hard.
"Since Dylan finished school in the middle of March we've been on her own. We've had no help. It's absolutely exhausting, we're just desperate for a break. So, then we got a call from St. Gabriel's Centre to say they will be running the June Programme, we were over the moon.
"St. Gabriel's Respite House has been here for the last 18 months. It's been completely closed but the time when we needed it most, St. Gabriel's have managed to put this June Programme in place."
The mother-of-two said that the June Programme was a godsend but her hope is, now that it has proven its value, funding should be made available to keep it open.
"Parents are crying out for overnight respite. We're willing to look after our children. We want to look after them but we need help. We need to know that there is something to look forward to, a night away for Dylan and a break for us as well.
"Now that we've seen what has been put on here for the month of June work so well, we need something for the rest of the summer months and after that, we need the government to please give us funding to open this beautiful Respite Centre. It has everything that our families need for overnight respite and we desperately need it to open now. We're pleading for it to open," she said.
Some 28 in all families took part in the programme, with four children attending each day from 10 am to 2 pm over a four-week period during the June Programme. Each child had their own separate rooms, including bathroom, with direct access to the outside when spending the day in their own 'pod'. Two staff typically look after each child but three in cases where the child has particularly acute needs.
For more info go here.
For more stories on St Gabriels, click here.