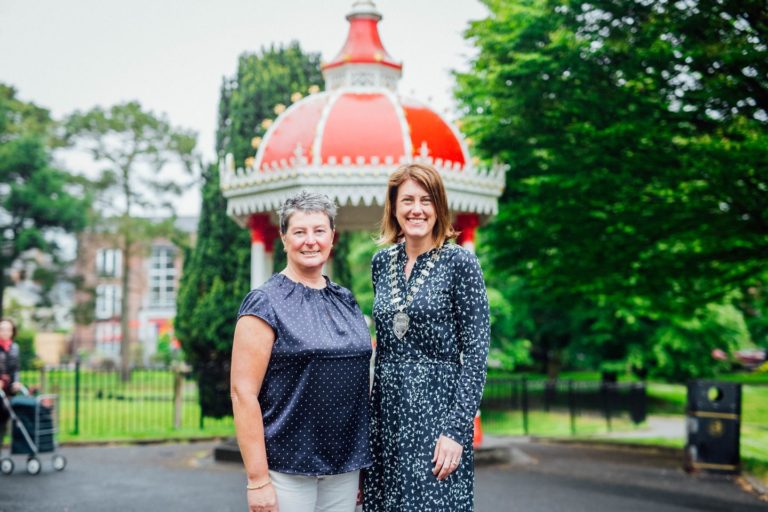 Fourteen Limerick charities and non-profit groups are given over €800,000 with Stability Fund
Stability Fund recipients include Cliona's Foundation, Gateway to Education Limerick and many others. Pictured are (left to right) Terry Ring, Clionas Foundation and Helen Wycherley, National President of Network Ireland. Photo taken before social distancing.
Fourteen Limerick charities and non-profit groups are given over €800,000 with Stability Fund
By I Love Limerick Correspondent Sophia DiBattista
Fourteen of Limerick's vital charities and organisations are receiving and sharing €833,766 in the newly established Stability Fund, which was brought about after Covid 19.
The Stability Fund was created to help those groups that lost much-needed funds during the quarantine period of Covid-19. The once-off cash donation will be given to those groups that have continuously been on the front-lines with important services and are approaching closure.
The full list of organisations receiving funds were announced on Friday, June 26 along with the specific amounts. Some of these include Cliona's Foundation receiving €100,474, Limerick's Gateway to Education receiving €16,584 and Mid-West Simon Community receiving €187,677.
Others include Croom Community Hall, Ennis Road Community First Responders, Garryowen Community Development Project, Learning Hub Limerick Ltd, Limerick Autism Group, Limerick Island Community Partners CLG, Mobile IT Limited, Patrickswell Community Resource House, The Butterfly Club CLG, The Desmond Ability Resource Complex and Treaty Steel.
More cash schemas and once-off donations will be organised in the near future, but this is just the first step in the recovery stage for Limerick after Covid-19.
We had the chance to speak with Brendan Ring, co-founder of Cliona's Foundation. Upon receiving the news of the donation, he and the rest of the Cliona's team were elated. He said, "When it was announced on Friday, it came as a surprise. Covid presented us with many difficulties, so the timing of the donation was really good, and it really couldn't have come at a better time. This donation isn't just significant for the rest of the year, but it's significant to show what we can do."
The Limerick-based organisation helps families with children needing complex care or those who have life-limiting difficulties. Cliona's assists them financially and allows those people to get the care they so desperately require. The Stability Fund donation of €100,474 will boost the morale and the financial recovery process for Cliona's, who have not been able to provide much fundraising for themselves during the pandemic.
Brendan continued explaining the importance of Cliona's Foundation and why it is a necessary organisation for families. He said, "The average family spends about €12,000 with childcare. With Cliona's being the one of the only family charities in Ireland that provides direct assistance, we take pride in what we do. We try to help as best as we can, and it is reassuring to see the government endorse us and encourage us to continue our work. It makes us happy to know that we're needed."
For more information on the Stability Fund, click here.
For more stories on Covid-19 support services, click here.