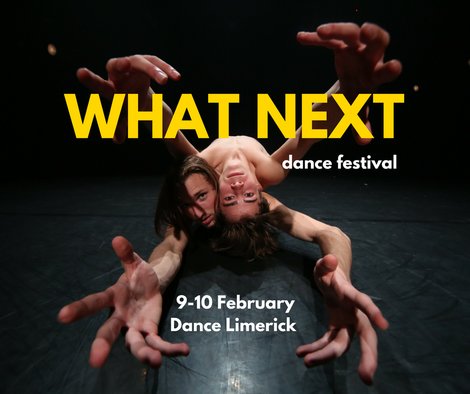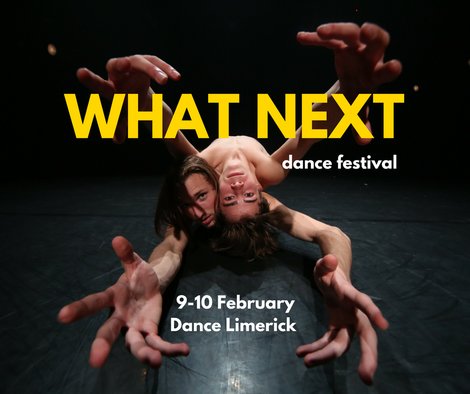 Dive In, Discover Dance at Ireland's newest dance festival What Next happening 9-10 February in Limerick city
What Next dance festival runs on February 9 and 10.
Dive In, Discover Dance at Ireland's newest dance festival What Next happening 9-10 February in Limerick city
Inspired by the impressive talent of rising dance artists from Ireland and abroad, What Next dance festival promotes dance discovery through live performances. The festival encourages you to sample something different in the form of a thrilling, innovative and engaging line up of events. Taking place in Dance Limerick's Performance Space 9-10 February there is something for everyone in the brimming festival programme. Tickets €12/€10 or entry to Programmes for €28 from the link below or on the door.
What Next dance festival features an exciting line-up of choreographers, dance artists, musicians and visual artists from across the world. Highlights include performances and choreography by Daniele Ninarello (Italy) & Dan Kinzelman (USA), Mary Wycherley (Ireland), Justine Cooper (Ireland/New Zealand), Tanin Torabi (Ireland/Iran) and Laura Murphy (Ireland). What Next dance festival will showcase stimulating contemporary dance in 3 programmes spread across 2 days with a Closing Party by VJ and visual art curator Padraic E. Moore (Ireland).
Details of the festival programme were released this week by festival director Jenny Traynor who says 'I am delighted to announce our brand-new dance festival What Next, where we will present the work of early career artists from Limerick and beyond. I am very much looking forward to having our festival artists in residence with us for a week of creative exchange led by the festival's Creative Exchange Curator and Facilitator Fearghus Ó Conchúir (Ireland), before seeing their performances on 9 & 10 February. We are particularly excited to welcome Aerowaves artists Daniele Ninarello (Italy) and Žigan Krajnčan & Gašper Kunšek, aka Alien Express, (Slovenia). Aerowaves is a European dance network of presenters who select the most exciting emerging dance artists in Europe and promotes them for a year, Dance Limerick was happy to be invited to be one of the partners earlier in 2017. At What Next audiences will experience a programme of fresh and evocative interactions and performances with a new generation of artists on the cusp of establishing their choreographic voices.'
Programme 1
Programme 1 kicks off at 7:30 pm on Friday 9 February with Kudoku choreographed and performed by Daniele Ninarello with live sax, percussion and electronics by Dan Kinzelman.
Next up is with no name by Isabella Oberländer, a Limerick-based artist originally from Austria. with no name is a visceral collage, inspired by the ambiguities of the body.
Following this is Lucia Kickham and Marion Cronin (Ireland) performing Kickham's Oscillate. The piece explores the natural rhythms of the body, the acts of breathing, blinking, pumping blood through our veins. Áine of DRAFF magazine says of the piece 'My heart rate noticeably slowed at times, and my breath mirrored the rhythms I was processing'.
The final performance of Programme 1 is Justine Cooper's solo Folds of the Crane. Folds of the Crane is a cinematic, movement theatre piece inspired by black holes, flick books and multiplicities of the self.
Programme 2
Programme 2 which is on Saturday 10 February from 3 pm not only has a family-friendly element but also an impressive line-up of local and international performances and choreographers.
Starting off the afternoon is Ruby by Tanin Torabi, a narration of the artist's journey in life.
Next in Programme 2's exciting line up is Rachel Sheil with her piece Begin. Begin is a piece that explores many elements of dance artist Rachel Sheil's practice.
Programme 2 closes with the superb and hypnotic Abacus by Laura Murphy. The piece expresses the effects of routine and monotony on us.
Programme 3
First up in in the festival's final programme, on Saturday 10 February at 6 pm, is Sinter performed by Limerick dance artist-in-residence Mary Wycherley. In Sinter, time and space, the performing body, video footage and sound coalesce forms micro-narratives and structures that blur the boundaries between fictional and non-fictional experience.
Finally, in the festival's dance line up, is Alien Express by Aerowaves artists Žigan Krajnčan and Gašper Kunšek. Alien Express invites you to jump on an astral train and take a journey of transformation.
Closing Party
Pádraic E. Moore will return to Limerick for the What Next dance festival closing party Music for Chameleons. Moore describes the performances as 'an inclusive interactive happening concerned fundamentally with the politics of pleasure'. What Next dance festival invites Limerick audiences to join us, along with the festival artists, to dance together in our Performance Space in John's Square after a weekend of discovery. Bar sponsored by Mother Macs and Treaty City Brewing.
Other Events
World-renowned Irish dance artist and choreographer Fearghus Ó Conchúir (I'm Roger Casement) will be on hand as the festival's Creative Exchange Curator and Facilitator working with the artists. They will explore the city and have the opportunity to work with students from LSAD and The Irish World Academy in UL.
We are also commencing a new conversation series titled Let's Talk About Dance which will be led by Limerick poet Jo Slade at Nelly's Corner, Nicholas Street, Wed 7 Feb, 7:30 pm and Wed 14 Feb, 7:30 pm.
There will be an Artists' Café in Dance Limerick's studio on Saturday 10 February, 12.30–2pm where people are invited to meet the artists and discuss performances you have seen so far or on dance in general. You can bring your own lunch!
For more information or booking details here.
To read more about festivals in Limerick click here.