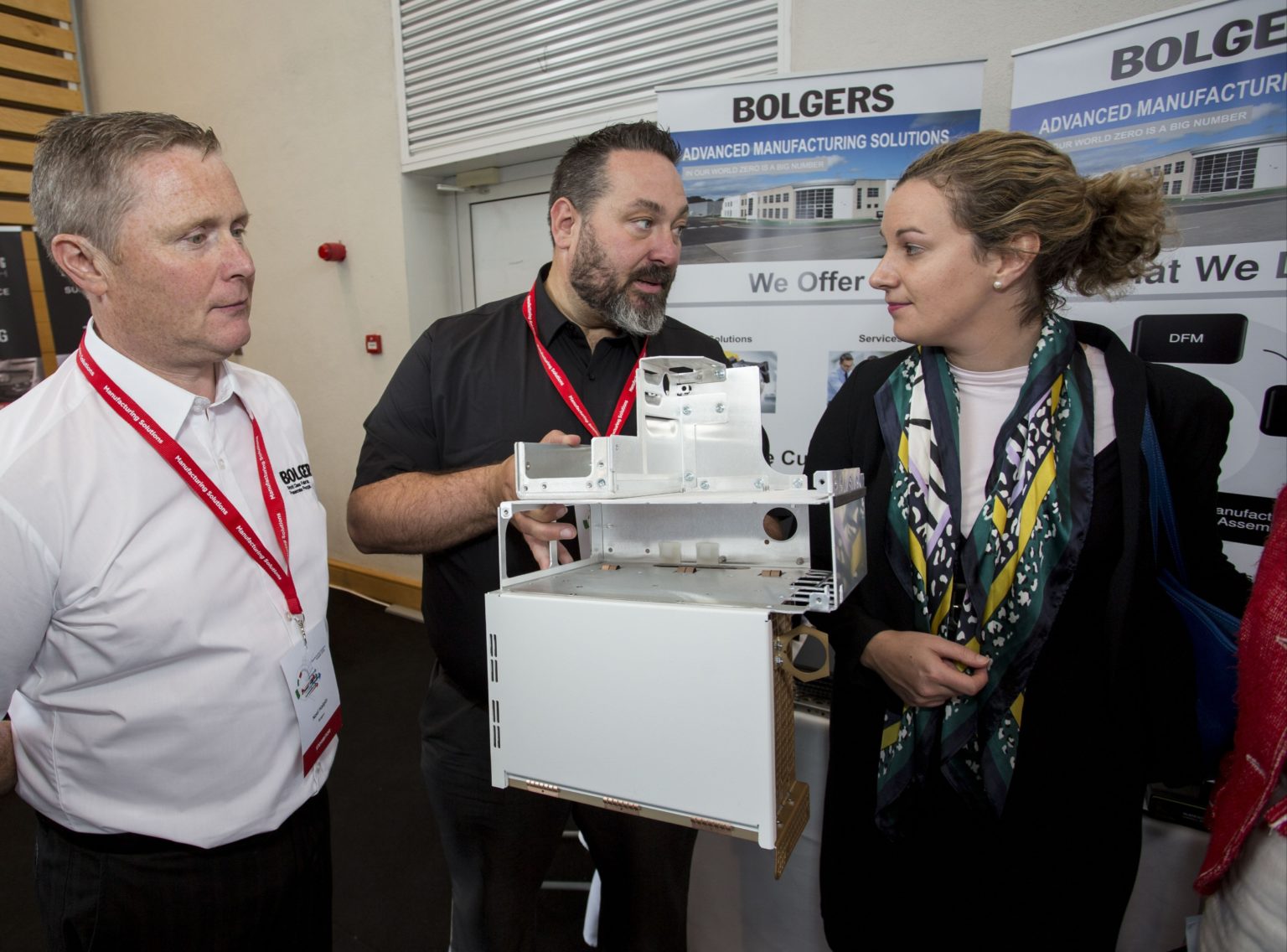 Shannon-based company Bolgers increase their ventilator fabrication manufacturing, creating 25 new jobs
Noel Halpin (floor manager) and Paul Collins (sales and marketing manager), Bolgers Engineering, at the recent Manufacturing Solutions event in Limerick Institute of Technology (LIT) showing one of their high-quality precision medical fabrications.
Shannon-based company Bolgers increase their ventilator fabrication manufacturing, creating 25 new jobs
The Shannon-based engineering company, Bolgers, is majorly boosting its production of much-needed ventilators as a result of the Covid-19 crisis, which in turn will create 25 new jobs.
The leading medical equipment manufacturer and assembly supplier, located in the Smithstown Industrial Estate, Shannon, will see its workforce increase to over 90 people in the coming weeks as a result of the extreme shortage of ventilators needed to fight the effects of Covid-19.
Bolgers supply the world's largest medical technology company, Medtronic, with chassis' for the production of their high-performance ventilators, the Puritan Bennett™ 980 (PB 980) and the Puritan Bennett™ 840 (PB 840). Medtronic is also expanding its team, doubling its staff in Galway to further assist with this unprecedented worldwide demand for life-saving ventilators.
Bolgers Ramping Up Production to Increase Ventilator Fabrication Output to Support Medtronic Address The COVID-19 Pandemic https://t.co/Rtaujs9lYQ @ChambersIreland @SkillnetIreland @Bolgerseng @Medtronic @IDA_MidWest @Entirl @RTEbusiness @drivetimerte @morningireland

— Shannon Chamber (@SNNChamber) March 26, 2020
COVID-19 is a prime example of an illness that targets the respiratory organs, meaning victims of the illness often require assistance with breathing. By placing a patient on a ventilator, their lungs have the ability to recover and rest, as the ventilator replaces the functions of the lungs, supplying oxygen and simulating breathing.
Managing director of Bolgerrs, Graham Bolger, said, "We have identified additional opportunities to increase our manufacturing capacity including bringing on additional staff, approx. 25+ people, and implementing new manufacturing shift patterns. We also have strong commitments from our supply chain to support us during this unprecedented ramp up of demand and we fully expect to support Medtronic to get ventilators to market quickly. In partnership with our supply chain, we are now going to be in the frontline of the battle against COVID-19 and we will play our part in the national and international effort."
Welcoming this announcement from Bolgers, Shannon Chamber CEO, Helen Downes, said, "The commitment we are seeing from our Shannon companies to keep their businesses operating whilst working within the health and safety requirements of the HSE and the WHO, is commendable."
"To now see a company ramping up its activities to play its part in providing a much-needed medical device, so vital to assisting doctors to deal with and patients recover from the COVID- 19 virus, is exceptional. Bolgers' ability to respond so swiftly to this need demonstrates the value of having business continuity plans in place, coupled with, as in this instance, an ability to expand production lines. Well done to all the team," she added.
For more information on Bolgers Engineering, click here.
For more Covid-19 stories, click here.