Welcome to the I Love Limerick Business Directory
Use the search bar below to find local listings in our Business Directory
---

Bradshaws Kitchen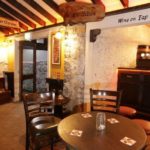 Bradshaws Bar (Bradshaús as Gaeilge) is set in the history-steeped village of Castleconnell, Co. Limerick on the banks of the River Shannon.
The picturesque area is well known for its angling and nature walks.
Castle View House, the premises on which Bradshaws is located, was built in the 1850s and recently received a rebirth in 2014 restoring the charm and bliss you would come to expect from a 19th century Olde World Irish Bar.
This family-run establishment combines magically the olde world snug feel at the front of the house, with the new relaxing beer garden at the rear to make a truly remarkable old world public house.
Bradshaws Bar is now serving food Friday to Sunday.