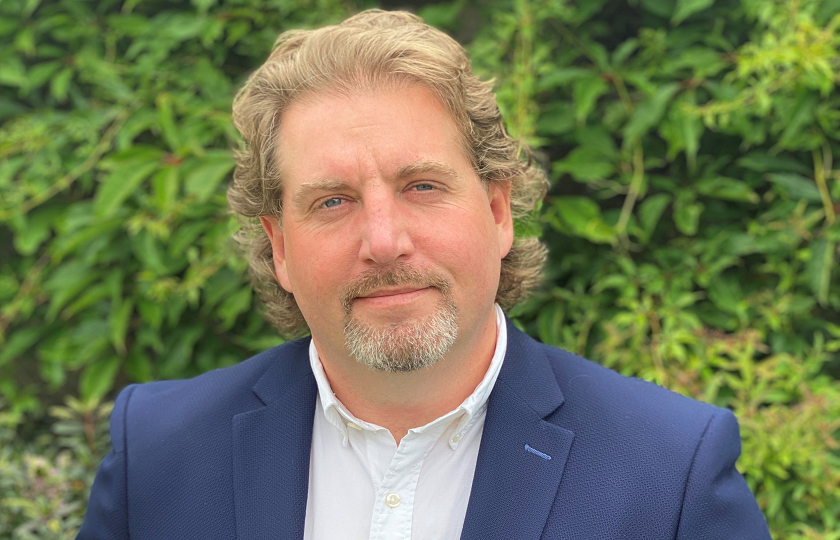 MIC's Dr Michael Finneran Awarded Funding to Investigate the Impact of Creativity on Wellbeing
Dr Michael Finneran – Head of Drama and Theatre Studies at Mary Immaculate College pictured above
MIC's Dr Michael Finneran Awarded Funding to Investigate the Impact of Creativity on Wellbeing
Dr Michael Finneran, Head of Drama and Theatre Studies at Mary Immaculate College (MIC), has been awarded almost €40,000 from the Irish Research Council (IRC) and Creative Ireland to investigate the impact creative activity can have on wellbeing. The project is one of 76 projects funded by the Irish Research Council under their New Foundations scheme, which brings researchers and community/voluntary organisations together to develop new insights that will ultimately lead to a better society for all.
The 'Creative Capacity in Ireland: Working towards Wellbeing' project is the first large scale study in Ireland to comprehensively examine international research on creative engagement and wellbeing in order to further understand the positive links between creativity and wellbeing, particularly with regard to intentionality and affect/effect.
Over the next year, the project will identify and study creative organisations and community groups throughout Ireland that offer creative engagement targeted towards wellbeing. By establishing best practice in the area and identifying the structural barriers that currently exist, this project will offer a greater understanding of the types of creative activity that impact positively on peoples' wellbeing and the ways in which this creative activity can be increased across Irish society.
According to Dr Michael Finneran, "This project will seek out and celebrate best practice in Ireland and showcase what makes good projects work. It will also illuminate what impedes best practice in order to recommend structural and policy changes to enable more valuable practice and a greater range of work to emerge in this area."
He added, "Relatively little attention has been given to the concept of creativity in Ireland and it often takes the form of an educational aspiration or a rights-based discourse seeking equity of cultural and artistic access, particularly for young people. Wellbeing as a concept has a similar currency at present – everyone is in favour of it and we all wish to support it, but we tend to speak of it in general terms as an aspiration or a fix for a problem rather than as a habitual way of living. This project will celebrate and critique both ideas as active, shifting and intersectional expressions of self which give meaning to a great societal good."
**NEWS** Dr Michael Finneran, Head of Drama & Theatre Studies at #MIC, has been awarded almost €40,000 from @IrishResearch & @creativeirl to investigate the impact creative activity can have on wellbeing.

Read more: https://t.co/o7Pxp8ddlb#LoveIrishResearch @soilsitheoir pic.twitter.com/TmcgQxS7Kn

— Mary Immaculate College (MIC) (@MICLimerick) April 8, 2021
Having worked for over 20 years working with young people in the arts, Dr Finneran has witnessed first-hand the powerful and positive effects creative endeavours can have on a person's sense of self and their ability to be well in the world. While the research project will include all age-groups across Irish society it will have a particular focus on young people, which according to Dr Finneran is an "area in which the most profound 'wellbeing' need can be perceived in Irish society at the moment".
While the current COVID-19 pandemic has inevitably impacted upon creative activity, Dr Finneran believes it has taught us how vital the full spectrum of human experience is to being well in the world. He said, "The pandemic has shown is that there is a need to engage with people in dialogic, playful and productive ways and nowhere is this exemplified more than in creative activities, where people are brought together in a common and joyful cause."
He added, "I'm delighted and very gratified to be entrusted by the Irish Research Council and Creative Ireland to undertake this valuable research. Given the strange times that we are currently in, this project is of particular significance given the current discourse around wellbeing in Ireland. I welcome the opportunity to build a project that will investigate how creativity impacts on all our wellbeing."
Congratulating Dr Finneran on this substantial funding award, Professor Michael Healy, Vice-President of Research at MIC, said, "On behalf of myself, the Research & Graduate School and the MIC, I wish to extend sincere congratulations to Dr Michael Finneran on his success under the New Foundations 2020 scheme. This is a prestigious, highly competitive Irish Research Council scheme, and successful applicants are expected to be future research leaders in their fields. I am pleased to acknowledge Michael's academic achievement, and the Research & Graduate School looks forward to supporting his research under the IRC New Foundations award."
Since 2015, 278 projects have received in excess of €6.5 million in funding under the Irish Research Council's New Foundations scheme. Welcoming the IRC's announcement earlier this week, Minister for Further and Higher Education, Research, Innovation and Science, Simon Harris TD said, "These research collaborations are helping with some very important community and voluntary sector projects. This vibrant sector plays such an important role in supporting different groups in society, including the more vulnerable or marginalised. Through partnerships with researchers, diverse community organisations can bring new evidence and insights to enhance their services and impact for those that need them."
The New Foundations scheme will run again this year and further information is available HERE.
Further information on Dr Michael Finneran is available HERE. Dr Finneran hails from Fairymount in West Roscommon and now resides in Limerick city.
For more stories on Mary Immaculate College go HERE