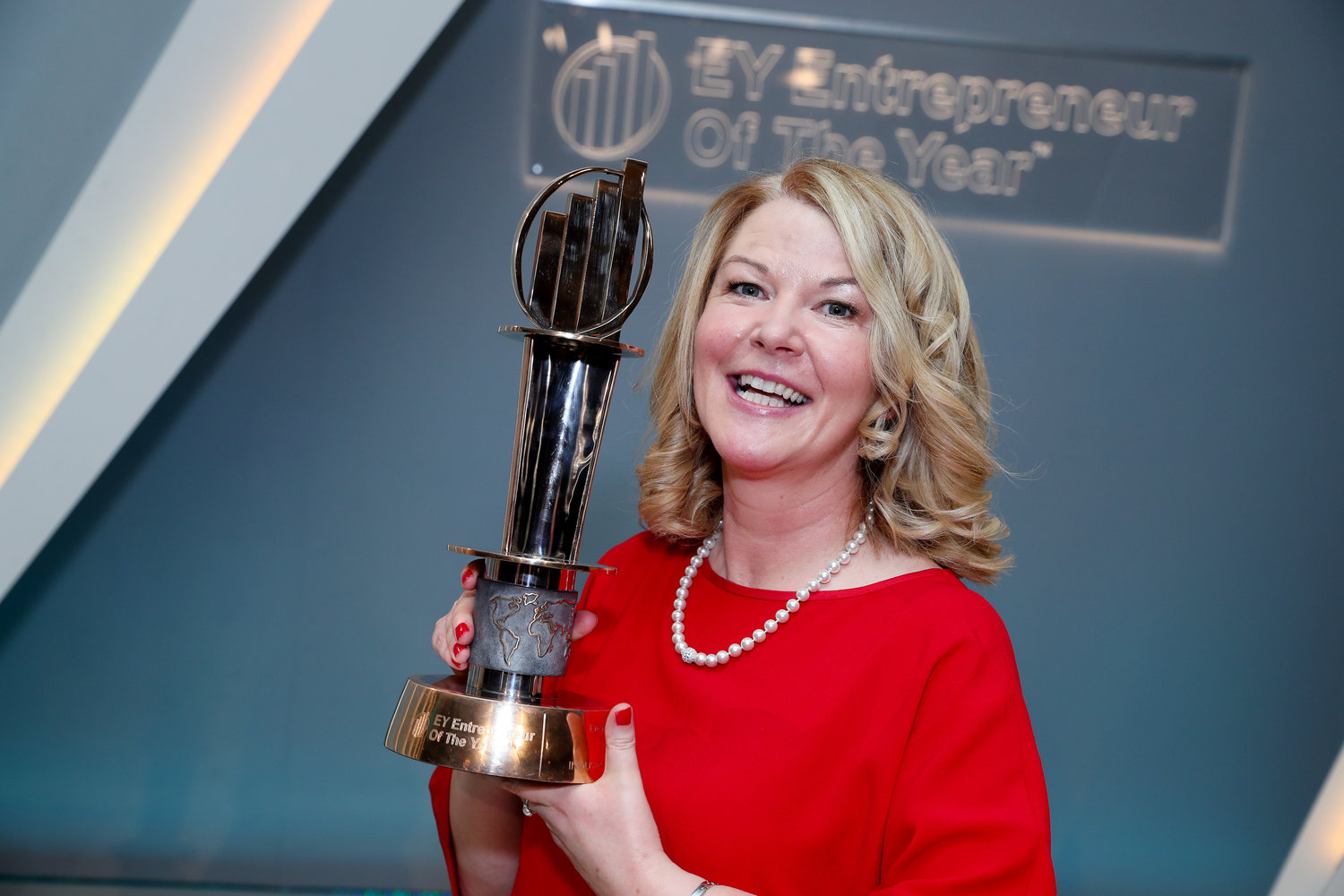 Evelyn O Toole EY Entrepreneur of the Year 2017 to Speak at Network Ireland Limerick Businesswoman of the Year Awards
Winner of the EY Industry Entrepreneur Of The Year 2017 Evelyn O Toole of Complete Laboratory Solutions.
Picture: MaxwellPhotography.ie
Evelyn O Toole, EY Entrepreneur of the Year 2017 to Speak at Network Ireland Limerick Businesswoman of the Year Awards
Award-winning entrepreneur Evelyn O Toole, Founder, and CEO of Complete Laboratory Solutions, is the keynote speaker for the Network Ireland Limerick Regional Businesswoman of the Year Awards taking place at the Savoy Hotel on Thursday, May 17. Last year Evelyn was named EY Industry Entrepreneur of the Year and Irish Tatler Businesswoman of the Year Awards.
During her talk, Evelyn will encourage businesswomen to put themselves forward more and share how she overcame the challenges that some might be associated with a rural-based business.
"Women can be very slow to put themselves forward for awards. So I'm delighted we have Evelyn O Toole as our guest speaker as she has also admitted to being reluctant to entering awards and getting the recognition she deserved but now, having done so, can appreciate the opportunities it has created for her and her business," said Valerie Murphy, President of Network Ireland Limerick.
The Network Ireland Limerick Businesswoman of the Year Awards, sponsored by LEO Limerick and AIB, will be hotly contested by 18 businesswomen across 5 categories this year. Representing a broad range of businesses, the contenders will find out their fate at a special awards evening at the Savoy Hotel, Limerick.
The winners of each award category will then go on to compete at the Network Ireland National Business Awards which will be announced at a black-tie gala ceremony in September in the Radisson Hotel, Galway.
The 5 categories include; Best Emerging Businesswoman, Best Employee, Best SME, Best Culture and Best Use of Digital – a new category which was added this year.
Speaking about the upcoming regional awards, Valerie Murphy said, "We are delighted with the response we've had to this year's awards. We had the highest number of applications ever which reflects our increasing membership and how well businesses are doing right now. These awards offer a fantastic opportunity for Limerick women to gain recognition for their entrepreneurial and professional achievements. We're looking forward to celebrating their many successes at the awards ceremony."
The finalists of the Network Ireland Limerick Businesswoman of the Year Awards for 2018 are:
Emerging New Business
Cori Calvert, Glas Eireann
Andrea Moran, Andrea Moran Wig Clinic
Dr. Margie Lynch, Aesthetic Physician
Claire Bannon, Indigo Visual
Employee Category
Emma Wilson, Azpiral
Elaine Ryan, The Clayton
Aoife O'Hanlon, Westrock
Cate O'Connor, French Table
SME
Caroline Dunlea, Core Optimisation
Marian Dineen, Think Retail
Fiona Doyle, Glamour Agency
Claire Bannon, Avokado & Co
Catherine Fitzgerald, Complete Laser Care
Moira Geary, The Recombobulator
Arts
Roseanne McDonnell, Art Summit
Una Heaton, Frank McCourt Museum
Yvonne Locke, Artist
Best Digital Use
Core Optimisation (Caroline Dunlea)
Get West (Catriona O'Donoghue)
Escape Rooms (Kaitlyn Cinnamond)
The event takes place on Thursday, May 17 at Savoy Hotel, Limerick and begins at 7 pm with a wine and canapé reception, followed by guest speaker and awards presentation. The dress code is 'dressy but not black tie. This event is free to Members & Guests. Pre-Booking via Eventbrite or www.networkireland.ie is essential to secure your place.
For more business-related stories click here
To find out more about Network Ireland click here