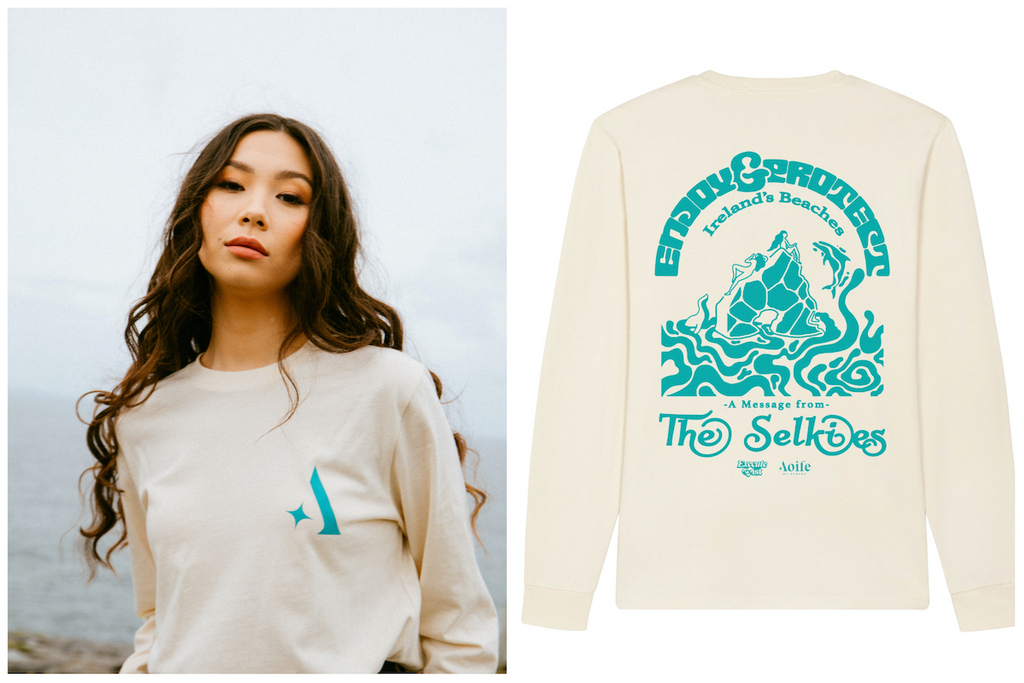 Fashion Designer Aoife McNamara and Artist Collaborate on Limited Edition Charity T-Shirt in Aid of Clean Coasts
Fashion Designer Aoife McNamara x Execute Exist Charity T-Shirt is hand printed in Limerick using water-based inks on premium quality t-shirts made from undyed 100% organic cotton.
 Irish fashion brand Aoife Mc Namara collaborates with Limerick-based design studio Execute Exist on hand-printed charity t-shirts with a sustainability message
Since its inception, Irish fashion brand Aoife McNamara has taken inspiration from Ireland's natural beauty and a mission to protect it. Now, Limerick fashion designer Aoife McNamara has collaborated with Execute Exist, the Limerick-based design studio, on a hand-printed charity t-shirt designed with a message to protect Irish oceans and beaches.
Bringing together great design with a good cause, ten per cent of the proceeds from the charity t-shirt sales will be donated to Clean Coasts, the non-profit organisation devoted to protecting Ireland's beaches, seas and marine life.
The t-shirt features 70s-style artwork by Greg Hall of Execute Exist in Aoife McNamara's signature shade of teal. Inspired by mythology and the Irish coastline, the bespoke design features Selkies; mythological beings said to transform from seals to humans to move between sea and land. The t-shirt shares a message from the Selkies to 'Enjoy & Protect Irish Beaches.'
Each Aoife McNamara x Execute Exist Charity T-Shirt is hand printed in Limerick using water-based inks on premium quality t-shirts made from undyed 100% organic cotton. Showing how style and sustainability can go hand in hand, the undyed t-shirts reflect the natural oatmeal colour of the cotton plant itself. Specks of the original plant are visible in the material, including seed particles.
Aoife McNamara is a long-time supporter and ambassador of Clean Coasts. She previously designed a tote bag in aid of the charitable organisation and continually raises awareness about its community beach clean initiatives.
Speaking about the inspiration behind the initiative, Aoife McNamara said: "The beauty of Ireland's ocean and beaches and a desire to protect them continually inspires me as a designer. So for me, working with a like-minded artist like Greg at Execute Exist is a way to get the message out there and reach new audiences. The design is purposely attention-grabbing, so every time you wear your t-shirt, you'll spark conversations on the importance of sustainability and keeping our beaches and oceans clean."
"With this initiative, we're supporting both Clean Coast and Irish design. Promoting local artists is something we do by selling their work from our Cottage in Adare. Last year, we took it to the next level with custom hand-crocheted pieces by Kerry-based artist Metta Shrestha. We're building on this through our collaboration Greg and Execute Exist, and we have more partnerships in the pipeline."
Greg Hall, the founder and creative behind Execute Exist, said: "I felt the Selkies would be a good advocate for respecting the sea as it's their home and in mythology, they are often sadly forced away from it. I wanted it to look like a fun psychedelic postcard from the Selkies at sea, with a warning about protecting where they live. This was such a fun design to print, and I enjoyed the experience of collaborating with Aoife's brand and bringing some of my own style to it."
The Aoife Mc Namara x Execute Exist Charity T-shirt (€80) is now available in sizes XS-XXL exclusively at aoifemcnamara.com and in the Aoife McNamara Cottage, Adare, Co. Limerick. Aoife Mc Namara Season 8 collection launches on November 10, 2022.
Check out more of Aoife's amazing designs
Read more stories about Limerick fashion designer Aoife Mc Namara