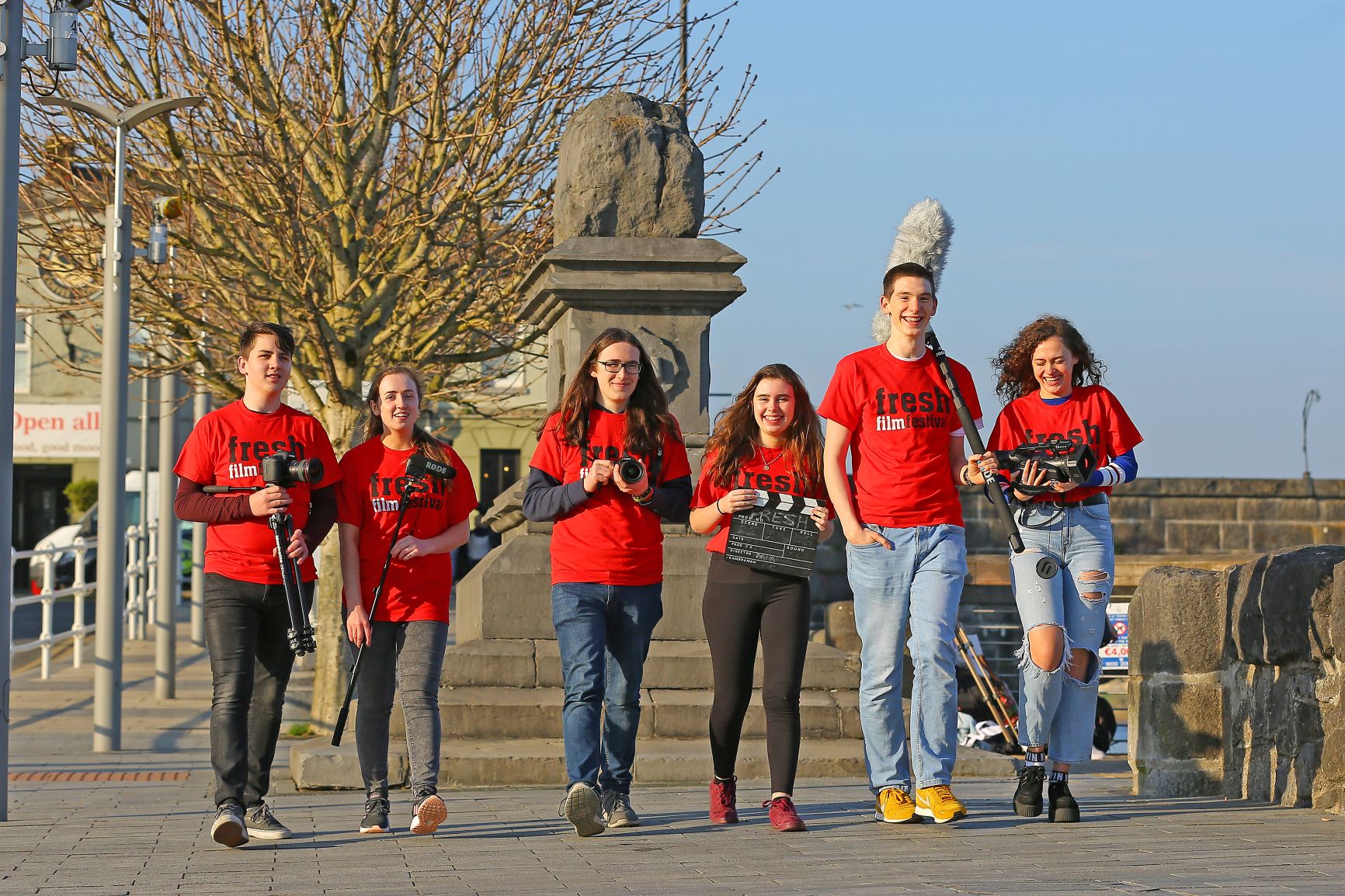 Fresh Film Festival Announces 2019 Programme Following Ireland's Young Filmmaker Regional Heats
Fresh Film Festival announces 2019 programme. Pictured are Luke from Limerick, Chloe from Cork, Oisin from Clare, Rebecca from Tipperary, Jonathan from Kerry and Meghan from Co. Limerick – young filmmakers who are taking part in Fresh Film Festival and Ireland's Young Filmmaker of the Year Awards 2019 running from March 25 – 30. Picture: Dermot Culhane.
Fresh Film Festival announces 2019 programme following Ireland's Young Filmmaker regional heats
Limerick's Fresh Film Festival, which will take place from March 25-30, has announced its festival programme. Fresh Film Festival encourages young people to make films by hosting an annual international film festival for young people, presenting Ireland's Young Filmmaker of the Year Awards, acting as an advocate for young filmmakers and promoting their work worldwide.
The highlight of the Fresh Film Festival will be the finals of Ireland's Young Filmmaker of the Year, which received a record of over 1,700 entries. The junior winner will be announced on Wednesday, March 27 and the senior winner on Thursday, March 28.
Other highlights of the Fresh Film Festival 2019 include feature screenings and workshops. Films screened at the festival will include the Academy-Award nominated animated 'Persepolis', the Guillaume Senez film 'Keeper' in association with IFI education, as well as 'The General', the classic 1927 silent movie by Buster Keaton which is one of the all-time greatest American films and well worth a watch. Workshops will include an animation workshop with Boulder Media and, a young Filmmakers day called SÚL ÓG and an industry master class with The National Youth Film School. 'Femme Friday' will feature two collections of short films made by young female filmmakers from around the world and programmed by young programmers. On Saturday, March 30, The Spirit of Fresh Award will be presented to a young filmmaker whose work reflects their engagement with Fresh and dedication to developing film skills.
Now in its twenty-third year, Fresh Film Festival encourages young people from Ireland and overseas, aged 7 to 18 years, to create, exhibit and share films. The festival provides an opportunity for these young filmmakers to have their work seen on a cinema screen for the first time and to compete for the title of Ireland's Young Filmmaker of the Year. All films submitted are also considered for a range of Specialist Awards including the Radharc Trust Award (documentary), the Boulder Media Animation Award, the RTE 60 Second Short Film Award and the RTE Factual Award, in addition to the International and Audience awards.
Reflecting on the volume of entries for this year's festival, Fresh Film Festival Director Jayne Foley commented, "Fresh Film Festival is all about encouraging young people to tell their stories through film, so the record number of submissions this year shows we have a nation of young storytellers with something to say and the creative means to say it. The Festival is a forum where young film-makers can meet each other. Even at that stage networking is important. You may end up meeting the same people again later in your career. As advocates of young film-making, we also try to showcase films abroad. We've brought Irish films and young filmmakers to Korea, Palestine, Austria, Germany, and Edinburgh. This year we are excited to have a number of International young filmmakers coming to Fresh and sharing their filmmaking experience with us."
The Fresh Film Festival 2019 programme is available at www.freshfilmfestival.net/programme.
Bookings and queries can be made through [email protected].
For more information on the Fresh Film Festival, go here.
For more stories on the Fresh Film Festival, go here.
Fresh Film Festival announces 2019 programme Fresh Film Festival announces 2019 programme Fresh Film Festival announces 2019 programme Fresh Film Festival announces 2019 programme