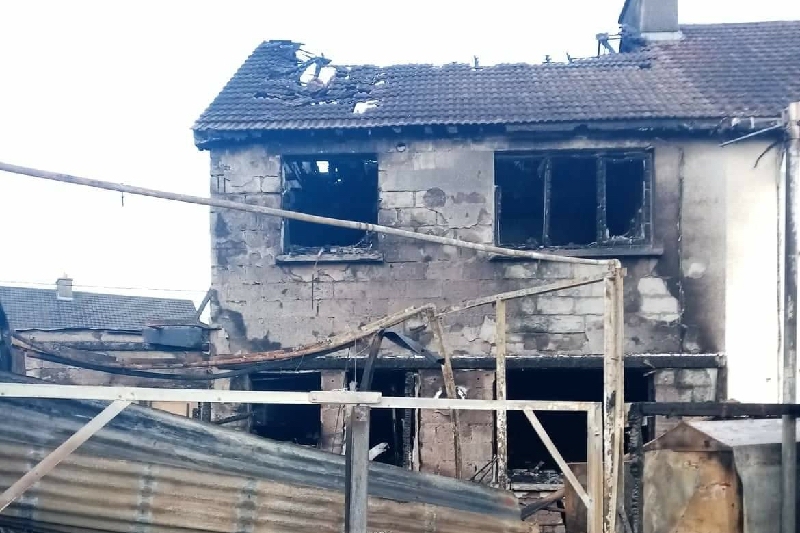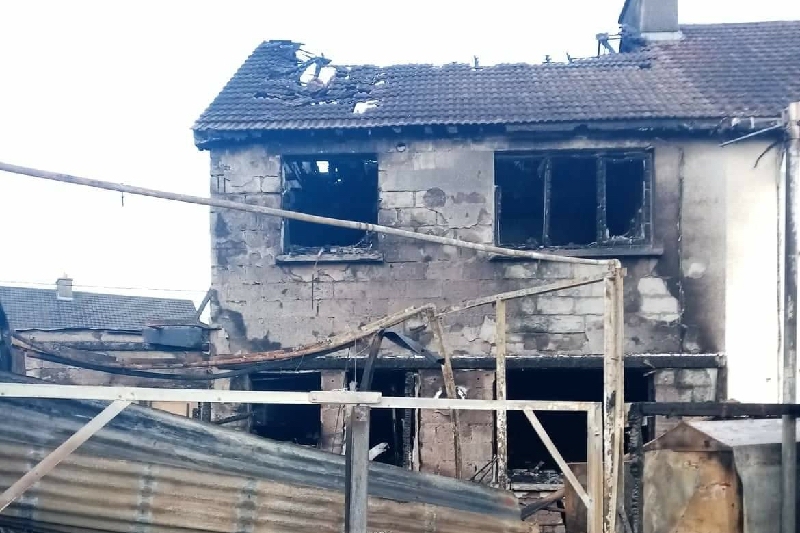 UPDATE: Limerick community creates GoFundMe page to help resident Tom Slater after house fire
Mr. Slater's house after the fire.
UPDATE: Limerick community creates GoFundMe page to help resident Tom Slater after a house fire
By I Love Limerick correspondent Sophia DiBattista
The Limerick community has banded together once again to help a fellow citizen in need. This past week, Limerick lady Clodagh Jean built a GoFundMe campaign to raise money for Mr. Tom Slater, who lost his house in a fire.
Kind-hearted Clodagh built the go fund me page after multiple suggestions from caring neighbours of Mr. Slater.
Tom, who goes by Mr. Slater, is an 81-year-old resident from Lynwood Park. He lived with his dog Pepper since his wife Gina died 2 years ago.
On Saturday, February 8, a blazing fire started on the Slater property, supposedly spreading from the shed to the house. Mr. Slater and Pepper were upstairs at the time and had no idea a fire started. Mr. Slater's home burnt down on what would be his beloved wife's second year anniversary.
Luckily, some of the other residents came to the rescue before any tragedies resulted from the fiery outburst. Mr. Slater and Pepper were eventually reunited, but Mr. Slater's house was left in shambles, with his past belongings and mementos destroyed from the flames.
Clodagh, the daughter of Mr. Slater's former neighbours, decided to start a fundraiser dedicated to helping the man. With his permission, Clodagh began a GoFundMe page to raise money for a comfortable home.
Clodagh said, "It's a fund that everyone who knew Mr. Slater could donate to as everyone wanted to do something to help. Everyone in the estate is just devastated for him. Everyone wants to help him out.
On Clodagh's fundraising and Facebook page, she expressed Mr. Slater's warmest thanks saying, "He is getting through this very difficult time with the help of lots of hugs and kind words from everyone, and knowing that his community, that he is so very proud to be a part of, wants to do something to help him."
So far, the campaign is just over the €3,000 mark with over 100 donors, but that is only a small portion of what Clodagh hopes to raise. Any businesses, labourers, and designers can contribute to the cause as well. Their aid through donations, materials, services or workers is much appreciated.
She said, "I know the GoFundMe won't cover the costs of his home rebuild, but it will help Mr. Slater out in some way, to get it comfortable, to get it done and make it homely again when the structural work is completed, though he will never get it as homely as his beloved wife had it."
For more information on the fundraiser or to donate, click here.
For more stories on Limerick fundraisers, click here.