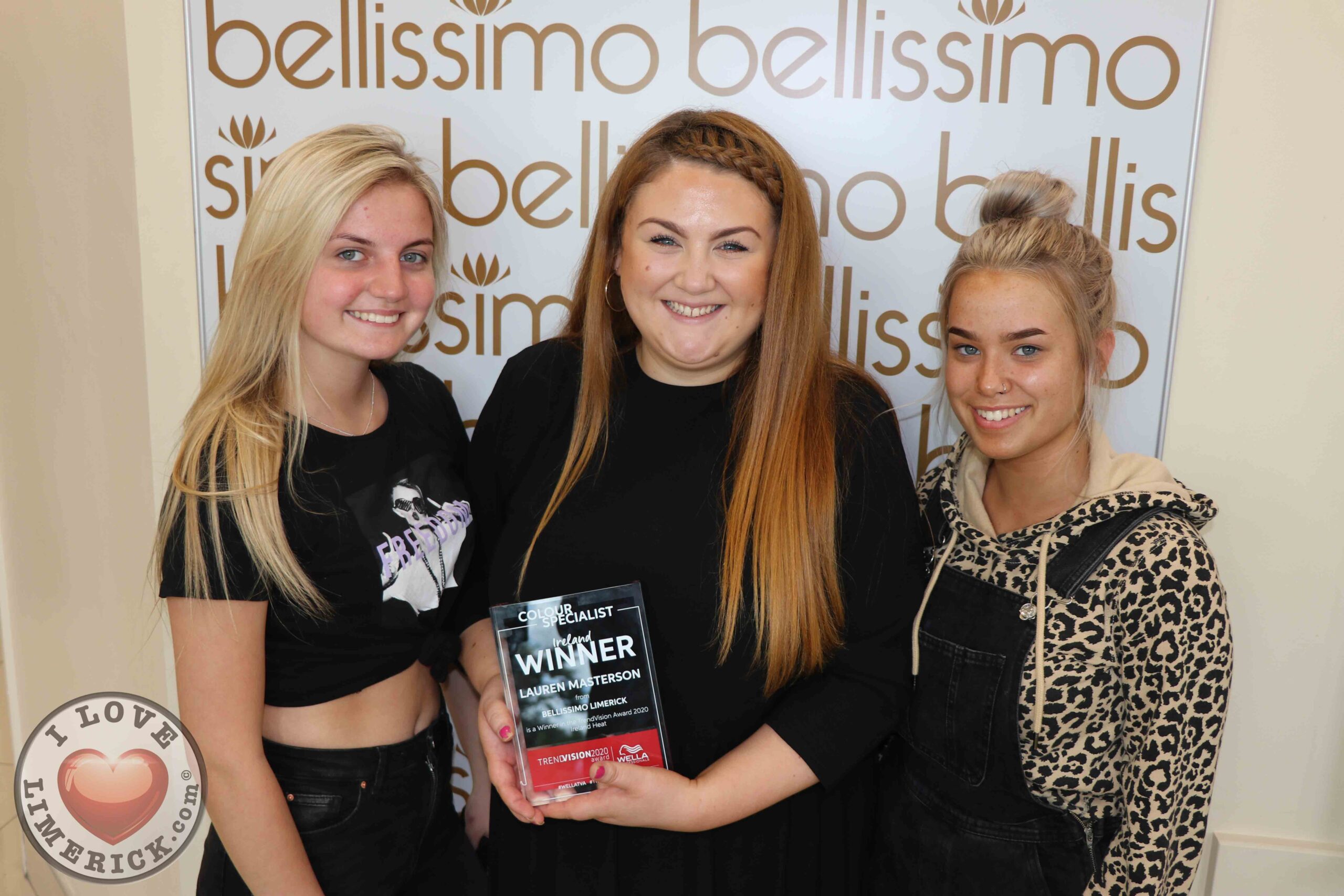 Lauren Masterson of Bellisimo Limerick to compete at Wella Professionals TrendVision Award 2020 Final
Lauren Masterson (centre) pictured here with Ruby Lynch and Ellie Carrig, Junior Stylists with Bellissimo Limerick. Picture: Richard Lynch/ilovelimerick
Lauren Masterson of Bellissimo Limerick to compete at the Wella Professionals TrendVision Award 2020 UK & Ireland Final
Lauren Masterson of Bellissimo Limerick has won a top hairdressing award and is set to compete at the Wella Professionals TrendVision Award 2020 UK & Ireland Final.
The Wella Professionals TrendVision Award 2020 UK Regional Winners have been announced. This hugely prestigious competition took on a whole new format for 2020, with exceptional amendments made so that it could still go ahead, despite Covid-19.
TrendVision is one of the most iconic competitions in the hairdressing industry and Lauren Masterson from Bellissimo Limerick is one of the talented UK and Ireland finalists.
There were five completely new categories, all of which were entered on Instagram. The lucky finalists have already made it through the initial first photographic stage of the competition, before competing at the Digital UK Regional & Ireland Heats (also online).
Now Lauren Masterson is among the elite list of UK & Ireland finalists and will go on to compete at the TrendVision Award 2020 Grand Final, which, due to the current climate, will take place digitally this year. Each competitor will be required to create a whole new look – involving extensive work to support their submission.
It is a great achievement by Lauren Masterson to have reached this stage. The competition is incredibly tough and 2020 saw more entries than any previous year. Reaching the final stage shows genuine talent and skill.
"Lauren's achievement is industry recognition of her talent and dedication to her craft; Lauren began her Bellissimo journey in the academy in 2013 and has consistently augmented her skills and knowledge base each year. A recipient of the Wella Master Colour Expert award Lauren has "paid it forward" in the salon and is a valued trainer for the Bellissimo foundation team" said Darragh Curtin, the salon owner. "As a team, we couldn't be more delighted for Lauren as she is a most deserving finalist"
Speaking of her own experience, Lauren said, "Having spent fifteen weeks in lockdown and away from all of my clients, receiving this award was such a boost for my own motivation! I don't think I was ever so excited to unwrap a parcel in my life! I was genuinely a bit overwhelmed with it all having spent so long being unable to do what I love so much"
You can book an appointment or consultation with Lauren Masterson HERE.
To read about Bellissimo Limerick, click HERE.