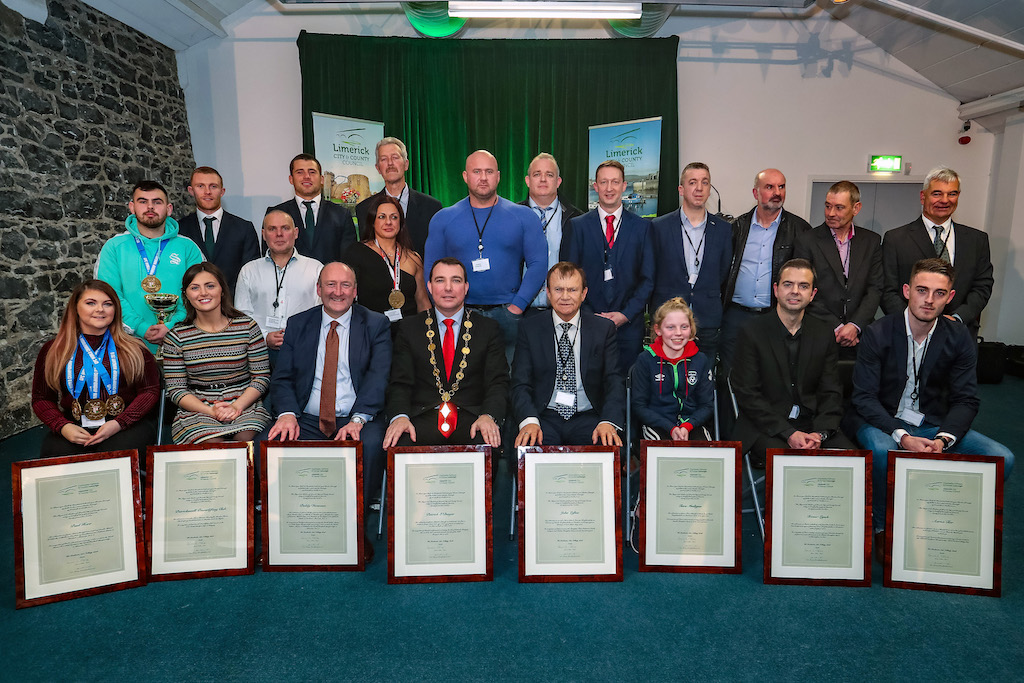 PHOTOS: Civic Reception recognising Limerick International Sporting Achievements in 2018 held at City Hall
Limerick International Sporting Achievements is recognised by the Civic Reception. Dr Pat Daly, Director and Deputy Chief Executive Limerick City and County with Mayor of Limerick City and County Council James Collins with recipients at a Civic Reception in recognition of the International Sporting Achievements of Persons from Limerick in 2018 in Istabraq Hall, Limerick City and County Council, Corporate Headquarters, Merchant's Quay, Limerick. Picture: Keith Wiseman
Civic Reception recognising Limerick International Sporting Achievements in 2018 held at City Hall
A Civic Reception was held in recognition of the International Sporting Achievements of Persons from Limerick in 2018 in Istabraq Hall, Limerick City and County Council, Corporate Headquarters, Merchant's Quay, Limerick on Wednesday, December 12.
Recipients are athletes from different programmes and all of them have received great achievement during the year on behalf of Ireland.
James Collins, Mayor of the City and County of Limerick presented the reception and he said: "It is a huge honour for me to welcome you all here to acknowledge the phenomenal achievement of so many of our finest athletes.
"It has been a wonderful year for sport in Limerick and while our hurlers were celebrating their win, many of you were still battling, training and fighting for your own place in the history books.
The journey to success in sport is one of dedication, commitment and absolute single-mindedness." said Mayor Collins.
During the speech, Mayor James Collins praised the success that Limerick athletes have achieved in the year: "It can be a lonely journey, it can an exhausting and at times thankless pursuit. However, when I look around the room today I see people who have been remarkably successful, some of them in the face of almost unthinkable odds at one time in their lives."
Also, Mayor Collins mentioned the team of incredible athletes and their wonderful performance in the Transplant Games, "I am full of admiration for you Tara, Trevor and John. The importance of sport to communities and to families and individuals cannot be overstated."
"While it goes without saying you can take great personal pride in your victory, what I think is equally as important is the powerful example you have set for the generation of young girls and boys coming behind you. Each one of you did Limerick proudly and you did yourselves and your families and your communities proud." he continued.
For more information on Sporting Limerick, go here
For more stories on Limerick athletes, go here
Picture: Keith Wiseman