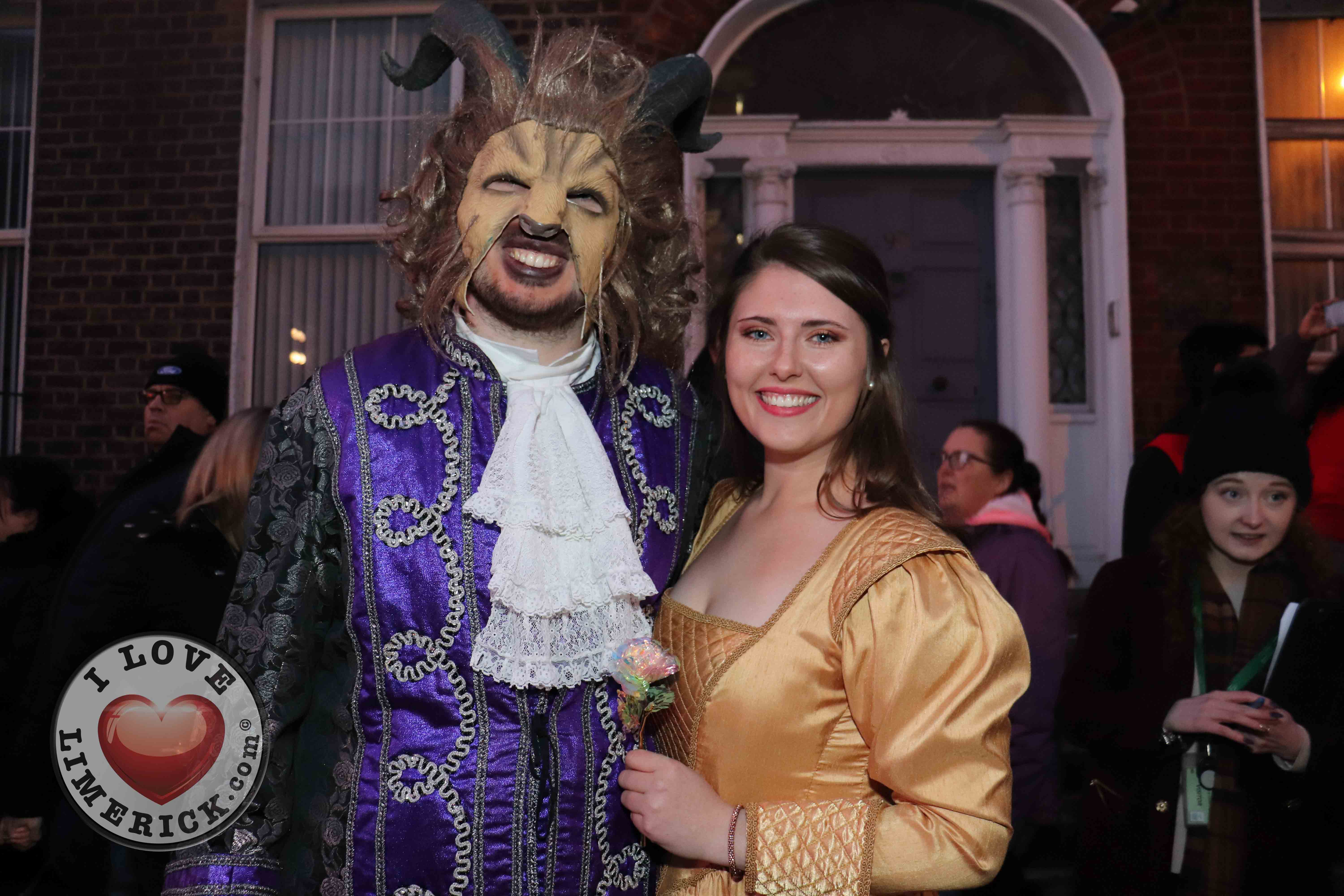 Limerick Panto Society presents Beauty and the Beast, this Christmas at the Lime Tree Theatre 
Limerick Panto Society Beauty and the Beast stars Jason Ronan and Natasha Coulglan as Beauty and the Beast. Picture; Kate Devaney/ilovelimerick
Limerick Panto Society presents Beauty and the Beast, this Christmas at the Lime Tree Theatre
The Limerick Panto Society are returning to the Lime Tree Theatre this Christmas, for 14 performances of Beauty and the Beast. The show kicks off Friday, December 27 and runs right into the New Year before wrapping up on January 5, 2020.
A cast of over 50 will bring the Beauty and the Beast musical score to life, with many familiar faces reappearing. Panto favourite, Tim Cusack is back again as the Dame, Jason Ronan as the Beast and Natasha Coughlan as Belle. Damian Shaw and his sidekick Ronan Mitchell will create some chaos with their usual hilarious antics as Belle's ugly sisters.
Popular musical numbers like 'Be Our Guest' or 'How Does a Moment Last Forever' and many more will be accompanied by a live orchestra. Some contemporary songs will also be added into the mix to give the whole production a modern twist.
Tony Cusack's acting direction is followed closely by Carol Cusack's dance direction. Choreography is by Lisa Hogan, Chorus Master is Morgan Roughan and Musical Direction is Michael Hinchy.
Dance direction is in the capable hands of Carol Cusack, the Choreographer is Lisa Hogan, Chorus Master is Morgan Roughan and Musical Direction is Michael Hinchy.
Limerick Panto Society collaborates every year with several local stage schools which make up the children's chorus; Spotlight Stage School (Judy O'Connor, Margaret Hough), Expressive Arts (Pearl Kiely) and Gemstar's (Emma O'Driscoll, Georgina O'Driscoll).
The Society continues its policy of supporting children's charities and this year is no exception. The Society has raised thousands of euros over the years for local charities and is delighted to be associated with the children's charity Blue Box this year.
Beauty and the Beast is in association with the Crescent Shopping Centre, main sponsors and other sponsors include Shannon Airport, Mr Binman, Limerick City Hotel, McGettigans, Quirke Shaw Cleaning Supplies and McDonald's.
Beauty and the Beast starts Friday, December 27 at the Lime Tree Theatre and runs until Sunday, January 5. Performance dates are as follows:
Fri Dec 27th – 12noon and 4pm
Sat Dec 28th – 12noon & 4pm
Sun Dec 39th – 12noon & 4pm
Mon Dec 30th – 4pm (Sensory Show) & 7:30pm
Tues Dec 31st – No Shows
Wed Jan 1st – 4pm
Thus Jan 2nd – 7:30pm
Fri Jan 3rd – 7:30pm
Sat Jan 4th – 12noon & 4pm
Sun Jan 5th – 12noon & 4pm
For more stories on Limerick Panto Society 2019 click here.
For tickets click here.