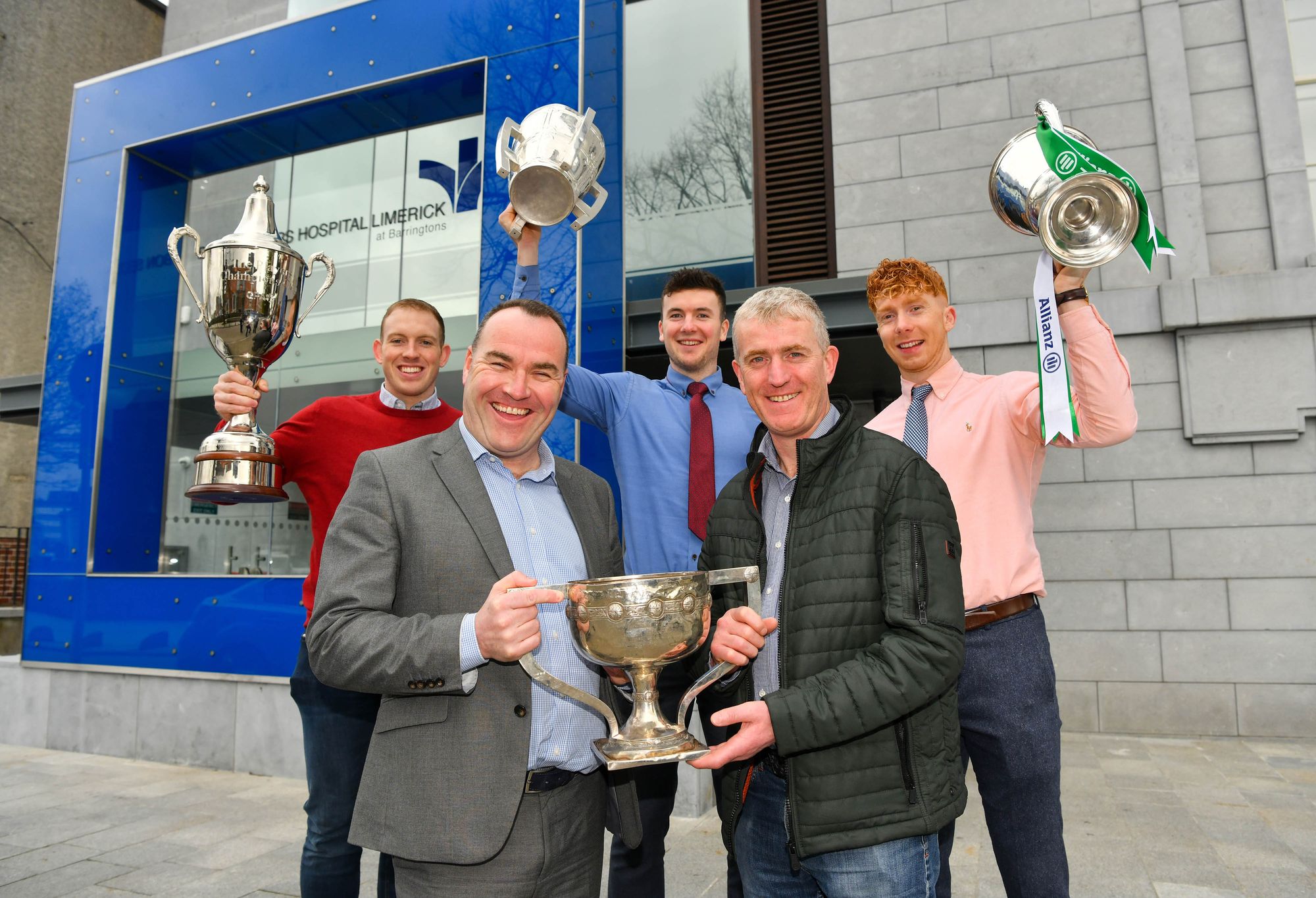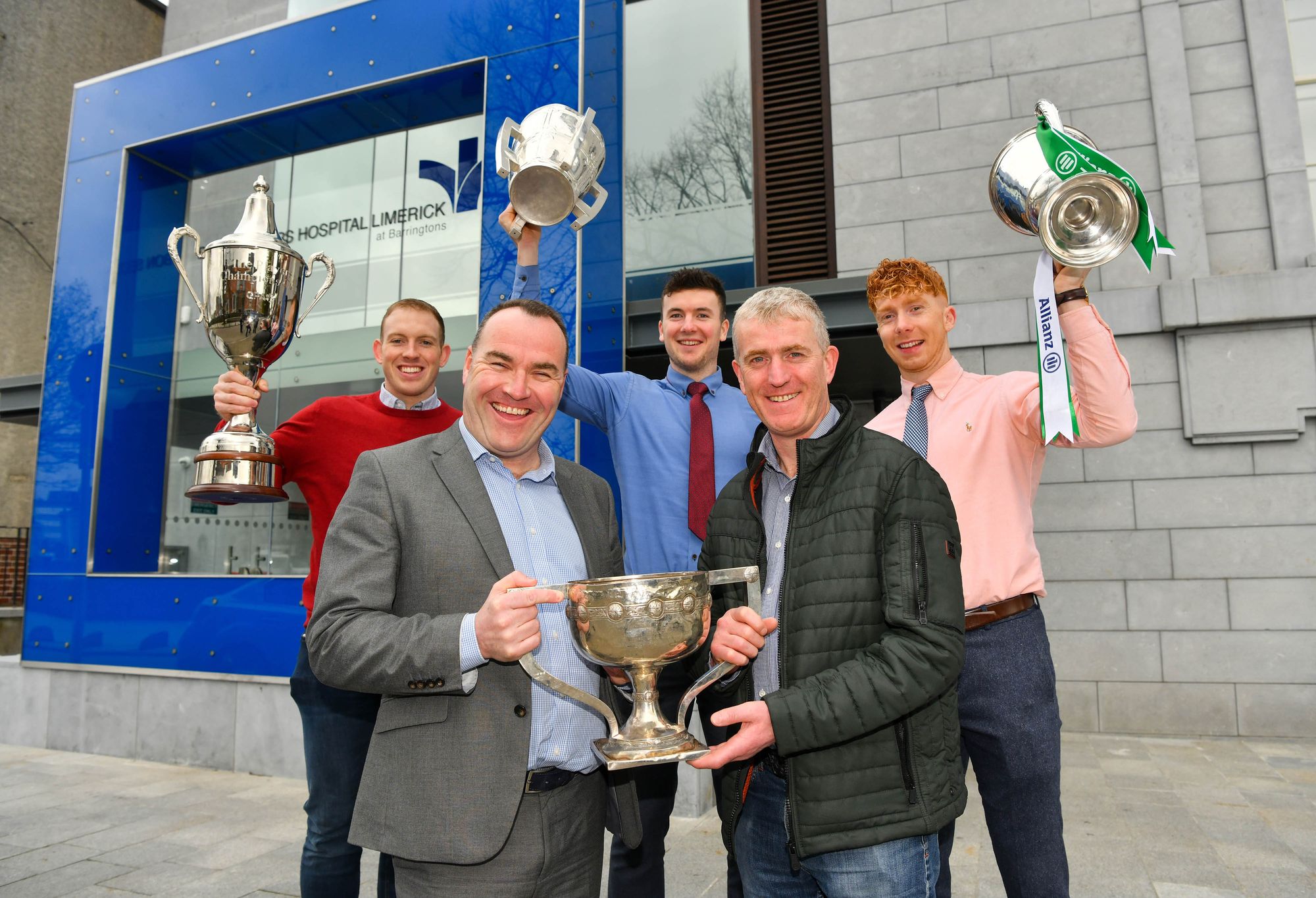 Bon Secours Hospital Limerick at Barringtons become Limerick Senior Hurling Championship sponsors
Limerick Senior Hurling Championship sponsors are Bon Secours Hospital Limerick at Barringtons. Pictured are Jason Kenny, hospital manager, holding the John Daly Cup along with Limerick manager John Kiely, and Limerick hurlers Shane Downling, Declan Hannon, and Cian Lynch.
Photo: Diarmuid Greene Limerick Senior Hurling Championship sponsors
Bon Secours Hospital Limerick at Barringtons become Limerick Senior Hurling Championship sponsors
Limerick GAA has capped Sunday's, March 31, thrilling National League final by signing a new sponsorship deal for its county senior hurling championship with Bon Secours Hospital Limerick at Barringtons.
The three-year partnership will see Limerick's oldest hospital deepen its relationship with Limerick GAA as it puts its support behind one of the most competitive and exciting county senior hurling club championships in the country.
The sponsorship – the blue riband competition will be known as the Bon Secours Hospital Senior Hurling Championship – was announced Monday, April 1 at Bon Secours Hospital Limerick at Barringtons in the company of the Dr. Croke Cup claimed Sunday, March 31 in the clash with Waterford.
Monday's event was attended by Limerick manager John Kiely, players Declan Hannon, Cian Lynch and Shane Dowling; Chairman John Cregan and Secretary Mike O'Riordan as well as Bon Secours Hospital Limerick at Barringtons Manager Jason Kenny.
The partnership comes on top of the existing relationship between the two that sees the hospital provide quick access to Limerick senior players for MRI and Xrays to ensure quick and exact injury diagnosis and, in turn, allows players to embark immediately on their recovery programme.
The club championship sponsorship agreement kicks in for the commencement of the first round of the 'Bon Secours Hospital Limerick Senior Hurling Championship' next weekend, April 5.
Speaking at Monday's announcement, Limerick manager John Kiely said; "It's a great time for Limerick hurling but all that's happened over the last year or so would not have happened were it not for our clubs. The success at county level is making our club championships hugely competitive and it's great to get this support for it from our local Bon Secours hospital.
"Many of our players know this hospital very well from coming in and out of here for injury diagnosis. They look after us brilliantly and the fact that they are now coming on board to provide this important financial backing for the club championship shows their commitment to sport in the county."
Limerick GAA Chairman John Cregan said "Sunday was a great day on the pitch for us and today is a great day off the pitch. It all starts with the club. Nothing happens without the club and we're delighted to be getting this boost so close the start of this year's championship.
"We have a long-standing relationship with this hospital and it's a really positive one as we get expert, quality care here for our players. The hospital is going from strength to strength under the Bon Secours Health System since it acquired it two years ago and this is deepening its investment in Limerick. This is as a great fit."
Jason Kenny, Hospital Manager said "We're delighted to be sponsoring the senior club championship. It's a top club competition and we already have a great relationship with many of the players as they come in and out to for injury scans. They're an absolute pleasure to deal with and we are just delighted to be able to bring our expertise here to bear.
"We've invested €6m on the hospital since we acquired it just under two years ago and we are now investing in something that's very important to this city and county. We saw the joy that last year's All-Ireland final win brought to everyone in Limerick and, indeed, Sunday's league win on top of that. With this investment in the club championship, we are supporting the grass-roots structure that all this has been founded on."
Bon Secours Hospital Limerick at Barringtons two years ago became part of the Bon Secours Health System, Ireland's largest independent healthcare provider, incorporating a network of five modern acute hospitals in Cork, Dublin, Galway, Limerick and Tralee. Situated in the heart of Limerick city on George's Quay, our hospital was established in 1929.
For more information visit
For more stories on the Bon Secours Hospital go here