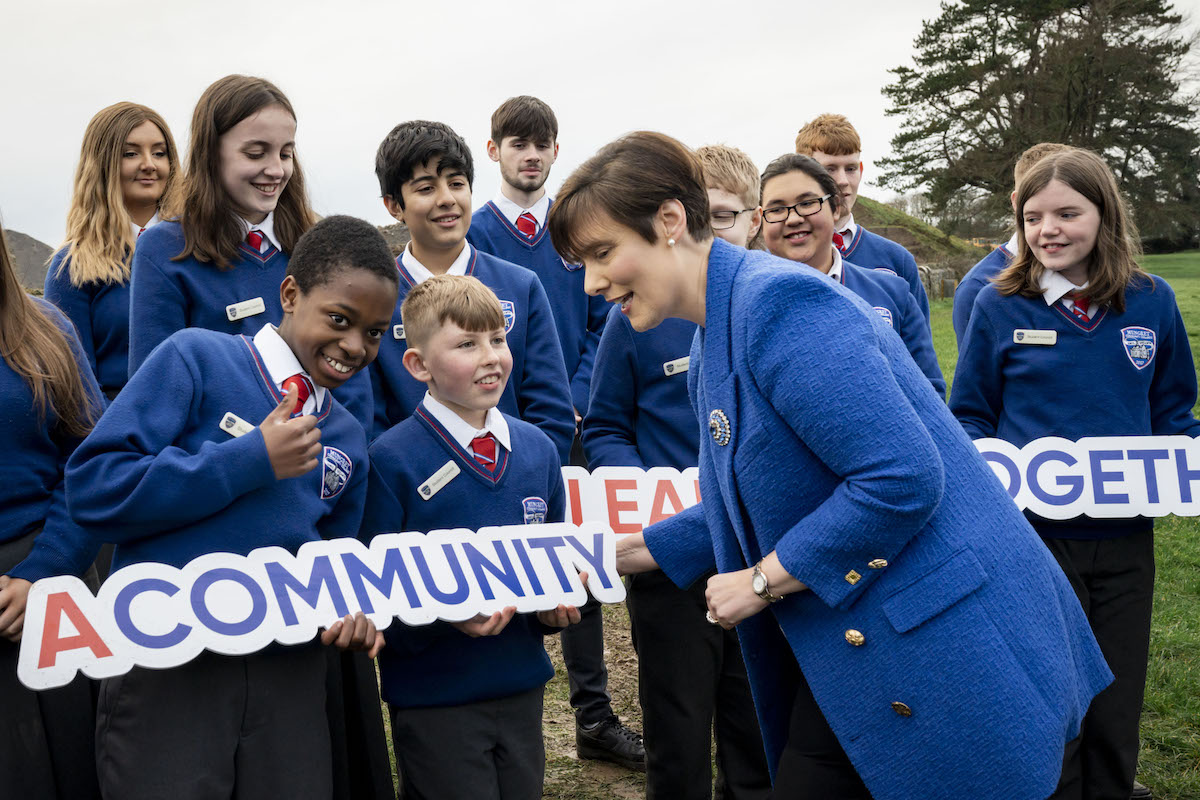 Minister for Education turns sod on multi-million euro Mungret Community College School Campus 
Mungret Community College School Campus launch – students formed a guard of honour to welcome the Minister. Picture: Don Moloney
Mungret Community College School Campus will cater for 1000 students upon completion
The Minister for Education, Norma Foley TD, turned the sod on a multi-million euro new school campus for Mungret Community College last Friday. The new campus, located on a 10-acre greenfield site, will cater for 1000 students upon completion. Limerick and Clare Education and Training Board was delighted to welcome the Minister on site to mark the official start of construction. The project represents a €35 million euro investment under the Department of Education's Schools Capital Programme.
Speaking to students, staff and members of the Board of Management, Minister Foley said: "It's a great honour for me to be here and to have the opportunity to meet with all of you. Such a warm, warm welcome from all the student body that came out to meet with me. It greatly touched me. This is a great school. It has achieved so much in a short space of time and I think it's just wonderful that this year we are looking at the Leaving Cert cohort who were the first students in the school. Thank you to the entire school community and your greatest resource in the school, your students." She continued: "The Department is very proud that we are providing the resources to you, that you will have new facilities, greater facilities, better facilities. This is a school that has been achieved out of great determination. I wish you the very, very best in all that you choose to do."
The new 11,000 square metre school building will feature 37 General Classrooms, a 2-classroom SEN facility, 2 DCG Rooms, 6 Science Labs, 2 Art/Craft Rooms, 2 Home Economics Rooms, 2 Technology Rooms, 2 Multimedia Labs, a Music Room, 2 Textile Rooms, a Construction Studies room, an Engineering Room, a Library, an Olympic-sized PE Hall and Fitness Suite, multiple ancillary spaces, and extensive external areas including 6 Hard Play Courts.
Welcoming the Minister's visit, Mungret Community College Principal, Liam O'Mahoney said: "We are really looking forward to moving into our new building. This school is all about our students. Minister, it was very important for us that it was our students Kate O'Brien and Billy Leenane who were the first to greet you today. They were part of the First Year group that started in the school in August 2017. We are here to support our students and want the best for them. With our new building we are looking forward to adding to the excellent facilities already provided to the school by the ETB."
The project design team for the new school campus is led by Healy Partners Architects. Construction by Coolsivna Construction Group is now underway, with the project due for completion in late 2024.