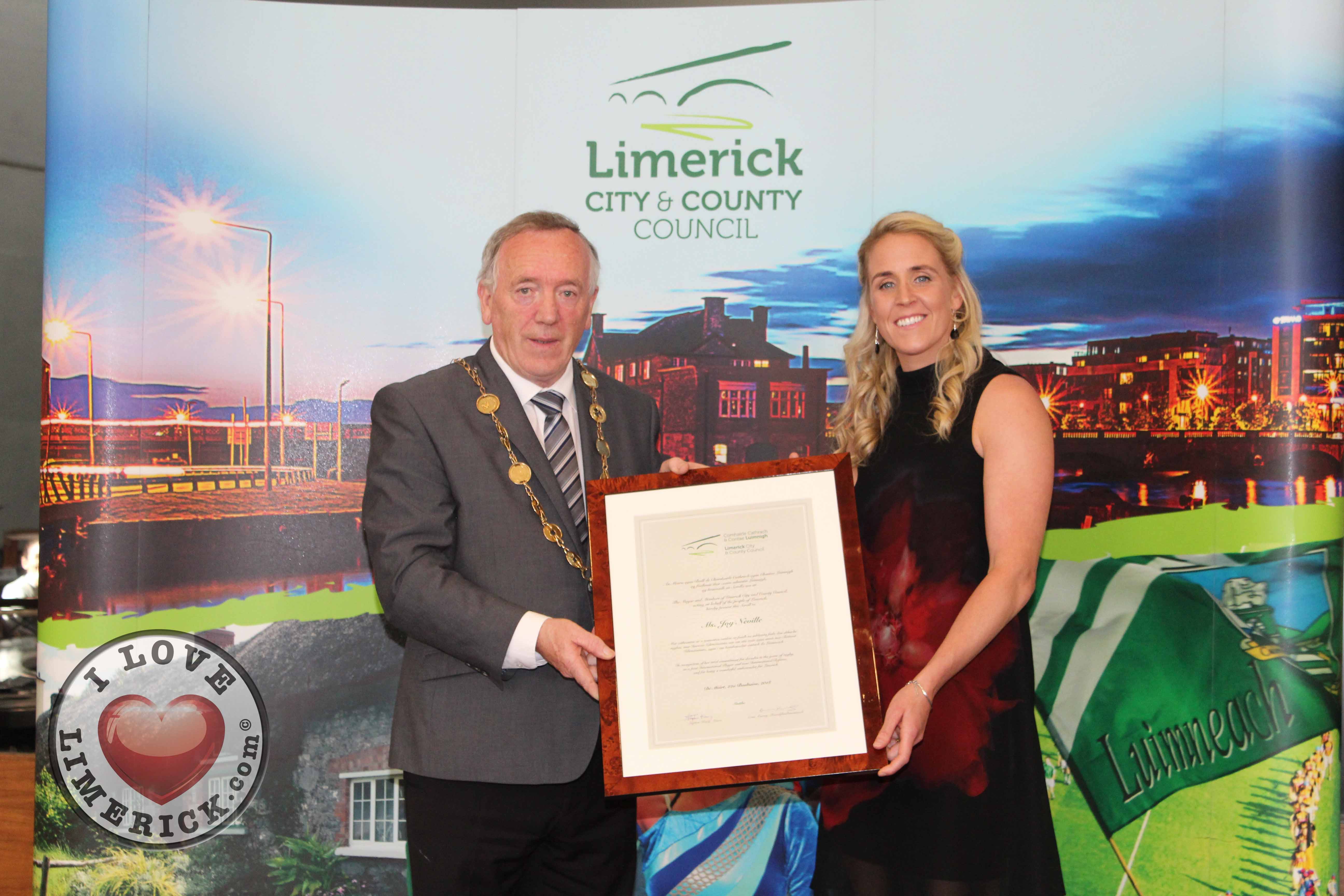 PHOTOS – World professional rugby referee Joy Neville acknowledged as a wonderful ambassador for Limerick at Civic Reception in her honour
Mayor of Limerick City and County, Cllr. Stephen Keary presenting professional rugby referee Joy Neville with a scroll in honour of her contribution to sport, and in being a true ambassador for Limerick. Picture: Zoe Conway/ilovelimerick
World professional rugby referee Joy Neville acknowledged as a wonderful ambassador for Limerick at Civic Reception in her honour
by ilovelimerick correspondent Chloe O'Keeffe
Grand Slam winner-turned IRFU professional rugby referee Joy Neville was acknowledged last night at a Civic Reception, hosted by Cllr. Stephen Keary, Mayor of Limerick County and Council, in the Limerick City and County Council, Dooradoyle.
Joy Neville, who resides on O'Connell Avenue was acknowledged by Mayor Keary last evening for her total commitment for decades to the sport of rugby, as a past international player, and now an international referee, as well as being a "wonderful ambassador for Limerick."
Speaking at the Civic Reception, professional rugby referee Joy Neville thanked her father for making the trip to be there and spoke of how she was ever appreciative.
Limerick woman Joy, who represented Shannon, UL Bohemians, Munster, and Ireland during a stellar playing career, was recently named World Rugby Referee of the Year for 2017. She won 70 caps in the back row for Ireland and went on to captain her country for a number of years.
After winning six Interprovincial titles with Munster and breaking new ground with that Grand Slam triumph, Joy has gone on to become one of rugby's most accomplished referees. She was the first female referee to officiate a European professional match in 2016, followed by her appointment to the Women's Rugby World Cup final in Belfast last August. All of which adds to the many reasons she deserved to win Sports Person of the Year award 2018.
Her impressive list of achievements with the whistle also include being the first female referee to take charge of matches in the national leagues of Ireland, Wales and Italy, as well as tournaments such as the PRO14, European Challenge Cup and the British & Irish Cup.
For more stories on professional rugby referee Joy Neville go here.
For more info on the IRFU go here.
Pictures by Zoe Conway/ilovelimerick