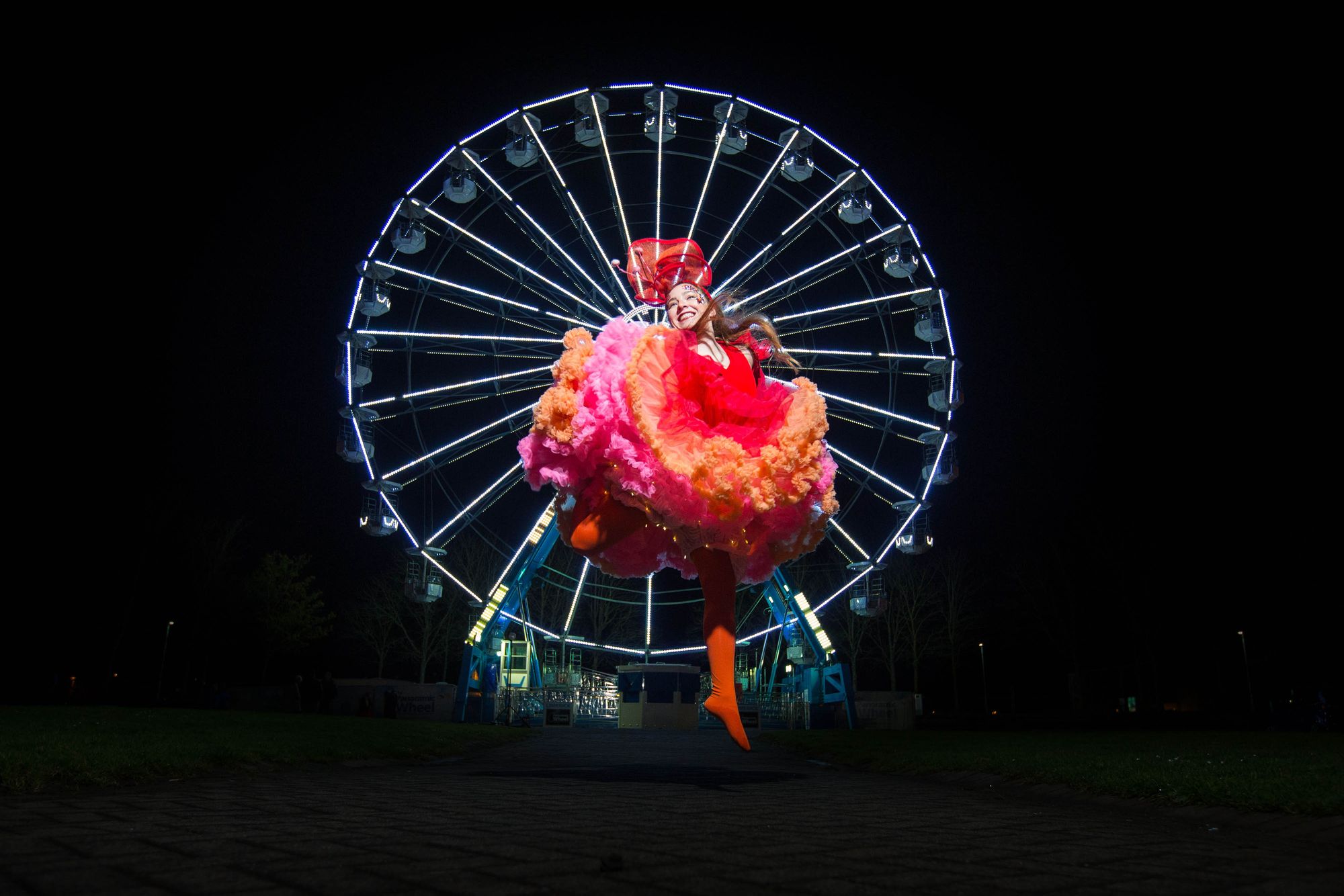 WATCH Riverfest Limerick 2019 launched as one of Ireland's most loved summer festivals celebrates its 15th year
Riverfest Limerick 2019 launched – Sara Granda from Fidget Feet helps launch Riverfest 2019 at Limericks Big Wheel, Arthurs Quay Park. Picture: Oisin McHugh True Media.
Riverfest Limerick 2019 launched as one of Ireland's most loved summer festivals celebrates its 15th year
Limerick will become the country's capital of fun again this May Bank Holiday weekend as it plays host to Riverfest 2019. The banks of the Shannon will be the epicentre of the first major national festival of the year as thousands are expected to flock to Limerick to take part in the festivities and soak up the atmosphere.
Speaking at the launch of Riverfest Limerick 2019 at House Limerick today (Tuesday), Mayor of the City and County of Limerick, Cllr James Collins said Riverfest has made Limerick the go-to destination nationally for festival followers on the May Bank Holiday weekend.

"Riverfest is among the most energetic and fun-filled festivals of the year in Ireland and it has really staked a claim nationally in terms of where to go for the May Bank Holiday weekend. Other cities and towns dominate certain weekends with festivals and, thanks to Riverfest and all that goes with it, the May Bank Holiday weekend is Limerick's.

"The key to the festival has been the level of energy and activity around it. There is something for everyone, and it is a wonderful opportunity for us all to celebrate all that is great and unique about Limerick."

Now in its 15th year, Riverfest attracts families and daredevils from all over Ireland who can enjoy everything from aerial acrobatics shows, zorbing, to ziplining across the River Shannon.

There are loads of different activities also on offer for those hoping to keep their feet on the ground, including an artisan food market, a coarse fishing competition on the Abbey River, an art exhibition, kayaking and a tour of an Irish naval vessel.

Family favourites include the BBQ on the Boardwalk, the Panoramic Wheel and the Riverfest Fireworks, where world-class aerial dancers Fidget Feet will perform works of beauty, mystery and charm over the Shannon!

Fashion Friday at Bowes Ryan Café in Arthur's Quay Shopping Centre will be hosted by Ireland's leading fashion stylist Celia Holman-Lee and showcase the latest trends from Limerick's top fashion houses and designers.

The weekend's 'Big Gigs' will include The Stunning and the Frank And Walters Live at the Big Top on Sunday and Qween at Dolan's on Saturday night. Comedy heroes Dermot & Dave will take to the stage in UCH on Friday night.

Also, this year, the Abbey Theatre Production of The Country Girls will be performed at the Lime Tree Theatre from Thursday, April 30th.

At quayside, there will be annual favourites such as the Riverfestival Village, at Arthur's Quay Park – a weekend-long cacophony of foods, crafts, vintage amusements, street performers and live musical entertainment.

Sunday's Regeneron Great Limerick Run, which is Ireland's fastest growing participatory event, is another of the top features of the weekend, drawing an anticipated 13,000 people.
New to this year's line-up is the Riverfest Chill Out Zone. Families seeking light relief from the excitement can wander down to the Hunt Museum Garden where Limerick Autism Group will ensure it's a festival for all as they provide a sensory room to enable children and adults with autism to access a safe space to take time out from the crowds and noise. You can also enjoy a drink or snack from the Hunt café, a quick round of crazy golf, or a picnic in the sun.
Said Sheila Deegan, Culture and Arts Officer with Limerick City and County Council: "We know that festivals and events play a distinctive role in developing vibrant and sustainable communities, they are proven to drive tourism growth as well as grow the creative sector itself. Festivals and events also offer important opportunities for residents, visitors and creatives to gather, collaborate, experiment, explore and present work in an atmosphere of celebration. Through festivals like Riverfest, we celebrate diversity and change and encourage people to value the communities they live in."
Said Laura Ryan, Head of Marketing and Communications, Limerick City and County Council: "It's the 15th year of Riverfest Limerick and the festival is jam-packed with a huge amount of family-friendly events to officially kick start the summer festival season. What everyone loves about Riverfest weekend is that Limerick is buzzing with so many things to do, the city looks great and there's a fantastic atmosphere with thousands of people enjoying themselves. Pick up a Riverfest brochure or keep an eye on the Riverfest site and social media for all the most up to date info on Limerick's best festival weekend.
For more information visit
For more stories on Riverfest go here
Pictures: Conor Owens/ilovelimerick