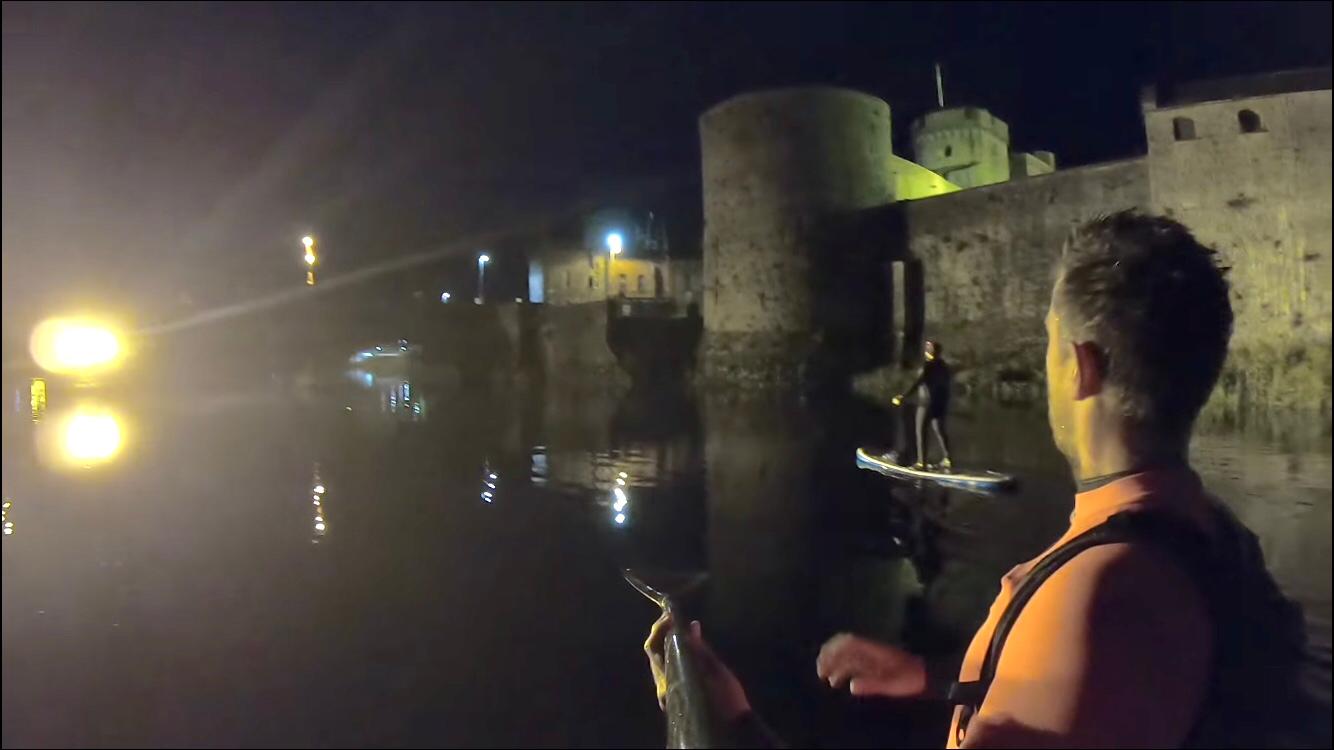 WATCH: SUP Social members dedicate a midnight paddle of the River Shannon to the Limerick Suicide Watch
SUP Limerick members Alan Kavanagh and Jason Roche pictured on their midnight paddle of the River Shannon in Limerick City
WATCH: SUP Social members dedicate a midnight paddle of the River Shannon to the Limerick Suicide Watch
By I Love Limerick Correspondent Mary Doyle
On Saturday, July 11, Limerick Stand Up Paddle Boarders Alan Kavanagh and Jason Roche took part in a midnight paddle of Limerick City's River Shannon, dedicating the experience to the volunteers of the Limerick Suicide Watch night patrol. The excursion paid tribute to the great work they do in saving the lives of Limerick citizens, while also capturing the natural beauty and stillness of the River Shannon and its views.
With many families having lost loved ones to the River Shannon, there is understandably a lot of darkness and negativity surrounding this great Limerick waterway. But Alan and Jason of SUP Social had an idea to experience and share the ambience of the River Shannon at night, while it was a calm, still, warm and quiet entity, in memory of those who have been lost. Observing the city at night time, from the point of view of their paddle boards floating serenely down the River Shannon, was an experience that Alan and Jason say gave them a completely different perspective.
Speaking about the experience, paddler Alan Kavanagh said, "It was probably the most memorable paddle we have done over the years, and we have done many. It's so hard to describe the peacefulness that this amazing and under-utilised part of Limerick can bring when all nature's elements come together to create the ultimate paddle in calm waters. High water at midnight, not a puff of wind. Water warmer than the air temp and you could hear a pin drop!"
Limerick's River Shannon has major potential for more water-based activity which is yet to be fully utilised. With Limerick being a city steeped in the history of the Shannon, Alan and Jason are passionate about promoting water activities on the river as a must-do experience for anyone who enjoys the water and outdoors, along with a little bit of history.
On Saturday, July 11, the perfect opportunity arose to take on this venture, with all of nature's variables coming together to make it the perfect night for an effortless paddle, to soak in the wonderful surroundings of the river's boundaries. This is what Stand Up Paddling is all about.
Entering at the Curragower slip on Clancy's Strand, they passed King John's Castle and went under Thomond Bridge with King's Island on their right. They followed the Shannon upstream, passing under all four bridges – Bishop's, Abbey, Baal's, and Matthew – while passing the Absolute Hotel and the Locke Bar on their right. Eventually, brought back to the new Limerick marina, looking across again at the Curragower slip – a complete loop of King's Island was complete. Finally, paddling through the small gates by the Shannon Boat Club, and turning 180 degrees, up under the Sarsfield Bridge and back to the Curragower slip – their endeavor was complete. Two and a half hours of pure bliss.
Alan Kavanagh said, "We had great banter and some laughs throughout the paddle, and we met some Limerick characters at all five bridges along the way, which is what made the whole experience. We also met An Gardaí, and most importantly, the Limerick Suicide Watch twice on route. We tried to include them in our footage but unfortunately they had to leave and do what they do best, to help save lives. Our thoughts are with all those who have lost their loved ones to the River Shannon. We just hope that our vid shows the other positive side that is the true lady of Limerick." SUP Limerick
If interested in such a venture, check out Nevsail Watersports HERE or Get West HERE!
For more River Shannon stories, click HERE.